In the world of cult sci-fi show Doctor Who, spoilers are a big deal. Such a big deal, in fact, that one of the characters actually warns about them within the show—an important consideration when you're a time traveler and someone might "spoil" your own future life. 
Unfortunately, Doctor Who's DVD distributors are not quite so careful. Yesterday, BBC Worldwide revealed that it accidentally sent out a handful of season 7 DVDs three weeks early—meaning that several fans in the U.S. will already know what happens in next week's momentous season finale, "The Doctor's Name."
As well as some heavily foreshadowed revelations regarding the Doctor's identity, the finale will feature guest appearances from former Who stars David Tennant and Billie Piper, among others. But don't worry, we haven't looked for any of the real spoilers (yet). 
BBC America's official Tumblr account urged fans not to reveal any plot details, adding, "If everyone keeps the secrets safe until next Saturday we will release a special new clip featuring material of the Tenth AND Eleventh Doctor!"
So far, Whovians are taking it pretty well. Spoiler-phobic fans already tend to avoid social media on the days leading up to a big season finale, and most of the "spoilery" comments on the official Facebook page seem rather… unlikely. For example, we're pretty sure that "The Doctor's Name" doesn't include any appearances from Bruce Willis, or the shocking revelation that he's actually a ghost.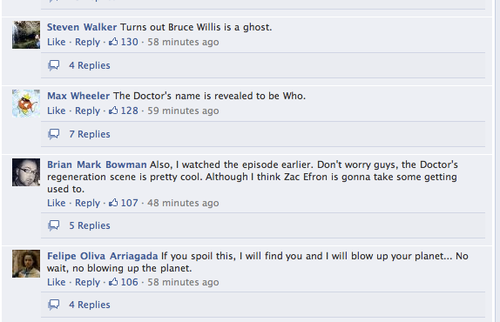 Photo via doctorwho/Tumblr
Hopefully the BBC's bribe works, because the return of David Tennant (the Tenth Doctor) is already hotly anticipated. Any new scenes between him and Matt Smith would be a coup for Who fandom, as reunions on this scale are very unusual. After this year's 50th anniversary special, things will be back to normal: one Doctor, one TARDIS, and definitely no more David Tennant. 
As for the season finale spoilers, there's no real way to prevent people from sharing them—but then, there never is. In the meantime, we just recommend that you stay away from the Doctor Who and "Doctor's Name" tags on Tumblr, just in case. 
Image via Tumblr/peek-a-dillo