Disney+ is finally getting into the multi-user streaming game.
On Tuesday, the streaming platform unveiled GroupWatch, a new function within Disney+'s website and app that will allow up to seven people watch shows and movies on Disney+ together.
The new feature, according to Disney+ SVP of product management Jerrell B. Jimerson, is a fitting addition for families who want to safely experience a show or movie together but are still unable to do so due to the COVID-19 pandemic.
"Storytelling comes alive when you're able to share and enjoy it with others, and in this moment when many are still apart from their friends and family, GroupWatch offers a way to safely connect virtually by co-viewing your favorite Disney+ stories with your favorite people from the comfort of your living room," Jimerson said in a statement.
Disney+ isn't the first to allow a group watch feature. Hulu (which Disney also owns) has an official Watch Party feature that's available to subscribers who chose the ad-free tier and Amazon Prime Video lets you host watch parties with some prime content. And while Watch Party isn't officially part of Netflix, the web extension allows several people to simultaneously watch any Netflix title.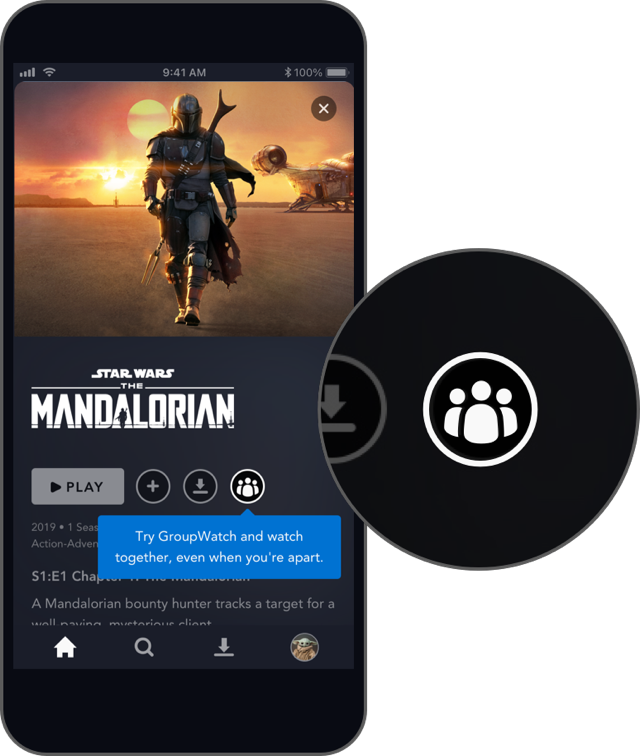 Functionally, GroupWatch is fairly similar. When you're in the Disney+ mobile app or on the website, you choose a title and activate a button to start a GroupWatch and then invite up to six people to watch along. (Everyone who participates has to have a Disney+ account.)
As Disney+ notes, after you send the invitation, you'll be able to watch the actual movie from a connected TV if you desire. And when a title is playing, anyone within the GroupWatch will be able to pause, play, fast-forward, or rewind the title.
But where it differs from other services is how users interact with one another. Hulu, Amazon, and Netflix Watch Party all have a chat function where everyone can comment or chat with each other throughout the group watch. Disney+'s GroupWatch, on the other hand, will allow you to "react" with a number of emoji. You'll be able to send emojis for "like," "sad," "angry," "funny," "scared," and "surprised." While not being able to chat with one another can lose a true element of a group watch at home, the experience will be more akin to a theatrical one in that people watching are reacting to, rather than conversing about, the title at hand.
The GroupWatch feature is now available in the U.S. (after test versions launched in Canada, Australia, and New Zealand earlier this month) and will be expanding to Europe sometime this fall.
H/T CNN