It was always inevitable that a Disney adaptation of the beloved Sondheim musical Into the Woods would suffer from, well, Disneyfication.
But if reports surfacing from a recent private talk Sondheim gave in New York are accurate, it sounds like the film is shaping up to be an, erm, giant-sized disaster. 
Hang on to your hats, musical lovers. The word from the living legend himself is that Disney's version of Into the Woods is excising much of what made it the complicated adult fairy tale we all know and love—including at least one pivotal musical number, lots of implied and overt sexual activity, and one major character spoiler.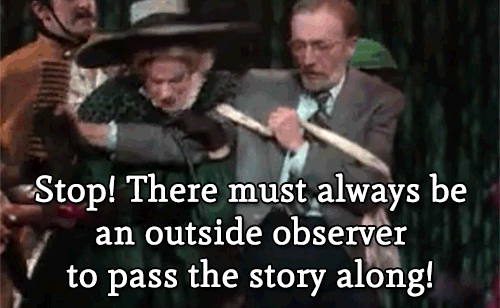 GIF by Aja Romano
Read on for the details, and obviously for spoilers. (Though if you've gone the last 28 years without seeing Into the Woods at least once, the more fool you.)
As first reported by the New Yorker, Sondheim said in a recent master class for drama teachers that Disney has jettisoned many of the second-act complications that make Into the Woods unique in the wide pantheon of fairy tale retellings. According to Sondheim, Disney has decided not to kill off Rapunzel, a decision which necessitated Sondheim and librettist James Lapine, over protests, having to write a new song in order to facilitate one of the show's major plot points.
"You will find in the movie that Rapunzel does not get killed, and the prince does not sleep with the [Baker's Wife]," Playbill reported.  "But Disney said, 'we don't want Rapunzel to die,' so we replotted it. I won't tell you what happens, but we wrote a new song to cover it."
In the stage version of the musical, Rapunzel is crushed by an invading giant in a moment that brings reality crashing down upon the ensemble cast of characters as well as the audience. We can only speculate that now the movie will most likely involve Rapunzel exiting pursued by a giant only to resurface later to sing a convenient anthem of independence that will motivate her surrogate mother, the witch, to do what she does next. This would be functional, but hardly as satisfying or as difficult to deal with, as the original. And of course that's the whole point.
But that's not the only thing Disney is cutting. Sondheim also stated, reportedly to accompanying outcries of dismay from the audience, that the pivotal Act 2 number between Cinderella's Prince and the Baker's Wife, "Any Moment," is also cut.
"The song is cut," he said. "I'm sorry, I should say, it's probably cut."
For perspective, "Any Moment" is one of two interconnected and mutually showstopping numbers to feature the Baker's Wife. It's hard to imagine Into the Woods without "Any Moment." It's crucial to the Baker's Wife's character development—a role for which original cast member Joanna Gleason won a Tony. Additionally, it's thematically one of the most important songs of the show, the event that solidifies the titular "woods" as the metaphorical place where juvenile fantasy and fairy tale meet and collide with adult consequences. And since "Any Moment" later connects with "Moments in the Woods," both leading to a major plot spoiler, it's hard to understand how the movie version will move from Point A to Point B. 
Plus, it's just a crying shame to lose lines like, "Any moment we could be crushed / don't feel rushed" and "Life is often so unpleasant / you must know that as a peasant / best to take the moment present / as a present for the moment."
And that's not the end of the Disney, what were you thinking? madness. Sondheim also hinted that the film would be toning down much of the blatant sexual overtones of Red Riding Hood's entire character arc, which would inevitably mean that the innuendo and metaphor-laden musical numbers "Hello, Little Girl," and "I Know Things Now" would have to be severely edited if not cut altogether.
Since the Red Riding Hood fable has never not been a sexual metaphor, it's hard to know what Disney executives were expecting. But perhaps in its eagerness to expand its foray into subversive fairy tales, the Mouse got ahead of itself.
In recent years, Disney's love of fairy tales has turned postmodern. The studio has been popping out subversions of fairy tale tropes right and left in the 21st century, from its mega-hit Frozen to its hybrid fairy tale free-for-all ABC series Once Upon a Time. As it's turned more postmodern, it's also turned, surprisingly and frequently, more adult. To some degree, it has Sondheim to thank for this: After all, Sondheim and Steven Schwartz, the composer who would pen the musical Wicked along with several Disney films, worked side by side on Broadway for decades. Schwartz's groundbreaking and disturbing musical number "Hellfire" from Hunchback of Notre Dame borrowed much in terms of concept and structure from a very similar number that Sondheim used in Sweeney Todd.  
And there's no other phrase than "blatant ripoff" for Disney's attempt to homage the witch from Into the Woods in its 2010 film Tangled. Not only are they both different versions of the same character, but Tangled's version, Mother Gothel, looks and acts very similar to Bernadette Peters' witch from Into the Woods: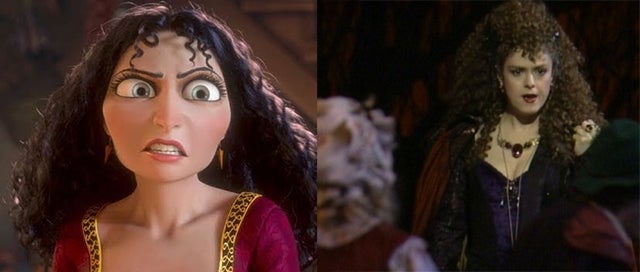 Tangled's witch was voiced in her musical numbers by famed Sondheim musical star Donna Murphy (Passion), and both Tangled and Into the Woods purport to show a more complicated version of the classic Rapunzel myth, with its dark themes and surrogate family dysfunction.
Perhaps most tellingly, both versions specifically portray the witch as being obsessed with obtaining ageless beauty. This is a theme that does not appear in the original versions of the myth, but one which Sondheim explicitly invented and associated with the witch in Into the Woods.
But if you look closely, Tangled's use of the Rapunzel/witch dynamic shows exactly how ill-prepared Disney was to handle Into the Woods with care. In Into the Woods, the entire point of the mother-daughter relationship between the Witch and Rapunzel is that it's real. The witch's love for Rapunzel trumps any of her other motivations, causing her to sing, in the end, that she'd rather have her original "claws and a hump" over the pain of losing her daughter.
In 1986, when postmodern fairy tales like Into the Woods were few and far between, the Witch's modern identity crisis and basic humanity was an incredibly unexpected and complicating factor that contributed to the musical's ultimate moral message that "Witches can be right / giants can be good / you decide what's right / you decide what's good."
In Tangled, this nuance and level of complexity is nonexistent. Mother Gothel is ultimately just as shallow and one-dimensional as her obsession with beauty would appear, and while she goes through the motions of having a complicated relationship with her daughter, it's all an act to help her attain her true goal of eternal beauty.
Without the ability or willingness to explore complex relationships between mother and older teenage daughter, Disney ultimately falls back on the convenient moral platitudes it's been using in its animated films for decades: The evil witch is always an evil witch; the older woman who seeks to be sexy is always, unfailingly, a villain; and surrogate family bonds are ultimately superficial compared to real family bonds. 
Ultimately, Tangled's homage to Into the Woods turned out to be no homage at all, and revealed a distinct lack of understanding for the importance of Into the Woods's at times heavy-handed but crucial reliance on choices that lead to serious consequences.
And ultimately, it seems fans who were expecting Disney to take a more complicated approach to its actual adaptation of Into the Woods than it did to Tangled are in for a major disappointment.
For now, your best shot at seeing the magic of Sondheim on film, consequences and complexity intact, is still the Great Performances filming of the original Broadway cast, which is luckily currently available on Netflix.
Photo via janessajaye.com