Sunday night's Super Bowl proved a blowout from the beginning. Up 2-0 after the Denver Broncos surrendered a safety on the first play from scrimmage, the Seattle Seahawks went on to score the next 36 points. 
The game got truly ugly at the beginning of these second half when Seahawk wide receiver Percy Harvin returned a kickoff 87 yards for a touchdown, making the score 29-0. The return happened right around 8:30pm.
According to Pornhub, that's when Broncos fans stopped watching. 
Shared yesterday, the porn-streaming site's Traffic Change During Super Bowl graph details the two cities' use of the site through the whole course of Sunday's events, from the afternoon leading up to the game and the hours immediately after. As you can see just below, that's about the time the Bronco faithful decided to take the matter of "beatdowns" into their own hands, a trend that continued well into the night, culminating in a proverbial "climax" at 11pm, the same time in which the Seahawks were just beginning to celebrate.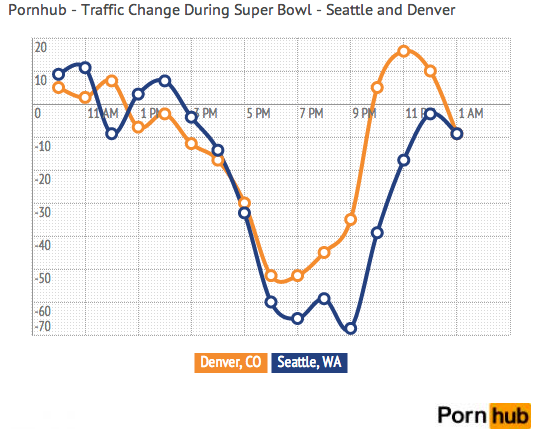 Photo via John Pozadzides/Flickr