Glenn Danzig proved at Fun Fun Fun Fest in Austin, Texas, last year that he has what it takes to be an excellent Yelp critic.
The punk icon turned Internet meme's egregious list of demands—French onion soup, vitamins, and space heaters—drew ire from the online masses and helped inspire Helpful Kitchen Danzig, an irony-laced, single-image Tumblr offering various baking tips.
Now Glenn "The Zen Master" D. is dishing out five-star critiques on everything from the Alamo Drafthouse Cinema ("They fucking kicked me out for texting. I'm sorry. I fucking thought I lived in fucking America") to Mother's Café & Garden ("I wrote a song called 'Mother'. It had nothing to do with these hipsters and their vegetables").
It's basically the Yelp equivalent of "Shit Danzig Says," with a lot more vulgarity. While most of the 20 entries are of Austin establishments, the account is starting to go national, with reviews of Chicago's Sable Kitchen & Bar and Hollywood's The Waffle.
The Daily Dot's favorite is the summation of Super 8: 
I had to stop here for a quick check in after I had one too many Blizzard's at the Dairy Queen down the street. I'm lactose intolerant, so needless to fucking say I destroyed the fucking toilets like that I would have destroyed that guy from North Side Kings if he hadn't sucker punched me.

Also, I snuck my cat "Lucifer" into my room and nobody seemed to notice. Lucifer is the only one who understands me.
The parody account is the brainchild of the merry pranksters at the Austin punk club Red 7, who tipped their hand in a review of their own establishment and by linking to their blog in the user profile. "Was this fucking stage built by Wile E. Fucking Coyote?" Danzig says of the club, an inside joke that repurposes the singer's remarks about the stage at Fun Fun Fun Fest.
The whole oeuvre clearly violates Yelp's terms of service, which explicitly prohibit impersonations, but it's a hilarious and cheap thrill nonetheless.
Reached for comment last night, Red 7 manager Johnny Sarkis—cited in the review of LaBare Austin—wrote: "Hopefully it'll stay up for long enough until they delete it."
Just in case, here's a screenshot of the account.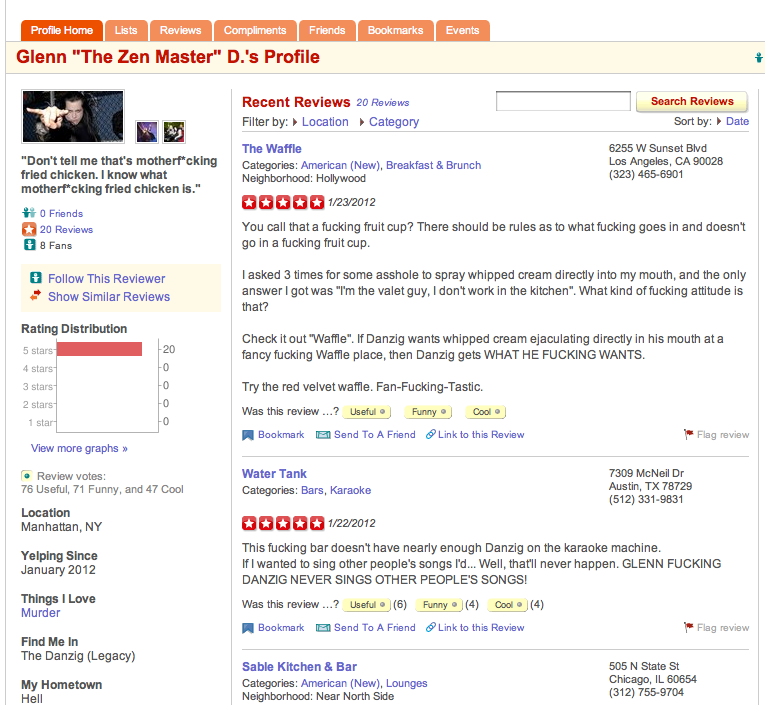 Photo by tarvainen