It was announced yesterday that The Office star Rainn Wilson is helming a new scripted comedy show called Hollywood and Vine, which will feature popular Vine "stars" Jerry Purpdrank, Simone Shepherd, Lele Pons, Christian DelGrosso, and Curtis Lepore. It will be scripted by It's Always Sunny in Philadelphia writer Lance Krall.
Wilson, who's producing the show with this company SoulPancake, explained the reason for this show's existence:
We believe this show is going to be the first to celebrate these amazing, talented Viners in an authentic way and bring their style of humor to a broader audience. Plus, who doesn't love a six-second twerk?
But overshadowing that scintillating detail is the fact that Lepore was accused of rape last year by fellow viner Jessi Smiles. She claims he raped her while she was unconscious with a concussion, after the two had broken up.
Lepore, one of the most popular people on Vine for reasons that defy logic and taste, was arrested in October and released on bail. He pled not guilty in January, and tweeted at his fans not to "rush to judge" him. He also shifted the blame to Smiles, calling the accusation a "publicity stunt." In February, he took a plea deal, which means he was not found innocent of rape, but instead pled guilty to felony assault.
According to TMZ, Lepore only has to complete 24 days of community service and and a year of counseling, then his charge will be whittled down to a misdemeanor assault. After his plea deal, he tweeted this piece of garbage.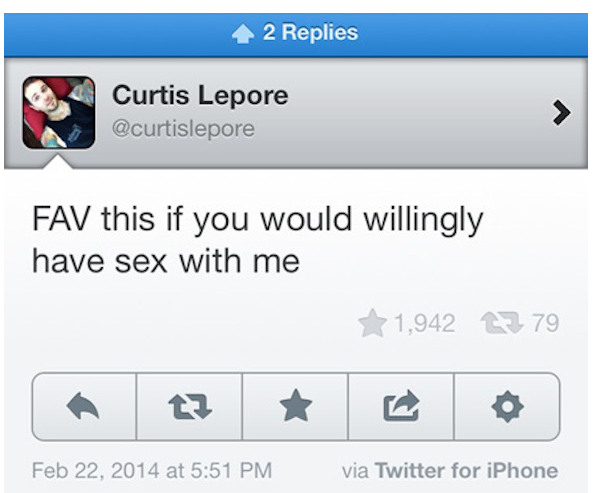 Here's a recent clip from Lepore, so you can get a taste of what passes for humor on Vine, and what will be brought to a broader audience with Wilson's show. 
Thankfully, some fellow viners have called Lepore out. 
In a piece for Thought Catalog, Rob Fee explores Hollywood's collective dismissal of rape victims and elevation of perpetrators if it means making money off what the kids like:
Ask Rainn Wilson how much it bothers him that Curtis Lepore pleaded down rape charges. How many followers on Vine does he have? Oh then no, it doesn't matter. We aren't a country of second chances, we're a country that will look past anything to make money. If we can stick Charlie Sheen in a show called Anger Management after his history of abuse, assault, and reckless behavior, then we need to just admit that victims mean nothing. We keep empowering abusers and belittling victims and it's repulsive.
This news is especially depressing on the heels of Hannibal Buress's callout of Bill Cosby's long list of rape accusations. You'd think with all the money and brand endorsements being thrown at Vine personalities, they'd have people around them to tell them when to shut their mouths and act professional.
However, as Death and Taxes pointed out, Wilson tweeted his own tasteless rape joke back in 2012.
Update 9:29am, Oct. 25: According to Deadline, Lepore is no longer involved with the project. Rainn Wilson wrote on his Facebook page Friday night: "After much consideration, the decision was made with Curtis Lepore to mutually part ways on SoulPancake's television project featuring Vine stars." 
H/T Death and Taxes | Photo via Kristin Dos Santos/Flickr (CC BY-SA 2.0)