The star of the College Freshman image macro just made the biggest mistake any Internet star can do: tempt the meme-makers with more photographic gold.
Griffin Kiritsy never imagined he'd become an Internet sensation when, three years ago, a photographer for Reader's Digest snapped a picture of him at the University of New Hampshire campus.
The image was typical stock art stuff: Kiritsy sitting in a UNH hooded sweatshirt, sporting a pair of headphones and holding a mobile phone.
In July 2011, someone discovered the photograph and posted it to the site Quickmeme. That propelled Kiritsy to instant image macro fame.
Macros, in case you're out of the Internet culture loop, consist of clever text superimposed on top of images. Each macro is essentially a play on the same joke. In Kiritsy's case, the jokes poked fun at stereotypical college freshman behavior ("Hangs 20 beer signs in dorm,"  reads the first known image in the series, according to meme encyclopedia site KnowYourMeme. "Only ever tasted Miller Lite.")
The macro series was dubbed, rather uncreatively, "College Freshman."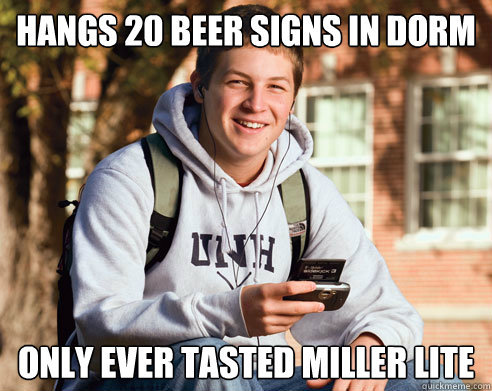 "It's a weird experience," Kiritsy told the UNH student newspaper in an interview earlier this week. "At first it wasn't a big deal, but now people are coming up to me and are like, 'hey, you're that guy.' It's really awkward."
He added: "The worst part is that 90 percent of those memes don't apply to me."
Kiritsy clearly doesn't enjoy how the Internet portrays him. So it probably wasn't the smartest idea when he posed for another photograph for the newspaper story. It's almost a perfect copy of the original photograph, though this time around Kiritsy looks a little scruffier and sports a blue sweatshirt instead of gray.
It didn't take long for that photograph to become its own meme: Kiritsy has now become a double meme star. He's both the College Freshman and the Successful College Senior.
A friendly suggestion to Mr. Kiritsy: stop wearing hoodies, and avoid photographers at all costs.