Even the highest-grossing movie of all time isn't sin-free.
CinemaSins started to point out many of the things that are with popular fmoviess last month, but they hadn't touched a movie released before 2012 until now.
This time they're taking on the juggernaut (and one of the more polarizing movies of today) known as Avatar, the 2009 movie from director James Cameron that's been described as a "splendid visual feast" and "utter shit."
Avatar won three Academy Awards and received a rating of 88 percent on Rotten Tomatoes, but it has often been criticized for its overabundance of special effects and an unoriginal plot, which has been compared to animated children's films like Pocahontas and Ferngully.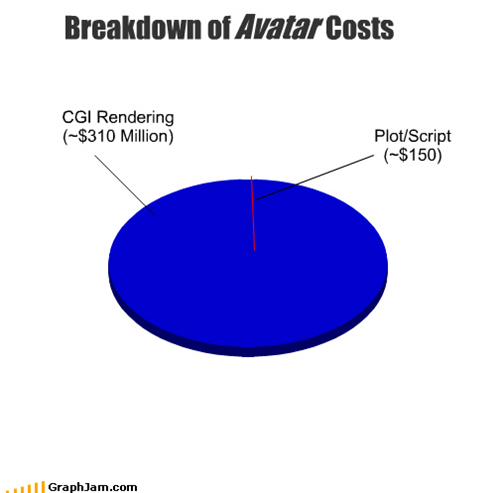 In just four minutes, the CinemaSins guys manage to pinpoint where Avatar rips off Aliens, Jurassic Park, Turok the Dinosaur Hunter, and the Battle of Endor, and somehow used the "Prometheus school of running away from large toppling objects" years before it came out in theaters.
"Typical James Cameron: preaches peace with one hand, while masturbating to all the explosions and violence with the others," they note.
Along with other potential movie rip-offs, they list some faulty logic from the Na'vi and the military, a 20-minute healing scene where a Na'vi died anyway, continuity errors, and the belief that at the end of the day we really just wanted a fight between a dog and a robot, among others.
Ultimately, every movie must atone for its sins, and after revealing the final total, CinemaSins dishes out its sentence: Boot Camp with Papa Dragon, which they deemed the porn name of Avatar's main villain, Colonel Miles Quaritch.
How about nixing the Avatar sequels instead?
Photo via CinemaSins/YouTube