Nobody seems to know who the hell Chris Pine is. Sure, he hosted Saturday Night Live this week, but it was easy to mistake him for any other handsome blonde white dude named Chris. Like Chris Hemsworth or Chris Pratt or Chris (fill in the blank).
That's why Pine, during his monologue, decided to explain exactly who he was. He said he was the star of the new Guardians of the Galaxy movie. Actually, he's not. He admitted that movie's star is Chris Hemsworth. Or is it Chris Pratt?
In order to get to the bottom of Chris Pine's identity, Kate McKinnon had to interrupt the monologue and read Pine's credit off her hands (Star Trek and Wonder Woman). Not that that's made it easier for us to know who Chris Pine is.
I mean, take a look at the Daily Dot's Chris Pine tags page.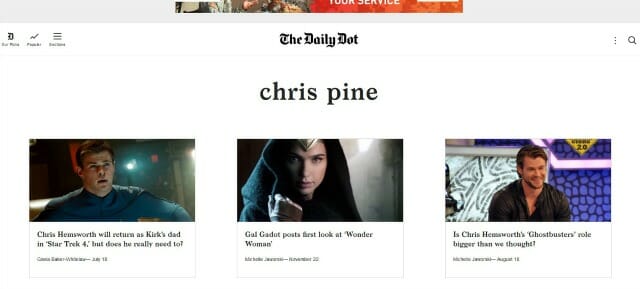 It's mostly about Chris Hemsworth!!!
Anyway, here's Pine's SNL monologue. See how he works through his self-made identity crisis.