Chris Brown on Friday tweeted that he wanted to go on tour with international pop star Rihanna. That may be a no-brainer when it comes to marketing and revenue, but Brown's dark past with domestic violence left fans outraged at the idea.
During the 2009 Grammys, Brown reportedly assaulted then-girlfriend Rihanna during a pre-ceremony argument. His popularity hasn't apparently suffered, and the R&B singer enjoys a base of ardent supporters on Twitter. While his suggestion of a world tour with Beyoncé, Rihanna, and Bruno Mars sparked an instant backlash, Brown's supporters have been involved in a dayslong Twitter feud with anyone who stands in their way.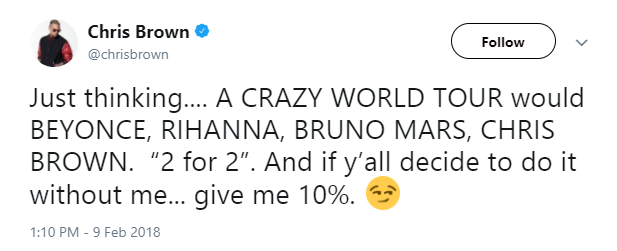 Brown in 2015 completed probation for the original battery charge. But he also has a history of violence against women: He's been accused of assaulting female fans on three occasions and threatening another woman with a gun in 2016. Given his history of continued violent outbursts, the mere suggestion of touring with Rihanna became a hot Twitter topic.
https://twitter.com/melaninporn/status/963034931692621824
https://twitter.com/HumbleTeej/status/962917419953012736
https://twitter.com/rihweready/status/962057539192946689
As Complex notes, Brown's tweet came one day after the nine-year anniversary of his assault on Rihanna. Yet the conversation, boosted by Brown fans, has evolved into a comparison about whether Bruno Mars is a better performer than Brown.
Bruno Mars is not a better performer than Chris Brown…please stop it. Nigga Chris brown flipped and landed on beat…come on dawg

— Trevor Belmont (@CallMeAlhaji) February 11, 2018
It's the kind of parlor argument that social media thrives on, but it's a disappointing sideshow given how the conversation originated—going from a serious discussion about domestic violence to comparing dance moves.

It shows how desensitized Twitter can be to ongoing problems.
H/T Complex