It was only a matter of time before an Internet-powered television network featured a channel dedicated to nothing but cats—24 hours a day.
Back in the old days (you know, before 2005), watching cats on TV wasn't so easy. You had to wait for one to be featured on the local news or a sitcom. On Saturday mornings, you might get lucky and catch an episode of Thundercats or Garfield and Friends. And if you were really lucky, you were watching TV at a time when Milo and Otis was in heavy rotation on cable. So the cat-lover in you should be eternally grateful for Channel 406 on Pluto.TV.
"All cats, all the time. 24/7/365. We've got kittens too. Meow-mazing," reads the channel's description.
I tuned in to a noon offering of Famous Felines, which is basically a "best of" reel of famous Internet cats like Lil Bub, Keyboard Cat, and, of course, Grumpy Cat. It's basically Entertainment Tonight, only (amazingly) less catty.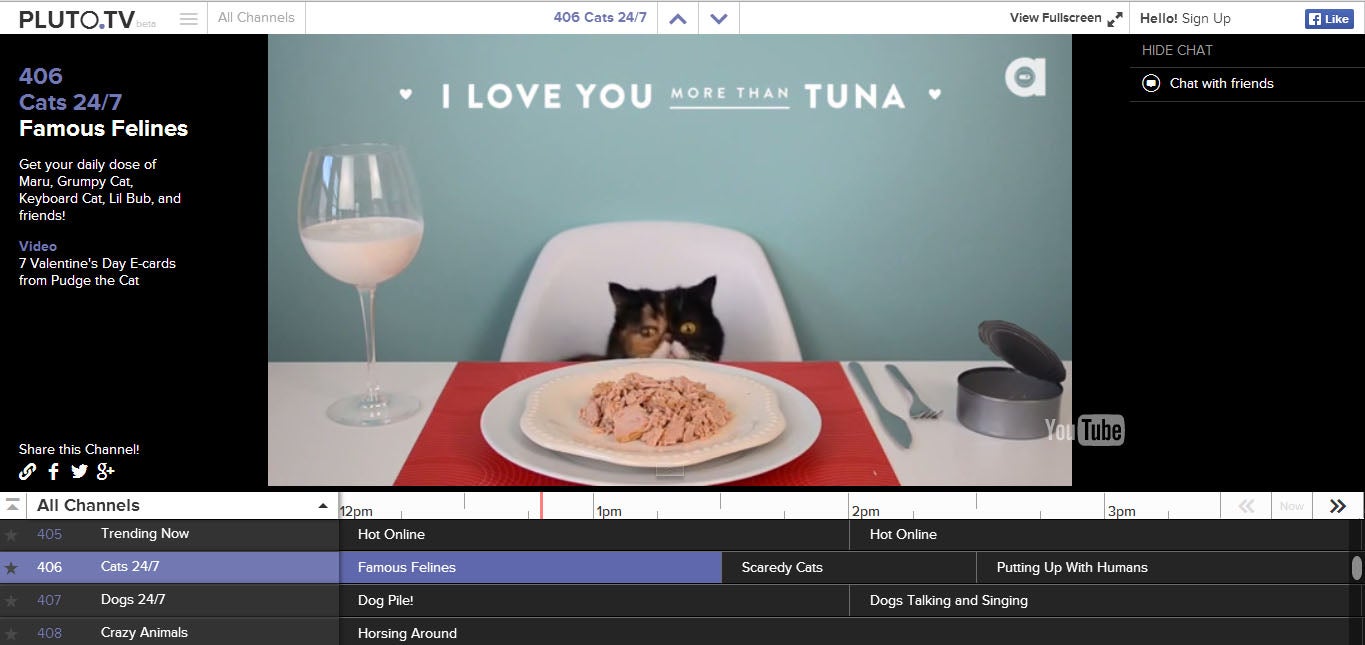 Other programs on Cats 24/7 include Scaredy Cats, Putting Up with Humans, and Cats Gone Viral! Toggle buttons on each of the programs allow the site to send you a reminder when another riveting episode of, for example, Cartoons and Comedy Cats is about to air.
Granted, Cats 24/7 is not without its competition. Channel 407, Dogs 24/7, just one click away, is the all-dog network, while Channel 408, Crazy Animals, features a variety of creatures.
While Cats 24/7 is all well and good, I think the channel should go further. We need cat game shows, cat news broadcasts, and perhaps even cats drawing the daily lottery numbers.
Nevertheless, it's safe to say that the future of television is here, and it is adorable.
Image via GillyBerlin/Flickr (CC BY 2.0)