Vancouverite Bradley Friesen has an enviable life: being featured in the Huffington Post for having the coolest apartment in town; getting rushed by investors when he announced his anti-hangover startup, Last Call, on Dragon's Den; taking the Grey Cup on a helicopter joyride, then losing 2/3rds of the footage in a bar thanks to celebrating too hard.
Joining in a game of world class pond hockey with a 2000lb Robinson R-44 helicopter? Then pre-emptively saying "Sorry"  to Transport Canada? All in a day's work.
"On December 9th, 2013, I filmed quite possibly the greatest hockey game in the history of the game… 4,000′ in the mountains with 8 different cameras. 250gb of awesomeness. I'm pretty sure this should be a Canadian Beer commercial."
True, particularly as Canadian icons Bob and Doug Mackenzie point out that beer commercials always feature activities you can't do drunk.
There were four helicopters and eight former WHL hockey players involved in the stunt, as well as a whole lotta chutzpah. Okay, technically it's not helicopter hockey the way elephant polo is elephant polo, but it is skating on a stunning frozen lake in the North Shore mountains above Vancouver, just on a lark. Most of the videos on Friesen's YouTube channel aren't even monetized.
Anticipating some blowback for the stunt from safety-conscious Transport Canada, the government organization that oversees aircraft operations, he wrote up a detailed explanation of precautions taken including consulting the Farmer's Almanack, multiple ice borings to determine thickness, establishment of an exclusion zone for player's safety, and putting the hockey players to the right of the helicopter and only experienced pilots to the left, the side on which the rotor is located.
"Sunday morning, we all met at YPK for an initial safety briefing, and flew +3 back to the lake with and aStar, H300 and 2 R-44's. It was -12 overnight, and added more thickness to the sheet. I walked the entire surface with a chainsaw and tape measure, and inspected the whole ice sheet. It was thick all the way across and had no ridges or holes. There was a small section of open water caused by a waterfall at the far end of the lake. We determined a safety line that no skaters were permitted to cross based on our test holes."
And so on, for 770 polite, Canadian words. Yes, this may indeed be the most Canadian story of all time.
In the days since the video went up it's been featured on multiple media outlets (h/t Vancity Buzz, where we first saw it), and generated some mythology already. On December 12 the Vancouver affiliate of the national network CTV reported that Transport Canada was indeed investigating the incident. Their exact words were, "Transport Canada confirmed to CTV News that it is investigating whether any of its rules were broken, including whether Friesen had the correct paperwork and filming permits." We contacted Friesen via Facebook, and he had some choice scare quotes for CTV.
"There is zero story to the 'investigation'," he told us. "CTV are just trying to make a story. I reported myself to transport and there has been no letter to me or response to me except a acknowledgement of the receipt of my email. CTV are the 3rd highest rated newscast locally who are trying to manufacture something. Pissed me off that they 'ambushed me' with pretending to do a story about the game, which was amazingly cool, and tried to make it about the 'controversy'. Is there a potential I could be investigated in the future? Yes. Is this a story? No. Who does a story about me writing a letter of explanation? It was fairly pathetic.
So, are all those startlingly badass links that come up when you Google "Bradley Friesen" really you?
Yes. Huff-po, LASTCALL, Helicopter Proposal, Losing the grey cup footage at a bar… all me. I'm kind of an all-round jackass. I've also been wearing a different t-shirt, every single day for the past four years, and plan on donating all my thousands of shirts to the homeless someday, once I figure how to turn it into a charity. I'm just guy who has fun and does things that interest him. Sometimes without thinking.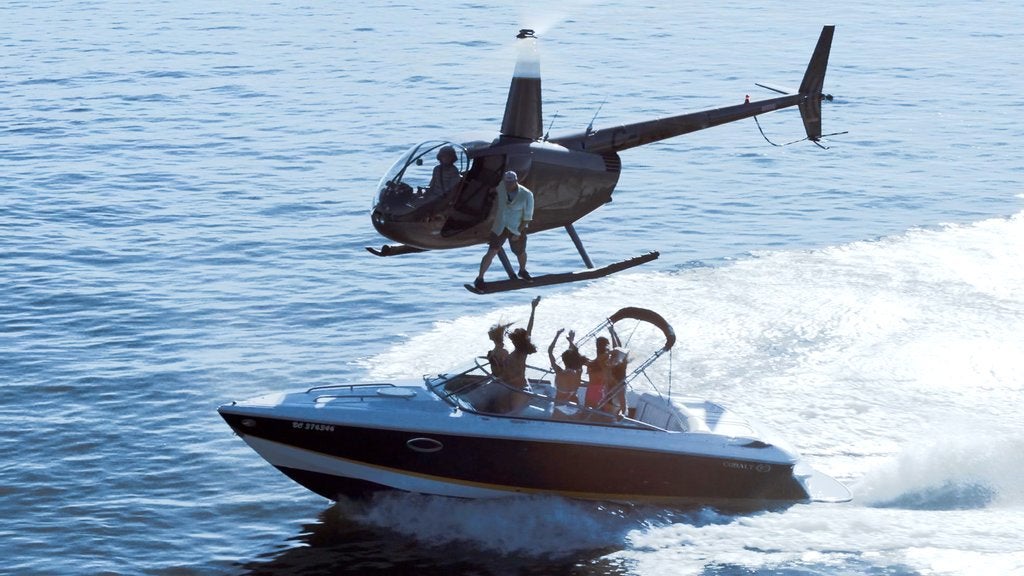 Your latest video, Chips before Chicks, is entered in the Doritos commercial contest. Will it make it to the Super Bowl? I don't envy those models in bikinis in Canada in November.
The Doritos commercial has a two in 24 chance of airing on the Super Bowl. First time I've ever entered. Never done videos other than for fun, so, learning as I go.
He seems to be a fast learner.
With three viral videos in rotation since November, Helicopter Hockey, Chips before Chicks, and the earlier Helicopter Proposal video, it's obvious that Bradley Friesen has scored that most Canadian of benchmarks, a hat trick.
Images via Bradley Friesen