In Buzzed, we take a look at four things that trended over the weekend while you were away from your keyboard getting buzzed.
On Twitter
Known Twitter-ruiner Lindsay Lohan has a piece of advice to those bracing for Hurricane Sandy: CHILL OUT. Lindsay tweeted Sunday night that she is totally confused about why the hell everyone is so scared by the powerful storm. Let's stay positive!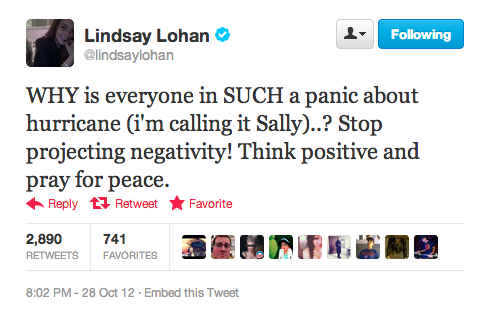 On Tumblr
A sign of the times: Hurricane Sandy is now blogging on Tumblr, and it's already miles ahead of those terrible Twitter parody accounts. A self-described "dreamer," the 1,000 mile-wide storm is blogging gratuitous pictures of itself (below), commentating on the lack of activities for her in New York, and, in a genius move, using the lyrics of Vanessa Carlton to describe her journey.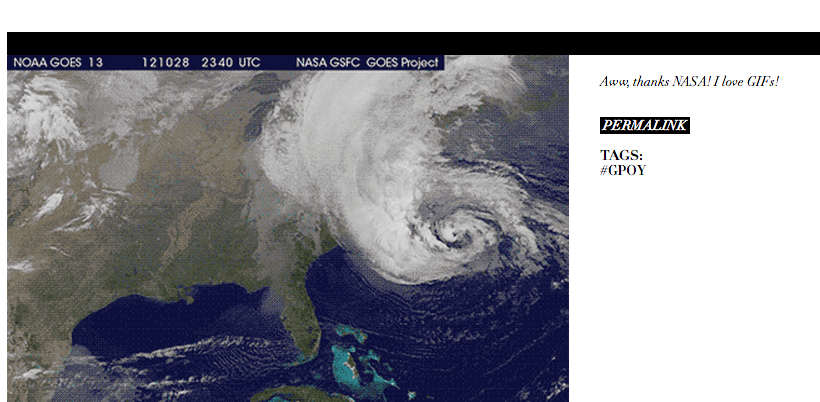 On Instagram
The National Weather Services is updating its own hurricane track, but we prefer Andy Cohen's map. On his late-night talk show Watch What Happens Live, Cohen tracked the location of the storm using different identities of Sandra. The hurricane was last seen measuring in as Sandy Bernhard.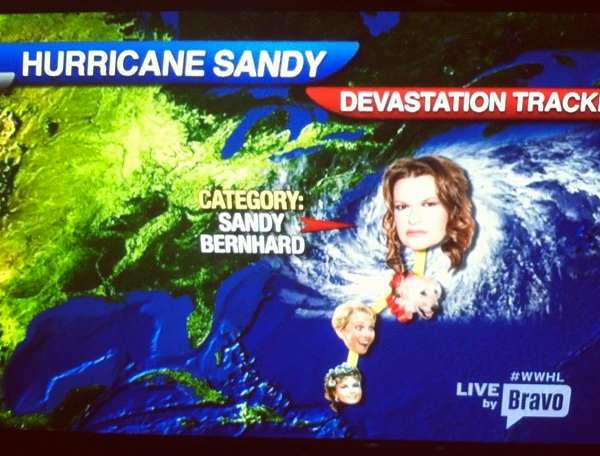 On YouTube
We could link you to John Travolta singing that Sandy song from Grease, but this song is so much more enjoyable. Let's all ride out the storm together by listening to this piano-heavy, stripped-down cover of Carly Rae Jepsen's "This Kiss" from Chris Commisso. We're calm already.
Photo via jorcohen/Instagram