Here are four things you might have missed this weekend while you were busying crying into your pillow and wondering why the world can be such a cruel place sometimes. It purportedly gets better!
On YouTube
CBS late-night talker Craig Ferguson scrapped the beginning of the Friday edition of his show and replaced it with a must-watch, touching monologue. He explained that his original opening was about Batman but because of the shootings in Colorado, it would be inappropriate to air.
A stark contrast from his usual wacky self, a subdued Ferguson poignantly reflected on the tragedy. "I'm not going to try make sense of it, not going to try and blame anyone for what happened there," adding that he couldn't outright ignore the tragedy, but find a balance on how to approach it.
In an empty studio, wearing a black shirt, and expressing his raw emotions, this is how he did just that.
On SoundCloud
With electro-rockers Passion Pit gearing up to release their newest album Tuesday, it's an appropriate time to remember they can release one hell of a remix that might not make the album's tracklist.
Take a listen to Passion Pit's take on Of Monsters and Men megahit "Little Talks." The song's folksy influences are gone, replaced with a head-bopping, bouncy beat that maintains the song's signature "hey"s. Music blog The Wounded Jukebox called it the original song's "flashier, moodier cousin"; if that's moody, we want those meds.
On Tumblr
The Internet's summer girlfriend Carly Rae Jepsen teamed up with Cirque Du Soleil to perform a high-wire and very flexible version of her hit, "Call Me Maybe," at Sunday's Teen Choice Awards.
No, just kidding, but what if she did? That would be awkward! Anyway, she did sing that one song and everyone on Tumblr freaked out about it. There are tons of reblogs of a picture of her and Justin Bieber, but we can't stop thinking about how the Canadian singer is 26 years old—and nearing puma age. So here are two GIFs of her dancing around on stage to remind you she's 26, not a teen.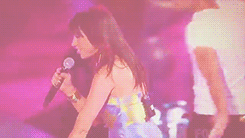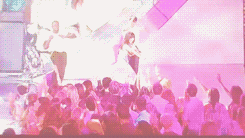 On Twitter
Loutish entertainment blogger Nikki Finke caught flak Friday for hypothesizing how Batman's box office numbers will be affected by the shooting in Aurora, Colo., because money is the first thing a person thinks about after a national tragedy.
On the Internet's reactionary ecosystem, it's only appropriate for a parody Twitter account to immediately pop up mocking said target. Now there's one for Finke. The mildly amusing account mocks her, portrays her as a cat-loving shut-in (which might be true since no one has a recent picture of her), tweeting out fake Deadline.com scoops and reminding people that her hallmark TOLDJA! exclamation is under trademark. Don't sue us, just reporting the facts.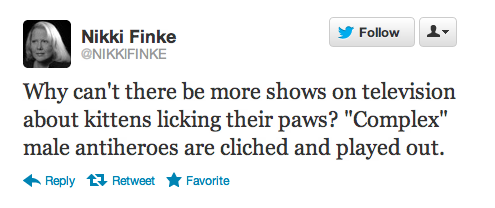 Photo via Webstagram