In Buzzed, we take a look at three things that trended over the weekend while you were away from your keyboard getting buzzed.
On Tumblr
Kate Middleton just loves the Paralympics as much as she loves smiling. The Duchess of Cambridge was spotted cheering on a rowing competition, and she handed out medals during a ceremony celebrating Great Britain's Aled Davies for earning a gold in discus.
Here's a couple GIFs of her multitasking: smiling and doing the medal honors, captured by A Royal Love Affair. Isn't she just the perfect human being?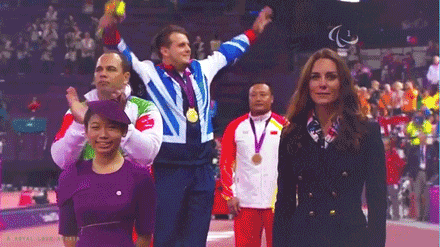 On YouTube
Bodacious rapper Azealia Banks released the music video to the title track of her 1991 EP on Sunday. If you love Banks, you're going to love the '90s-feel three-minute video that shows Banks doing a lot of posing and throwing some serious shade. We wish we could rock those high-waisted pants as well she does, too.
On Twitter and Facebook
Lashing back at Clint Eastwood's crazy-man shtick at last week's Republican National Convention where the once-sentient actor screamed at an empty chair, Barack Obama tweeted his response: a picture of himself sitting in a chair labeled "The President" which racked up more than 50,000 retweets and 21,000 favorites since Thursday.
But for comparison's sake, the same picture was shared more on Facebook. It earned nearly 500,000 likes and 77,000 shares with 27,000 comments. Your move, Clint.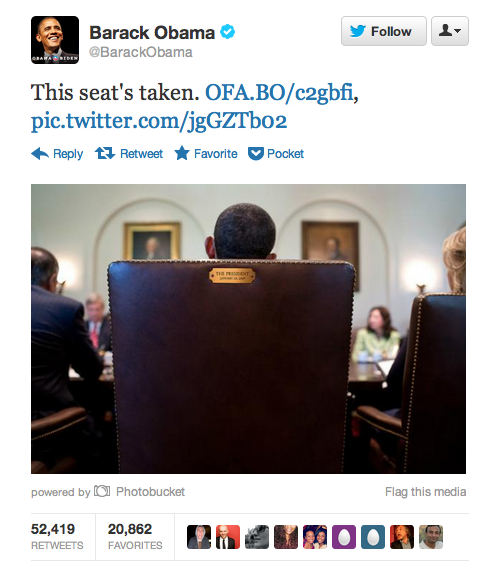 Photo via A Royal Love Affair/Tumblr