We're taking a break from figuring out the semantics of Matthew McConaughey's mid-career resurgence to bring you the three things that buzzed online this weekend.
Hot hot heat
The weekend capped off what seemed to be an endless period of heat that left of much of the sweltering country grasping for their mojitos. And did your friends ever feel the need to tell you about it! The word "hot" was tweeted more than 87,000 times on Sunday, according to social measuring service Topsy. (But the word "mojito" was only tweeted 6,500 times over the past three days, making me worry about everyone's sobriety.)
Naturally, Instagram became ground zero for a heat index pissing contest as everyone figured out how to take a screen capture of their iPhone and post pictures of the forecast. We found the most useful picture that's been floating around the sweaty Instagram-sphere.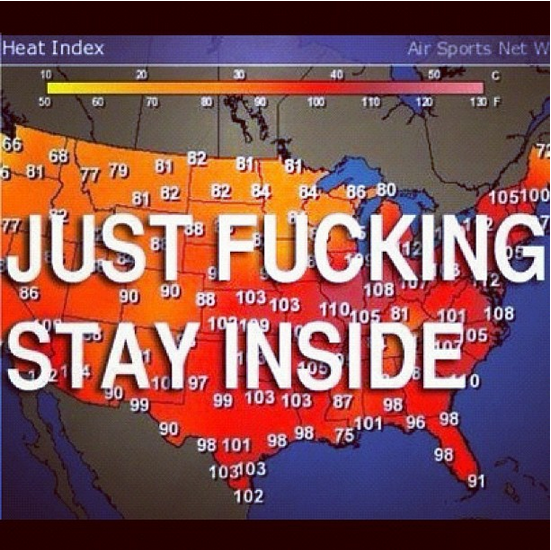 Wimbledon(e)
When the world's attention is on any British athlete, they can't quite close the deal. That was the case with Andy Murray, who was beaten by tennis titan Roger Federer at Sunday's championship match. Expectations were high for Murray to snap the 76-year losing streak since a British male last won at the All England Club.
Murray made a heartfelt speech at the match's conclusion, wishing Federer congratulations. He began his short speech by saying "Getting closer." The YouTube video of Murray's tearjerker has racked up 120,000 views with one commenter saying "Andy you are the greatest, you will next time for sure." So if you're not busy placing bets based off a YouTube commenter, watch below.
Frank Ocean's new song
Active Tumblr user and singer Frank Ocean had a busy week. On Wednesday, the Odd Future member shared a personal Tumblr post about his relationship with another man, and late Friday, he released a new song. It's called "Sweet LIFE" and we've embedded it from Ocean's Soundcloud page. The song has seen more than 540,000 plays in just two days.
Also, Ocean will make his network television debut on Late Night With Jimmy Fallon on Monday night. Ocean's eagerly awaited first album, Channel Orange, comes out July 17, and we're sure Tumblr users can hardly contain their excitement.
Photo via Instagram