Brendan Jordan has appeared in ads for American Apparel, been photographed by Miley Cyrus, and strutted down the runway at a Marco Marco fashion show. Not bad for a kid whose initial 15 minutes of fame could've ended with a local news segment.
On Thursday, Oct. 9, 2014, Jordan's family took a trip to the grand opening of Downtown Summerlin shopping mall, a massive four-day event in Las Vegas, Nevada. As local news stations situated themselves in front of the crowd, Jordan worked his way to the front and showed off his fiercest dance moves à la Lady Gaga. A shimmy, a little bit of shade, and a star was born.
The original video clip has been viewed over 4 million times and was picked up by Good Morning America, but it actually wasn't until that Friday after school when one of Jordan's friends DMed him on Instagram that he realized people were obsessing over the kid from the local news who danced like no other.
Since that spider bite of virality, all of his social accounts have exploded in popularity. He has accumulated more than 549,000 Instagram followers and 64,700 on Twitter. He's found the most traction on YouTube, where he vlogs about topics ranging from fall fashion tips to his own coming-out story—which he posted to mark the one-year anniversary of the release of Lady Gaga's Artpop. He has over 233,000 subscribers and more than 10 million views.
"I devote my weekends to making up and filming videos. I usually try to get in a video a week because of my crazy hectic high school teenager life schedule," Jordan says. "I love making videos! It's a personal hobby, and I feel so happy whenever I upload a video. My week isn't complete unless I upload a video."
When he has some free time on the weekends to peel himself away from the camera, Jordan enjoys going to the mall and meeting up for sushi dates. His favorite sushi is the Rainbow roll, so he can get a little bit of everything. He's been trying to keep up with American Horror Story: Hotel, but it's been hard with all the homework.
"My teachers are piling it on me, girl!" he says with a little laugh.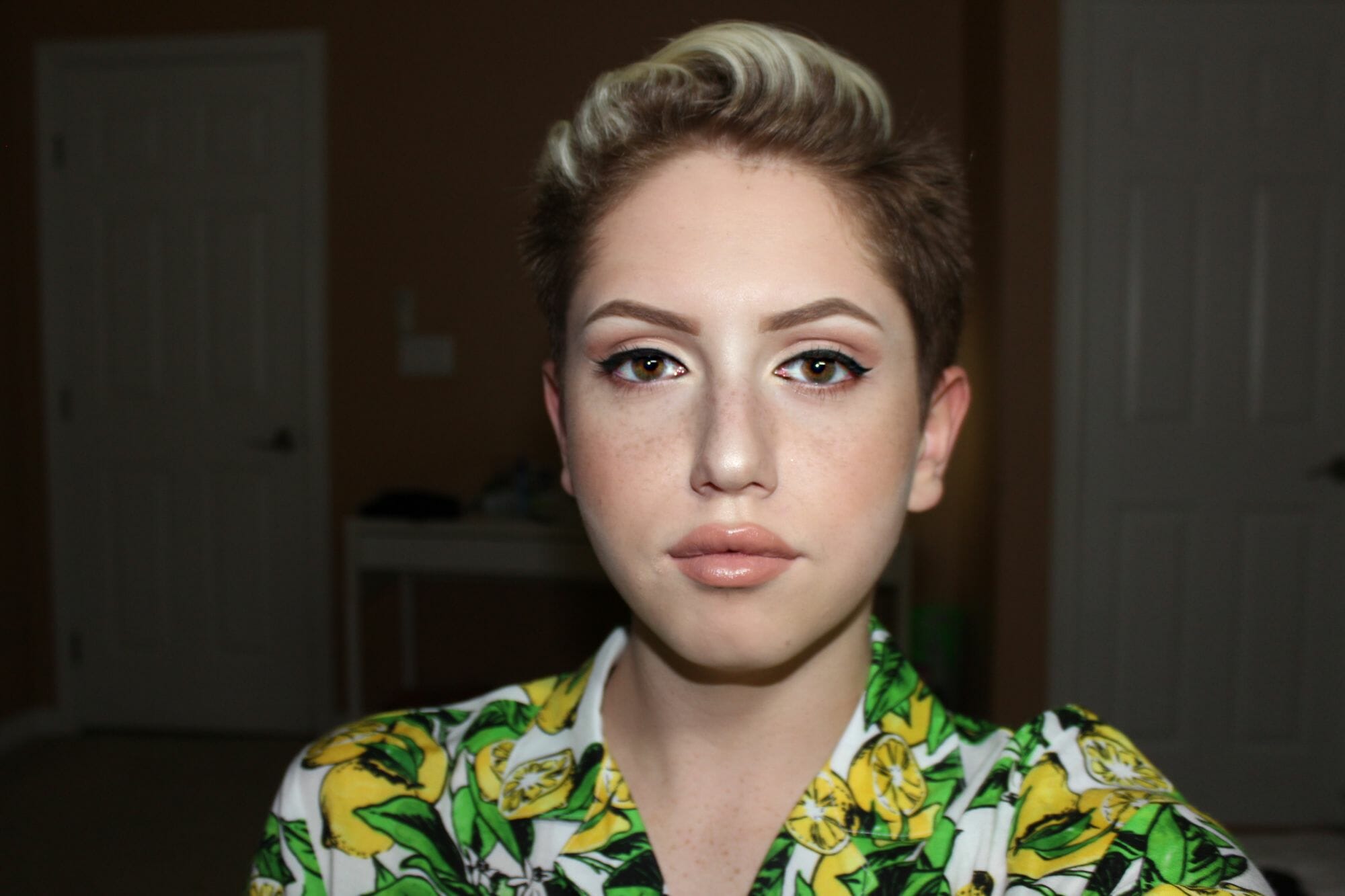 Through his personal and relatable videos on YouTube, in which he experiments with pronouns and makeup, Jordan has become an LGBTQ icon of sorts and an advocate for the disenfranchised community. He identifies as gender fluid, is comfortable with both he/his and she/her pronouns, and is representative of the LGBTQ youth who are more open with ideas of gender and sexuality, experimenting to really discover who they are.
"I don't see myself as a big voice; I just see myself as a normal teenager just saying what I believe in," he says. "People should feel comfortable with who they are and feel free no matter who they are… Teenagers nowadays are just trying to figure out who we are. I'm still trying to figure it myself to this day!"
Soon after the moment at Downtown Summerlin's opening, Jordan showed up on KTNV to walk the runway against Divas Las Vegas's Tina Turner queen. Then American Apparel approached him.
"Teenagers nowadays are just trying to figure our who we are. I'm still trying to figure it myself to this day!"
"At first they just wanted to send me some pieces of clothes, and I was like, shoot girl, of course, I will not say no to that," Jordan says. "It was two or three days after the whole viral thing, and I didn't really have any professional manager."
His parents stepped into that role, and things have really picked up. He did an official shoot with American Apparel's LGBT-inclusive T-shirt, striking poses that would make Tyra Banks proud, and after briefly meeting Miley Cyrus at the season 7 finale show of RuPaul's Drag Race, the starlet hit him up for a photo shoot for her Happy Hippie Foundation, an organization dedicated to helping homeless LGBTQ youth.
https://www.instagram.com/p/4iAUYBwzAG/
More recently, Jordan walked in the Marco Marco fashion show alongside other big names in the LGBTQ world, including Aydian Dowling, the first transman to grace the cover of Men's Health, and drag household names like Sharon Needles and Raja. It was his first time ever working the runway.
"They gave me the heels the day before and they were like 8 inches tall, and I was like 'Oh gosh can I walk in these?!' But when you're in the moment you just have to do it and have no regrets," he says. "It was such an honor, I'm just so thankful for the opportunity."
Despite it all, Jordan still stays grounded in his life back in Las Vegas. While Lady Gaga has definitely been one of his inspirations, he cites his great-grandmother Maci as his biggest role model.
"My week isn't complete unless I upload a video."
"If there was someone who's just like me, it's her. I'm a reincarnated, living version of her," he says. Jordan grew up loving the aesthetic of the '40s and '50s, the air of classiness that enveloped the era. He and his great-grandmother converse in Spanish about the dresses she wore as a young woman and how if she still had them they'd definitely be part of Jordan's wardrobe.
For now, school is still his No. 1 priority—a value his parents instilled in him—but Jordan recognizes the challenge that comes with juggling his homework with his online fame.
"You're hanging out with Miley Cyrus one day or going to the VMAs and then coming home and grounding yourself to study," he says. "In a way that's difficult because it's not necessarily normal, but then again I think to myself, what is normal?"
Illustration by Tiffany Pai