Halloween is that special time of year when people go to extra lengths to transform into their favorite movie, TV, or comic book character. Some people spend months molding their bodies to perfection while others spend hours primping and polishing their hair and makeup.
This Halloween, Gary Kyle, 57, will spend less than five minutes putting on his costume which he has spent a lifetime unknowingly creating.
Kyle will attend his work Halloween party as Walter White, the high school chemistry teacher who becomes a meth cook to pay for his cancer treatments and provide for his family in Breaking Bad. Yet underneath his black pork pie hat and tan jacket, Kyle's life is scarily similar to White's, right down to the cancer, chemistry background, and large wire-framed glasses.
As an undergraduate at Northern Arizona University, Kyle was a dual major in biology and chemistry. He was mainly interested in medical school, but as time inched closer to graduation he did not want to spend anymore time in school since he was recently married and a new father.
In 1982, he received a master's degree in chemical engineering from the University of Arizona—right next door to Walter White's home state of New Mexico.
He then moved the family to southern California. where he worked at Rockwell International supporting space shuttle missions. In his free time he taught chemical engineering at a local community college "for a little extra money."
"I always enjoyed science in general," Kyle told the Daily Dot. "Chemistry was just fascinating, how everything that we see is made up of complex chemicals and how they all interact."
After about 10 years, Kyle moved the family to Mesa, Ariz., where his world was turned upside down. Shortly before his wife's birthday on Jan. 19, 2009, Kyle was diagnosed with squamous cell carcinoma of the tongue, a similar type of cancer suffered by actor Michael Douglas.
"It was a kind of a disbelief. You are never really ready for something like that. I had my had my Christian faith to rely on and if God chose to heal me than I would be healed," he said. "That type of cancer, 90 percent of the people who get it are heavy drinkers or smokers and I am neither. So I was one of the unfortunate 10 percent. Thanks to modern medicine, I had a good radiation oncologist with state of the art equipment."
After about two months worth of radiation and chemotherapy, Kyle's cancer was in remission. But as a result of the treatment, he lost some of the hair from the back of his head and figured "well heck, mind as well cut it all off."
Kyle decided to keep the new hairdo. And about three months ago, it was the last piece of the puzzle Kyle's son Michael needed to help make his dad the best Halloween costume ever. Kyle needed to be Bryan Cranston's character of Walter White from Breaking Bad.
"While I did technically come up with the idea of the costume, it was my brother who pointed out just how similar they were in appearance. After that, all the other similarities were just too apparent to ignore," Michael told the Daily Dot. "It became really creepy to me though on the episode when Walt talks about how he lost his father at a young age, because my father also lost his own father to cancer when he was four."
So with a little bit of dye for his facial hair and some quick wardrobe additions, the transformation was complete.
Kyle debuted the costume late last week at a community block party near their home in Mesa, Ariz. Throughout the night people called him "Heisenberg," White's drug dealing alias, and jokingly asked where they could score some blue meth, White's specialty.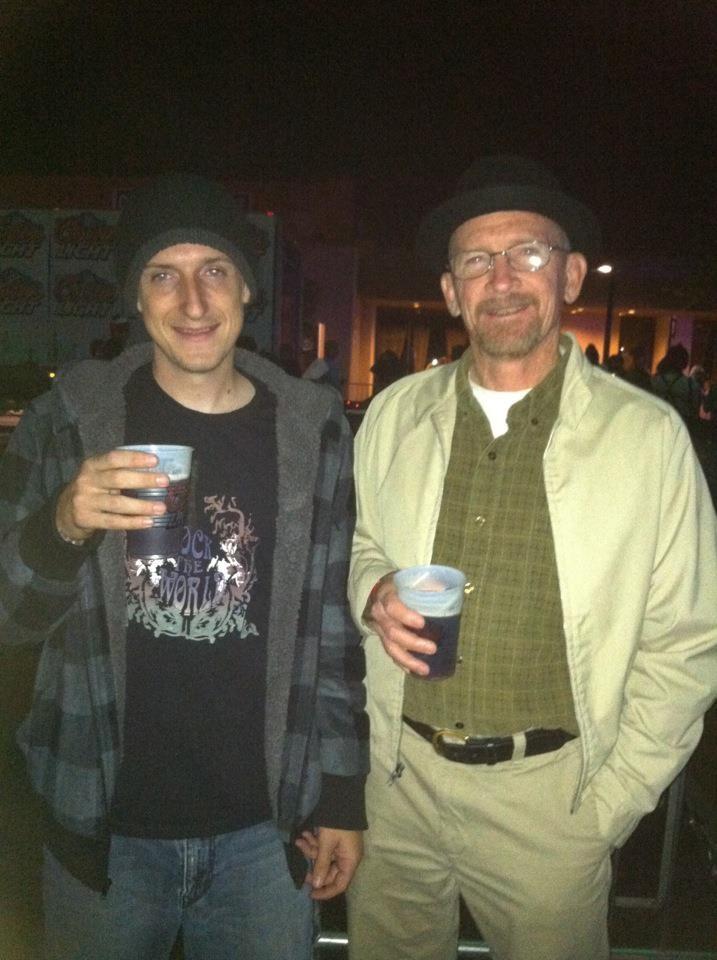 "People have a real passion for the show and it definitely came out when they saw just how much my father looked like Walt," Michael added. "Also, I could tell my father enjoyed the attention, even though I doubt he'd ever say so."
Michael posted a photo of his father on Reddit Monday, where it reached the front page and collected more than 1,000 comments from diehard Breaking Bad fans.
"im sitting in hospice with my Dad right now. he has cancer and the doctor said this morning he has 'moments' left. im so glad your dad is better," calmdowngrandma commented. "ENJOY HIM AND YOUR LIFE TOO BUDDY!"
Despite all the attention, Kyle isn't sure if he'll ever watch Breaking Bad. But if life had taken a different turn, and he didn't have top notch medical insurance, those chemistry skills might have had to be put to use on the street, Kyle said.
"It's so hard for me to relate to him [Walter White]," he added. "It's hard to say that I would ever consider anything like that. But I don't believe I would. I had excellent medical insurance, so there was never any doubt that I was going to get the treatment I needed."
All photos courtesy of Michael Kyle