As Americans enjoyed their murky skies on Monday during the first total eclipse visible in the United States since 1979, Bonnie Tyler's enduring karaoke epic "Total Eclipse of the Heart" shot to No. 1 on iTunes. According to Time, the song is up 500 percent in sales this week.
TOTAL ECLIPSE OF THE HEART IS CURRENTLY NUMBER ONE ON THE ITUNES CHARTS THIS MAKES ME HAPPIER THAN THE ECLIPSE ITSELF #TURNAROUND pic.twitter.com/xZaNxjJ4jd

— Laina (@laina622) August 21, 2017
The U.K. singer sang her 1983 anthem aboard Royal Caribbean's "Total Eclipse" cruise ship Monday afternoon and serenaded CNN with a preview. Yeah, she's still got it:
Bonnie Tyler just sang "Total Eclipse of the Heart" on CNN from a cruise ship https://t.co/JwV2ZUOJYZ #SolarEclipse2017 pic.twitter.com/s1Z1jlGryn

— CNN (@CNN) August 21, 2017
https://twitter.com/CruiseCritic/status/899698713312063490
According to TMZ, sales of the song are up 267 percent on Amazon. This is to say nothing about all the people who are just streaming the original music video on YouTube. The video was streamed nearly 260,000 times on Monday in the hours leading up to the eclipse.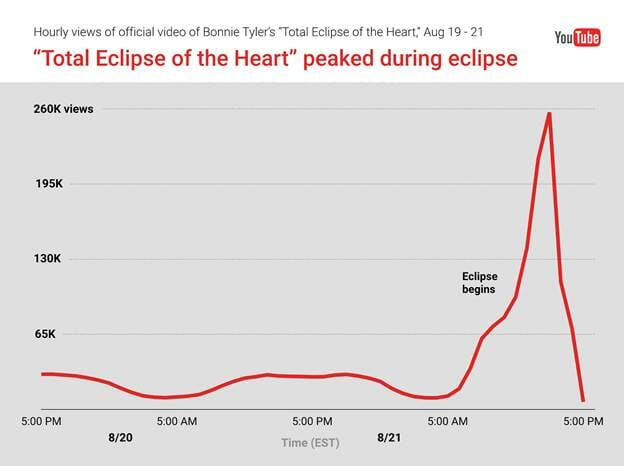 Everyone was playing this song on their phone today haha https://t.co/NB73x4uoFE #Eclipse #Eclipse2017

— Emeric Le Bars (@EmericTimelapse) August 21, 2017
Count Carolina Panthers head coach Ron Rivera is among fans of the track. He had it queued up on his phone:
Yes, @RiverboatRonHC is playing "Total Eclipse of the Heart" while watching the #SolarEclipse2017 pic.twitter.com/THKjr4h0zU

— Carolina Panthers (@Panthers) August 21, 2017
The song was most known from 2003-2016 because of Old School, when the Dan Band did a profane version of it during Will Ferrell's character's wedding. But now it's transcended frat-pack humor, and taken its rightful place as the defining soundtrack to celestial phenomenas.
Editor's note: This post has been updated with data from YouTube.
H/T Time