Dancing is not just an art. It's a science.
Dancing With the Stars (DWTS) announced the cast for its 17th season earlier today on Good Morning America, and one of the Internet's favorite scientists is competing for bragging rights and the mirrorball trophy: Bill Nye.
Best known for making science fun for children on the PBS show Bill Nye the Science Guy (BNTSG), Nye will put on his signature bow tie and join dance partner Tyne Stecklein to go head-to-head with the likes of Snooki, Valerie Harper, and Glee's Amber Riley starting on Sept. 16.
He's confident about his chances against the show's usual array of athletes, television legends, and reality stars, and after observing his online presence for years, it's easy to see why: He's been subtly hinting at his aptitude on the dance floor for years.
And as the footage shows, not only is Nye a badass, he might just win the whole thing.
1) He's already got some dance knowledge.
While the idea of Nye hanging up his lab coat and donning a pair of dancing shoes may surprise many, the mechanical engineer is an avid swing dancer.
"I love swing dancing," he told the New York Times in 2008. "I go two nights a week, often four."
The practice has certainly paid off. He was captured doing the Lindy Hop in 2011 in San Francisco, and he seemed able to keep up with his partner just fine.
2) He's been dancing for years—and it turned him into a meme.
There's no denying that Nye has some moves. A photo of him dancing in the '80s made its rounds online last year and turned him into a dorky physicist pickup artist with physics-based lines such as "Your bosons are giving me a huge hadron."
Rock on.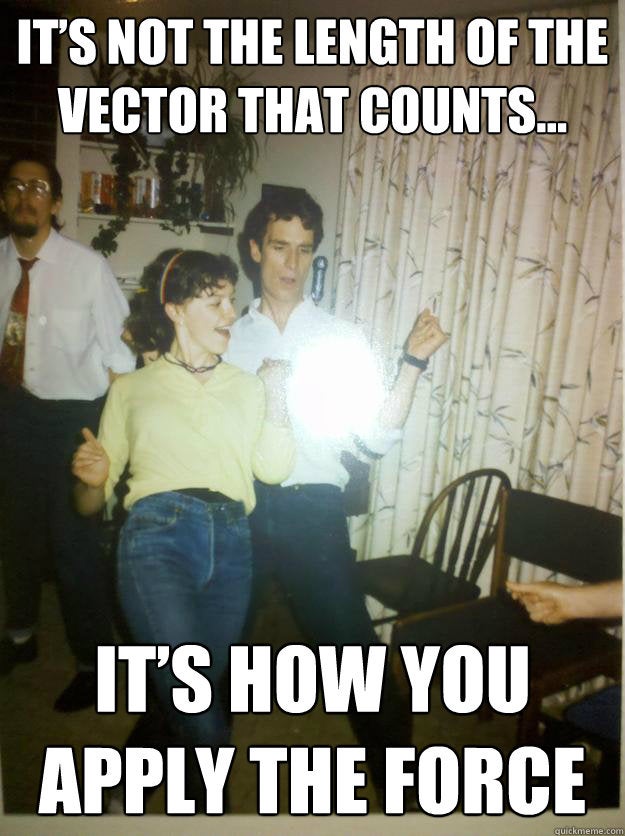 Photo via Quickmeme
3) He can still groove to his own tune.
Nye was in the Colorado Springs area in 2012 when he heard that Colorado College band Bill Nye and the Science Guys were performing, so he asked if he could do a gig with them. He put on his dancing shoes yet again when the band performed the theme song to BNTSG, and joined in on a fitting rendition of "She Blinded Me With Science." Not only is this an indicator of how he might perform, it shows that he'll be able to charm hosts Tom Bergeron and Brooke Burke Charvet and handle the judges' blunt criticisms.
4) In his downtime, Nye is a superhero.
Nye has inspired and been a hero to thousands over the years, but in his downtime (and on Seattle's early-'90s variety show Almost Live) he's Speedwalker, a physically fit superhero who fights crime while maintaining the "heel, toe" regulations of the International Speedwalking Association. It's a perfect prerequisite for staying in step when dancing with Stecklein.
5) He knows his science.
Dancing is not just about natural talent or practice. It's also about the science involved.
"It's all physics; it's all the study of motion," Nye told Good Morning America.
Even if you've never watched an episode of BNTSG, Nye's been an educator and outspoken advocate in the science community for years. He's the Executive Director of the Planetary Society, an organization which advocates space exploration, he's collaborated with fellow scientists AsapSCIENCE on YouTube, spoken out against climate change deniers, and even theorized on how the Man of Steel shaves his face.
And last August he took to YouTube himself to warn that creationist views threaten science education and aren't appropriate for children—to the disdain of creationists. It's not directly related to his odds on DWTS, but it's still a must-watch.
Photo via NASA Goddard Space Flight Center/Flickr