So crazy right now. While you were sleeping, Beyoncé crept down your chimney and gave your the best gift of the season you never saw coming—a 14-track, self-titled "visual" album, released exclusively on iTunes.
Guest stars include Frank Ocean, Chimamanda Ngozi Adichie, Drake, Jay Z, and Knowles's own daughter, Blue Ivy.
Best thing to wake up to ever ever ever ever ever ever ever.

— bobby finger (@bobbyfinger) December 13, 2013
Here's her promo on Instagram:
The 32-year-old singer also released 30-second previews for every video on her YouTube channel. 
Everyone, even conservative blog curmudgeon Matt Drudge, is listening to it, blabbing about their favorite tracks—"Blue (feat. Blue Ivy)" is a big one—on Twitter. 
Lyric of the #Beyonce album *so far* (courtesy @losh_me): "Can you lick my skittles?"

— Caroline MT (@CaroMt) December 13, 2013
Beyonce blowin' away the field. Over the last 12 hours, 827K tweets, while most people were sleeping (per @Topsy) pic.twitter.com/aV83SXAXbX

— Slade Sohmer (@SladeHV) December 13, 2013
And this happened: 
Omg, @penn_state. pic.twitter.com/PuaWjTVsC2

— Julia Kern (@juliamkern) December 13, 2013
Weirdly, someone named Boots is all over the album credits. Who is this mysterious collaborator? BuzzFeed's Myles Tanzer got to the bottom of it.
We'll update this with a lot more because we have to actually finish listening to it.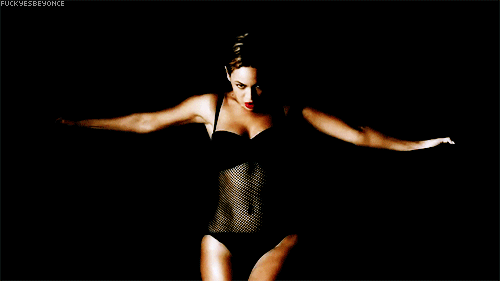 GIF via fuckyesbeyonce/Tumblr
It's a good day for quiet releases. Lorde has a new track called "No Better," and it looks like Britney Spears is gearing up for something too:
Have a little surprise coming for you all in a bit…any guesses as to what it is?! #BritneySurprise

— Britney Spears (@britneyspears) December 13, 2013
If you haven't heard it or if you're just a hater, stay off social media today because it's going to be all Beyoncé, all the time. Oh, and if you want the tl;dr version, this is the only comment you need to read.
Update: Beyoncé is now No. 1 on iTunes—without any promotion. It seems the element of surprise, not to mention the fear of missing out on Beyoncé (a.k.a. F.O.M.O.O.B.), got a lot of people to shell out $15.
Photo via Jason H. Smith/Flickr