When it was just a bunch of video game junkies speculating on Reddit and YouTube, that was one thing. But when their theory was mentioned on Spike TV's massive video game award show VGX 2013 Saturday night, Bethesda Softworks had to step in.
The mysterious website The Survivor 2299 had gone too far, convincing fans for nearly a month that it was tied to the next game in Bethesda's popular post-apocalyptic game franchise Fallout.
"Some men just want to watch the world burn," explained DCHoaxer, the creator of thesurvivor2299.com. "I wanted to force Bethesda to reveal something during VGX on 12/11, and bring /r/Fallout community together (for at least 3 weeks) Unfortunately, this plan Failed."
Although DCHoaxer's plan did fail to force Bethesda into an official announcement, it definitely brought the Fallout fan community together. His fake website sent the gaming world off on a massive scavenger hunt for the trailer for Fallout 4, a highly anticipated game that hasn't been officially announced yet.
Thesurvivor2299.com went up on November 14 with nothing but a simple countdown and the logo for Vault-Tec, a fictional corporation from the Fallout series. That was all it needed to get people speculating.
One of the first to spot the site and connect it to Fallout was Zero Period, a YouTube gaming channel. In a video posted a day after thesurvivor2299.com was live, Zero Period explained how the survivor was a possible reference to the protagonist in Fallout 4 and the year 2299 would be when the game is set. Zero Period also pointed out that the countdown was scheduled to end on Dec. 11, the date of VGX. This was the same event Bethesda chose to announce The Elder Scrolls V: Skyrim in 2010.
About a week after the site launched, DCHoaxer began releasing clues, ciphers, Morse code, and other hints referencing people and places from the Fallout series.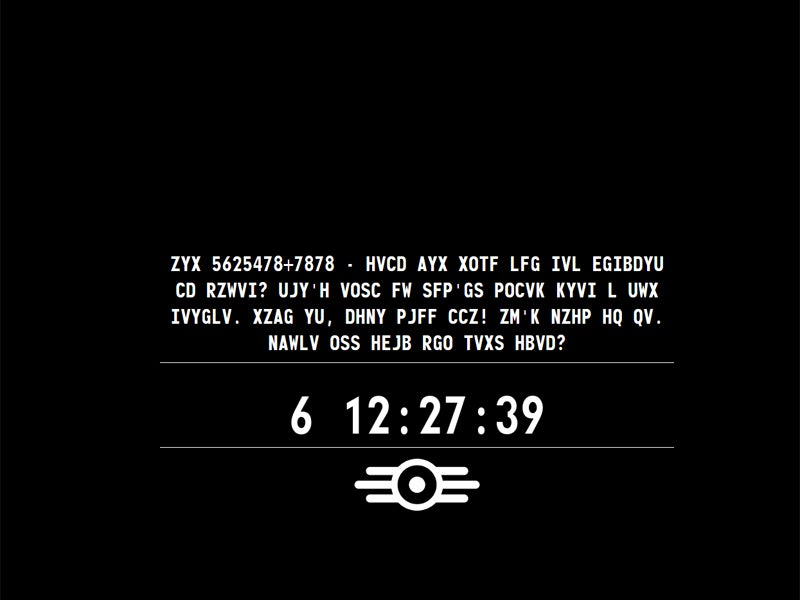 To help keep track of it all, members of Reddit's r/Fallout subreddit began crowdsourcing all their research on Google Docs. One piece of information that seemed to legitimize the Fallout 4 theory was the fact that thesurvivor2299.com was registered with Zenimax Media, the owner of Bethesda.
This detail, and the use of the Vault-Tec logo, were the foundation upon which the rest of the conspiracy theories were built upon.
"The site has the Vault-Tec logo. This is huge," hairbrushheroes commented. "The site would never have lasted so long if it didn't belong to Bethesda/Zenimax. It it was fake they would've ripped it down immediately due to Copyright Infringements."
After this year's VGX, the buzz surrounding thesurvivor2299.com was immense. On YouTube, a search for "survivor 2299" turned up more than 51,000 results. And between Reddit's r/fallout (101,000 readers) and r/gaming (4.1 million), thesurvivor2299.com was the subject of more than 140 threads.
It got so big that Bethesda's Vice President of marketing and public relations Pete Hines had to set the record straight.
No, folks. I am not going to VGX. Bethesda is not showing/talking about anything at VGX. Just some PR meetings in LA. Take deep breaths.

— Pete Hines (@DCDeacon) December 5, 2013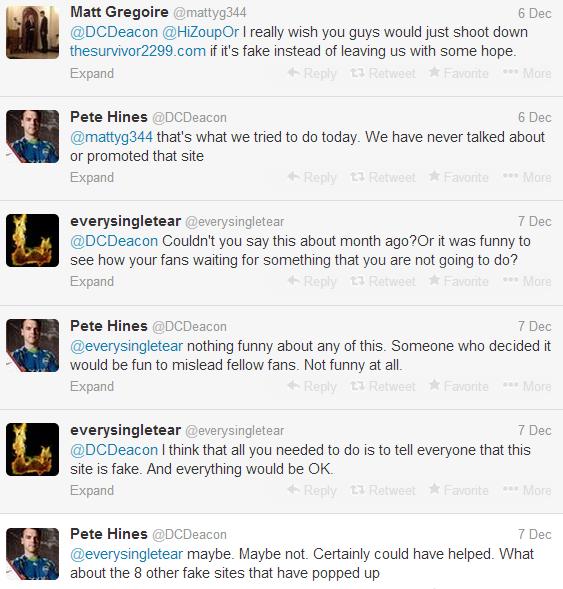 By Saturday night, DCHoaxer had been contacted by Bethesda and told to shut off the countdown. In an AMA ("ask me anything") session, DCHoaxer admitted that he had spent $900 to build and maintain the site.
"I'm one of these 'selfish bastards with a lot of money' so I wanted to release a CGI Trailer," DCHoaxer said. "But Pete Killed my plans. Maybe I'll release it later along with the script, so somebody else can use it!"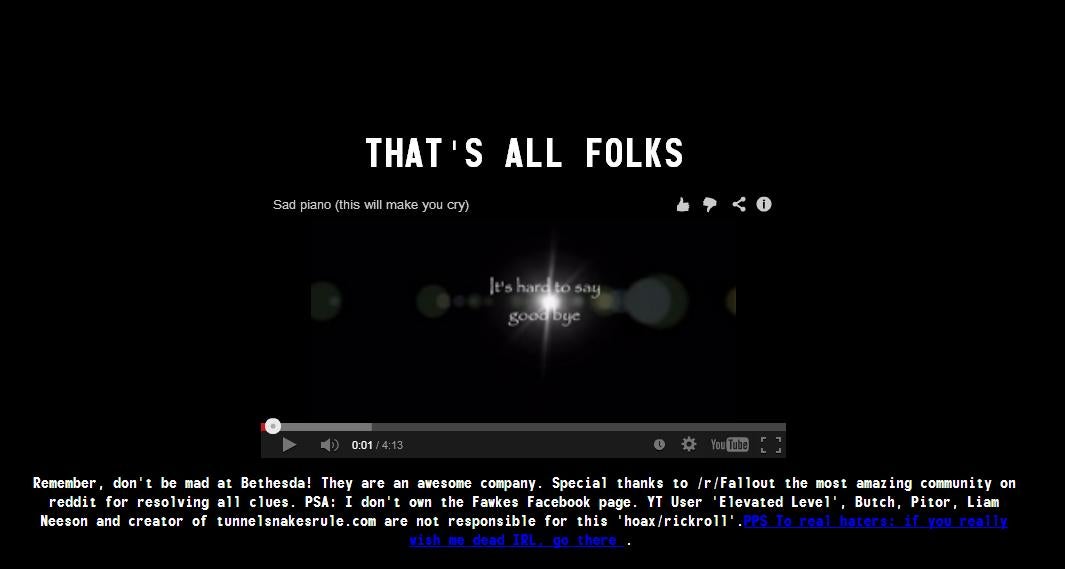 Reddit's giddy speculation had been replaced with words like "depressed" and "disappointment." 
"I don't know if I'm more pissed at the person who created the hoax or Bethesda for not stopping it sooner," reallygoodusername commented. "F*ck everything about this."
The question reallygoodusername brings up is a fascinating one, particularly when looking at a similar hoax perpetrated by the clandestine marketing group SocialVEVO. They created briansannouncement.com, a site counting down to a mysterious announcement involving Family Guy's family dog, who had just been killed off in dramatic fashion.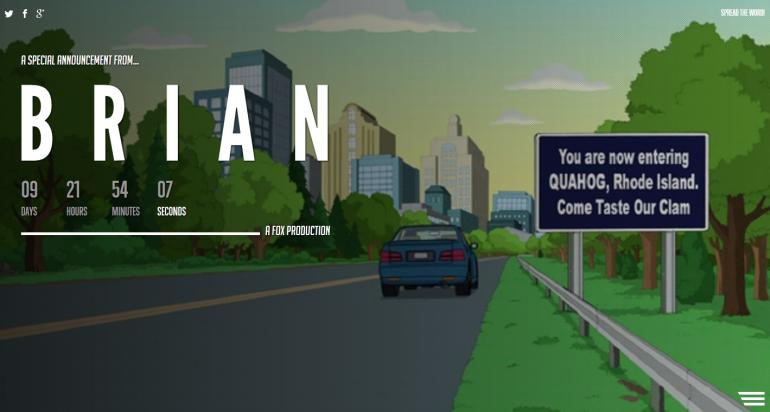 Less than a week after the site was launched, Fox burst SocialVEVO's bubble.
"The producers have confirmed that the 'special announcement from Brian' website is a hoax and was not created by anyone connected to the show, studio or network," the network said in a statement provided to TVLine on Nov. 26.
After the site was revealed as a hoax, it's now rumored that FOX and Family Guy creator Seth MacFarlane will actually bring Brian back in an episode later this month. 
Reallygoodusername's question will likely never be answered. And in the end, it really doesn't need to be. 
Without having to spend one cent, Fallout 4 received the sort of publicity and social media attention marketing firms salivate over. And Reddit's r/fallout? Well, it saw its biggest traffic spike of the year in November and December. (Click to enlarge.)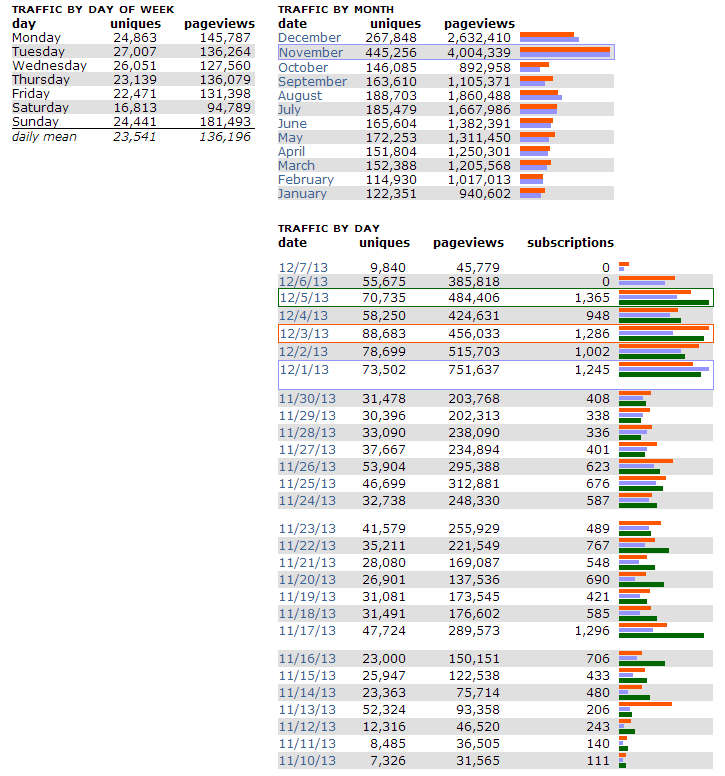 If Bethesda were planning a real Fallout 4 announcement, now would be the perfect time to make it.
H/T @randal_olson | Photo via Bethesda