Zombie movies might seem a little too close to home right now given the pandemic and everything, but there's a lot to be said about catharsis, and besides, isn't exploring our worst fears what horror's all about? Here are some of the best zombie movies currently available on Hulu, Amazon Prime, Shudder, and other streaming services.
The best zombie movies
1) Anna and the Apocalypse (2017)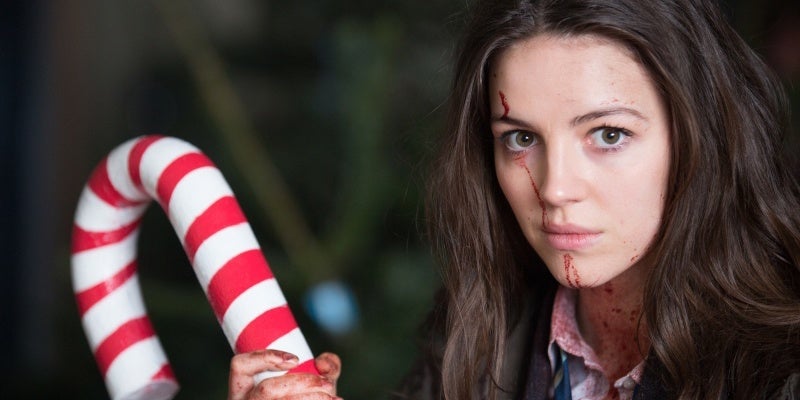 A heartwarming musical about coming of age, finding yourself, and losing everyone you love to the zombie hordes. See Anna fight with her father about taking a gap year, spend time with her friends having the sort of meaningful conversations that only happen in your last year of high school, and fight off zombies with a giant candy cane—because yes, this is also a Christmas movie. The timing of this film is impeccable with the shambling zombie back up dancers an absolutely perfect touch. You will smile, you will laugh, and you will be absolutely emotionally devastated by the end of it. Also, the lesbian survives! A novel touch given the swathe of dead lesbians to be found across popular culture. It's currently available to stream on Hulu, but you can also buy or rent it on YouTube. And really, you should.
Currently streaming on: Hulu
2) Office Uprising (2018)
A little bit if The Office was a zombie movie, and a little bit critique of American imperialism and warmongering, Office Uprising is a different kind of zombie movie. For one, the zombies aren't shambling, mindless hordes, and the contagion isn't spread via bite or virus but through a bioweapon turned energy drink called Zolt. Released into the office by a disgruntled employee, Zolt, designed to make soldiers stronger, faster, and less troubled by conscience, turns everyone into roided-out id monsters. It's up to a slacker who got to work after the transformations had already started, a Muslim fasting for Ramadan, and the slacker's best friend/love, interest who'd only drunk half a can and flashes in and out of zombie mode at the push of a button, to fight their way out. Complications, naturally, ensue and it's a violent, fast-paced, oddly cathartic experience for anyone who's ever worked for a shitty corporation. There's a little bit of misogyny, however, and about halfway through child sexual abuse is played for laughs, which is always a disappointing touch, but it's a throw-away line that doesn't really impact the rest of the viewing experience.
Currently streaming on: Crackle
3) Pontypool (2008)
A genuinely terrifying zombie movie, Pontypool takes place at a radio station in a remote Ontario town. A day that starts out like any other, with announcements about missing cats and local amateur dramatics, turns horrifying fast as people in the town slowly succumb to the outbreak. With a truly novel means of transmission and fascinating, unsettling symptoms alongside all of the usual ones among the infected, Pontypool is a claustrophobic nightmare you'll never forget. Making use of the small, enclosed set and atmospheric weather, the film is brilliantly shot, letting the unseen build terror without overshadowing the actual zombies when they finally do arrive.
The film does feature the violent death of (zombified) children, however, so that's something you may want to consider whether or not you can sit through before you decide to watch.
Currently streaming on: Shudder
4) The Zombie Club (2019)
Riffing hard on The Breakfast Club, The Zombie Club follows a disparate group of teenagers exposed to toxic vapor from "the wrong kind of frogs". In addition to slowly turning into zombies, the vapor has given them superpowers reflective of their personalities. In this zombie movie turned superhero film, the gang accidentally takes on and solves the school's bullying problem while searching for a cure, building believable bonds and understanding between the characters. Perfectly paced, funny, and clever, The Zombie Club is a zombie film you can watch with your kids that's just as enjoyable for the adults.
Currently streaming on: Amazon Prime
5) Cockneys Vs Zombies (2012)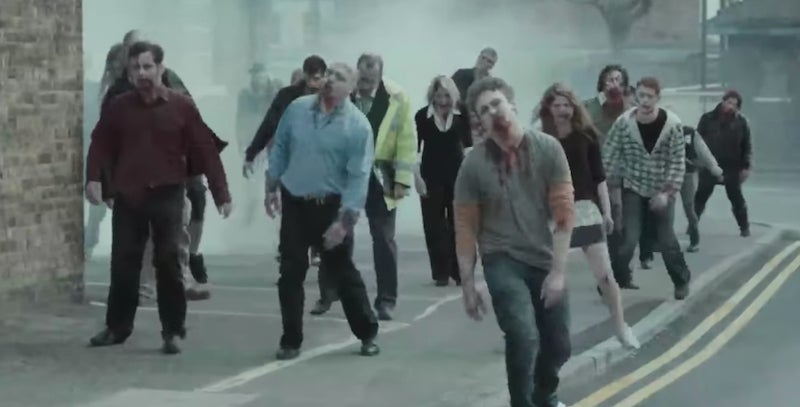 Cockney criminals Terry and Andy, their cousin Katy (the only brains in the entire group), and bumbling mates Mickey and David rob a bank so their grandfather's retirement home won't have to close. Accidentally stumbling into a cool $2.5 million, the gang barely escape arrest when a pack of zombies eat the cops. Learning of the outbreak, Katy and the brothers, along with former hostage Emma, go on a cross London road trip to rescue Emma's little sister and the family's grandpa before the zombies can get to them. Along the way, Katy hot-wires one of the iconic red London buses (something actress Michelle Ryan has done before in a Doctor Who special) while back in the retirement home the pensioners fight off zombies using all their retired gangster skills. An intensely funny zombie movie with plenty of comic book violence and a (mostly happy) ending, Cockneys Vs Zombies is a lot of fun.
Currently streaming on: Amazon Prime