As kids everywhere tear open their gifts this Christmas morning, we at the Daily Dot are unwrapping their online counterparts.
Once upon a time, entertainment didn't depend almost exclusively on iPads and smartphones. Yesterday's kids can recall a time when computers weren't life necessities, but rather big ugly machines that the adults used to do boring tasks, like taxes or Solitaire. Back then, "computer" was nothing more than what we called the opponent in single-player modes of video games.
While colorful, overpriced pieces of plastic do still exist, today they inhabit a completely different world. Board games, for example, must now compete more than ever with video games—and let's face it, Halo 4 has a far better graphics package and storyline than, say, Connect 4.
Fortunately, toy companies—and fans of their products—acknowledged the appeal of an online world. As a result, while their physical counterparts may be collecting dust in bargain bins or in the garages of hopeful eBay vendors, many childhood toys have found new lives within the confines of Internet browsers. 
We at the Daily Dot spent hours tracking down online and virtual versions of popular childhood games and toys—and even more hours play-testing them. After all, we wanted to make sure the following list was as accurate as possible, even if that meant undertaking the labor-intensive sacrifice of playing an online version of Hungry Hungry Hippos for the better part of a day until our computer processors (and editors) cried out, "That's enough!"
When your last gift has been opened, take the time to enjoy some of these classic games and toys. Batteries not included—or needed.
1) Barbie
Since its introduction in 1959, the Barbie doll has been a toy-box staple. Little girls everywhere likely spent many hours of their childhood brushing Barbie's long, blond hair, exploring her massive Dream House, and going on dates with the anatomically impaired Ken.
On the site Games for Girls, Barbie fans can recreate that magic with a series on Flash games. With just a few mouse clicks and drags, you can dress a virtual Barbie doll for almost any occasion, including Halloween and dates with Ken.
What's more, one of the Barbie models allows you to trade in her traditional runway and ballroom fashions for an assortment of geek-themed clothing. Sadly, this doesn't include My Little Pony shirts.
2) Battleship
Long before it was a horrible summer movie, Battleship was an engaging board game where two players simulated maritime warfare with small toy ships and pegs. Debuting in 1931 as "Broadsides, the game of naval strategy," it was developed into an actual board game in 1967, undergoing many renovations since then. In the 1990s, an electronic version was introduced.
Thanks to NavyCS.com, you can now play Battleship against a virtual opponent. Strategically position your own ships, submarines, aircraft carriers, and other vessels and then choose where in enemy territory you would like your hits to strike.
We promise that this version does not feature Liam Neeson.
3) Crayons
Yes, we know that computer drawing and coloring can be accomplished with everything from MS paint to Photoshop. No matter how advanced online art software becomes, it can never take away the true magic of crayons.
TheKidzPage features an assortment of black-and-white drawings that you can color in with virtual crayons. There is no "fill bucket" option; just like in preschool and kindergarten, you're going to have to see how well you can stay in the lines!
Not only does online coloring offer an "erase" option, but changing the size of your crayon is just as easy as clicking your mouse. This is a drastic improvement over traditional crayons, when you had to jam well-worn nubs of colorful wax into the special "crayon sharpener" that was built into the back of 64-pack boxes.
4) Etch-a-Sketch
Since its introduction in 1960 by the Ohio Art Company, almost every household that produced young children had an Etch-a-Sketch. Its simple yet unique construction made it a popular, timeless toy. While skilled artists have produced some pretty stellar works of art using the device, most kids would produce little more than a series of very simple—and always interconnected, of course—linear shapes.
With the virtual Etch-a-Sketch, a part of Ohio Art's official website, maybe you can take another stab at those advanced works of aluminum powder art.
Like its real-world counterpart, the controls of the virtual Etch-a-Sketch couldn't be more simple. Simply use the arrow keys to create your lines. Pressing one of the up/down keys in conjunction with one of the right/left keys will afford you diagonal lines. You can even print your creations.
Click the "clear" button to start over. Don't shake your computer.
5) Furby
When they were released in 1998 by Tiger Electronics, Furbys were an instant hit and were understood to be one of the more advanced toys on the market. Prior to the beaked, blinking balls of fur, the mixture of plush and electronics was relatively unheard of. Sure, you had your Teddy Ruxpin bears and P.J. Sparkles dolls, but neither would be classified as innovative as the Furby.
Newgrounds (remember them?) currently hosts an online version of the Furby doll, created by user violet-AIM. "Interactive Furby" allows you to customize the virtual toy to your heart's content. Change its eyes, fur color, and even add accessories like glasses and horns. While it unfortunately lacks aspects like voice recognition, clicking on one of 40 different sound effects will cause it to speak in a language and voice that will surely haunt your dreams. Just like a real Furby.
6) Hess trucks
The Hess gas station train produced the first series of toy Hess trucks in 1964. Since then, the company has designed and released a new toy truck each Christmas, making each model a worthy collector's item. Later trucks would include sound and light effects. The toy line also includes non-tractor-trailer vehicles such as patrol cars, firetrucks, and even a helicopter.
Hosted by the Hess corporation itself at hesstoytruck.com, Flash versions of the 2012 Hess Helicopter and Rescue Truck make solid attempts at capturing the magic of their real-world counterparts. On the helicopter, you are able to control the lights, motion, and sound effects of the helicopter; on the Rescue Truck, you can only control its lights. Both toys are able to be viewed from multiple angles with their effects controls still operable.
Collectors, be advised that the Flash versions of the Hess Helicopter and Rescue Truck will not skyrocket in value anytime soon.
7) Hungry Hungry Hippos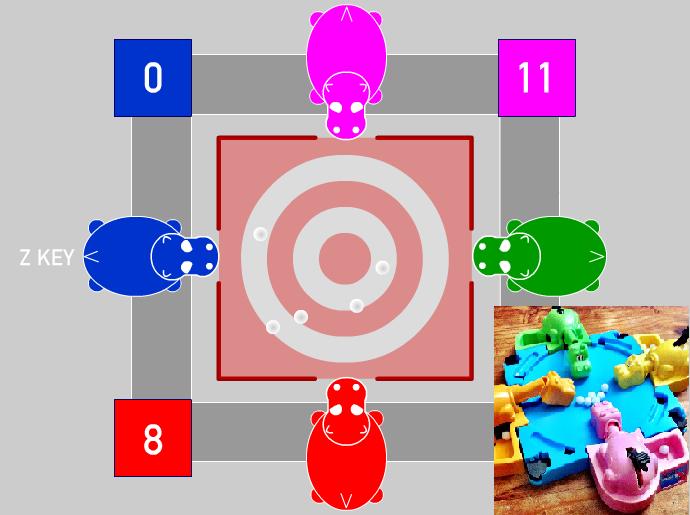 No matter what we were taught in science class, we kids were under the impression that hippos ate only one thing: small white marbles.
Hungry Hungry Hippos, introduced by Hasbro in 1978, was a deafening table game that could be played by two to four players. A pile of marbles was dropped into the playing area and, by repeatedly slamming down on a lever embedded in each colorful plastic hippo's backside, players had to see who could gobble up the most marbles.
The website PlayItOnTheWeb features a crude recreation of Hungry Hungry Hippos uploaded in 2006. The marbles are dropped and, after a short countdown expires, it is a race between you and three opponents, all of which are controlled by the computer. Gobble up the marbles by repeatedly pressing the Z key. Due to the very addictive nature of this particular online game, you might want to see if your local computer retailer sells spare Z keys, as yours will become worn very quickly.
7) Jenga
You spent a great deal of time stacking small slabs of balsa wood on top of one another to create a very unstable tower. Now you must remove one slab at a time from the middle of the tower and place it on top. 
Tension-building fun for everyone not living on a fault line, Jenga was a popular party game first developed in the 1970s and finally released by Parker Brothers in the mid-1980s. Its marketing included a series of very annoying TV commercials whose characters' vocabulary apparently began and ended with the word "Jenga."
Thanks to Free Online Games, you can relive the game without the hassle of constructing the tower or picking up all of the scattered wooden blocks upon destruction. No matter how severely your hands may shake on a regular basis, all it takes is a click of your mouse to carefully remove pieces of the tower and place them on top.
Saying "Jenga" while you play the online version is optional but not recommended.
8) Jigsaw puzzles
One of the oldest forms of entertainment, dating back to 1760, jigsaw puzzles added a new angle of fun to an otherwise boring photographs, paintings, and such two-dimensional art pieces.
Generations upon generations of families would gather around a table, painstakingly arranging puzzle pieces together until the complete picture emerged. Once this happened, the finished product was either framed or disassembled for future construction.
Jigzone has successfully managed to create a number of virtual jigsaw puzzles that do not fall victim to missing puzzle pieces or cheating players trying to fit obviously-unrelated pieces together. Puzzle masters can choose to assemble existing photographs on the site—or even upload their own artwork. 
What's more, you have a choice in terms of difficulty: assemble a simple six-piece puzzle or bring upon yourself a 247-piece challenge.
9) Legos
Legos were quite literally the building blocks of many childhoods since the modern version of the toy first debuted in the late 1950s. The brightly colored, interlocking bricks were used to construct entire toy towns, riddled with everything from vehicles to plants. These communities were inhabited by residents with large, perfectly-round yellow heads and two-fingered hands. 
Dear reader, the future has arrived: virtual Legos! And you don't even need a 3-D printer to play with them! You will, however, need about 200MB of hard drive space, as virtual Legos must be downloaded as an offline application.
Once you have downloaded and installed the app, which is free and supported by the Danish toy company itself, you will wonder how you did without it (oh, yeah, you probably had real Legos). 
Layout-wise, picture Photoshop completely taken over by Lego bricks. Dragging and dropping having replaced the labor-intensive method of pawing through bags and bins of blocks for that one piece you need. While your starter surface is pretty benign, you will quickly forget about such aspects once you discover every possible Lego brick in every possible color right at your disposal. Also, there is a sea of customizable Lego Persons to populate your construction.
Creating a virtual Lego masterpiece may not conjure up the same panache that a completed real-world set might enjoy. This is compensated for with a lack of problems common to Lego enthusiasts. For instance, have you ever attempted to pry two thin bricks off of each other, ultimately realizing that nothing short of God or Hulk Hogan could help you out? Separating virtual Lego bricks is far less grating on your fingernails. 
Also, you never have to worry about your expertly constructed buildings being unexpectedly destroyed by your mom in the name of "cleaning."
10) Lite Brite
Not since the Easy Bake Oven has a toy combined the aspects of amazement and dangerous levels of electricity-produced heat.
The Lite Brite, first marketed in 1967 by Hasbro, resembled a small tube television set (the company's current version looks more like a tablet computer). Kids would place an assortment of colored pegs through a pattern printed on black paper. When the light was activated, the pegs would illuminate, displaying a picture whose artwork could only be rivaled by that of 8-bit video games.
Lite Brite online manages to replicate that magic without fear of singing your fingers on the billion-watt light bulb that many early Lite-Brite models had installed. Created by Harris Rappaport, the Java-enhanced toy allows you to choose from a list of design sheets that original Lite Brite sets included. There is also a "free-form" sheet for artists wishing to create their own designs. Drag pegs from the color palette to the appropriate spaces on the design; you can also grab a "handful" of pegs by double clicking on the desired color, effectively reducing the continuous drag-and-drop method. 
When you're all finished, click on the "Off/On" switch to see your design illuminated.
11) Magic 8 Ball
What could be more fun than a giant billiards ball that told your fortune?
Since "Reply Hazy" was the apparent answer to that question, the Mattel company decided to market such a product in 1950. Their outlook was good and the novelty of the Magic 8-Ball caught on. People all over the world asked the ball personal yes-or-no questions, hoping for the desired answer to dramatically emerge in the dark purple dye. If the answer wasn't satisfactory, they simply kept shaking until one emerged. Clairvoyance at its finest.
The folks behind Ask 8 Ball have successfully replicated the toy into a virtual version. Type in your question, click the "Ask" button, and receive your fortune.
While lacking the portability of its IRL counterpart, Ask 8 Ball does not suffer from the ball's interior answer die becoming stuck on a separator line. Every answer is 100% clear—whether you like it or not.
12) Model train sets
What Christmas is complete without a model train set?
Miniature railroad tracks and electric trains have been circling the bases of Christmas trees since their introduction in the 1930s. The hobby continues to flourish today, with massive model train sets filling residences and museums all over the world.
Thanks to MegaFunGames, your very own model train set is as close as your computer monitor, its controls as close as your mouse buttons. The Java-enhanced control panel allows users to adjust everything from the speed of the trains to the time of day. Also intricately adjustable is the view of the train setup; several zoom levels and camera angles are provided.
A small assortment of sounds is available, though they are in rather poor quality. Each effect sounds as if it was recorded with a cheap tape recorder on a busy highway running alongside train tracks.
13) Mr. Potato Head
Before we kids got into action figures or Barbie dolls, we began with Mr. Potato Head.
Since it was introduced by Hasbro in 1952, the hole-laden plastic potato has been outfitted with appropriately-placed—and misplaced—eyes, ears, mustaches, and appendages in households everywhere. It's a safe bet that Mr. Potato Head is one of the very few personalities out there who is instantly recognizable regardless of the position of his facial features (Jim Carrey is a close second, followed by Michael Jackson).
MostPlays hosts a virtual Mr. Potato Head toy. Simply click on the pieces and drag them over to the potato body. Use as many—or as few—as you wish. One of the more noticeable features is an eternally spinning propeller cap.
If you wish, ask Don Rickles to add a voice to your creation.
14) Ouija Board
Introduced in 1890, the Ouija Board has been a staple of the Hasbro toy line for decades. Players place their hands on a small piece of plastic, or "planchette," outfitted with a hole. The piece glides across the exceptionally glossy board, onto which the alphabet, the numbers 1 through 9, and the words "yes," "no," and "goodbye" are printed.
The popular understanding of the Ouija Board is that ghostly spirits move the planchette to convey messages to the players, all of whom are busy saying to each other "I'm not moving it, I swear!" If the residents of the Afterlife really wanted to get our attention, they would choose a far better game to use as their medium. Contacting the dead through, say, Hungry Hungry Hippos would be an experience.
Thanks to Hidden Influences, the popular window to the other side can realize a new life online. Hold your mouse over the onscreen planchette and watch with wonder (or at least a really strong suspended sense of disbelief) as it spells out messages.
Be advised: the planchette moves very quickly, indicating that even dead spirits who communicate through computers like to do so as quickly as possible. It's good to know that the afterlife has a high broadband connection.
15) Rock 'Em, Sock 'Em Robots
Before it (unofficially) inspired the terrible Hugh Jackman movie Real Steel, Rock 'Em, Sock 'Em Robots was a widely popular toy boxing game first introduced in 1964 by the Marx Toy Company. Two players would each choose which dollar-store-esque robot they would want to fight as: "red" or "blue." By slamming down on buttons outside of the ring (think Hungry Hungry Hippos gameplay, only with more full-on contact), each player would throw a series of punches and jabs. The game ends when your robot knocks the head off of your opponent (an aspect that's still illegal in regular boxing).
MostPlays has brought all of the excitement of decapitating your fellow robot to your computer's mouse and arrow keys. Clicking on the mouse throws punches, while the arrow keys move your robot toward and away from your computer-controlled opponent. Similar to video fighting games, each robot has a lifeline that, when expired, pops its head into the air.
It isn't Mortal Kombat or Street Fighter, but it is nostalgic.
16) Rubik's Cube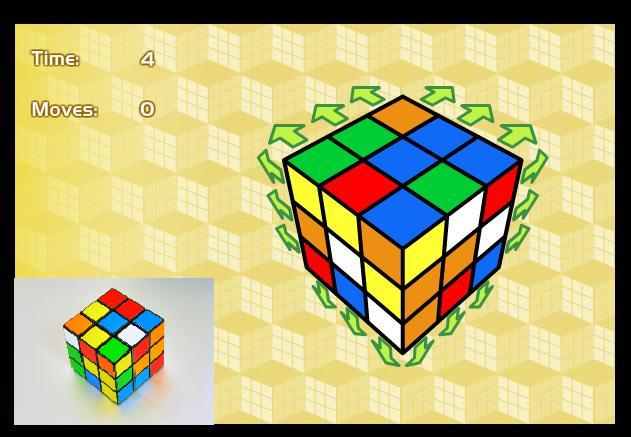 First marketed in 1970, the Rubik's Cube, a colorful 3-D puzzle game, came to define pop culture throughout the 1970s and 1980s. The object is to twist and turn the cube's sides until all sides form a single color. Simple yet frustrating.
Math Playground brings that simplicity (and frustration) to your computer with a perfect replica of the Rubik's Cube. Clicking on the arrows that hug each side of the cube will cause that side to rotate in the desired direction. Additionally, you can rotate the angle from which you view the cube.
Unlike the real Rubik's Cube, the online version unfortunately doesn't allow you to cheat by peeling off the colored stickers and placing them elsewhere on the cube.
17) Simon
Produced in 1978, the electronic memory game Simon was one of the most popular games of the 1980s. The game flashes its four lights in a certain order each round; the player would then have to input that exact pattern to advance. The game was over when you pressed buttons out of order or the battery died, whichever happened first.
FreeGames.WS successfully replicated Simon into a virtual format, with the simple rules being identical to the physical game. Use your mouse to click the buttons in the appropriate order; the game keeps track of your level.
This time, there is no chance of the battery dying.
18) Speak & Spell
Produced by Texas Instruments in 1978, Speak & Spell toys were educational electronics that taught young users how to spell and pronounce basic vocabulary words. To accomplish this, letters and full words were spoken by the device in a baritone, robotic voice.
The U.K. version of the official Speak & Spell website hosts its virtual counterpart. The online Speak & Spell is an exact replica of the toy, down to the robotic voice and bright circa-1970s color scheme. Simply click on the letters to test your spelling skills—after you turn it on, of course (seriously, to launch the online Speak & Spell, you must click on the "on" button).
Note: hooking the online Speak & Spell up to an umbrella, bicycle gears, and other household items will not allow you to communicate with E.T.'s home planet.
19) Where's Waldo?
If you are currently in your late 20s or early 30s and wear eyeglasses, there's a chance your vision went south partially due to the Walker Books series Where's Waldo? Genetics possibly also played a factor.
First appearing in the U.K. as Where's Wally? in 1987, the Waldo franchise quickly caught on with readers all over the world, regardless of the name of its bobble-capped title character. Kids spent hours on single pages of the books, their eyes scanning huge, eventful locales for that red-and-white-striped shirt.
On findwaldo.com, the franchise's official website, Waldo fans can once again strain their eyes trying to locate the most famous bespectacled character this side of Harry Potter. By dragging your mouse, you will zero in on segments of three large Waldo paintings that originated in actual Where's Waldo? books. See if you can spot Waldo, his girlfriend Wenda, his dog Woof, and a host of other characters and items.
20) Whoopee Cushion
One of the simplest toys in existence has been reimagined via one of the simplest Flash creations in existence.
A fart joke in toy form, the Whoopee Cushion was first introduced in Canada in the 1920s. Placing pressure on this simple rubber cushion filled with air would release the "raspberry" sound. Victims of the practical joke would find themselves pegged as unexpected flatulence sufferers whenever they sat on a certain chair.
The Whoopee Cushion featured on New-Free-Online-Games.com provides all of the humor of the Whoopee Cushion without the saliva-covered inflation nozzle and the potential of popping. Simply click on the image of the toy to produce various fart sound effects.
While you can't place this virtual Whoopee Cushion under a chair, it can come in handy if your computer is positioned in a high-foot-traffic area.
21) Wooly Willy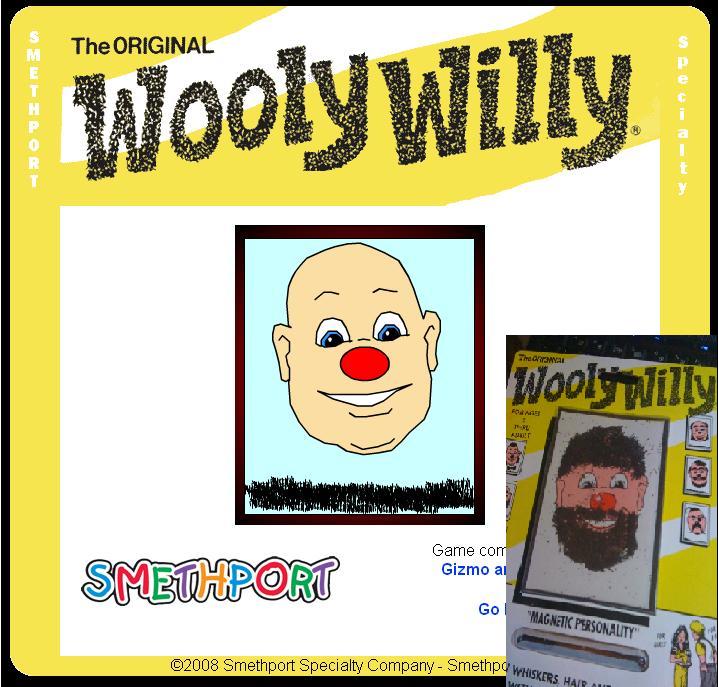 Most young kids will learn about magnets to some degree in their science classes. My own generation learned about—and became fascinated with—magnets at the worst possible time: in an era where computers were about to take gigantic leaps forward into the everyday lives of the average citizen. Poor machines. Poor floppy disks. We didn't mean it.
When it came to Wooly Willy, however, our magnets were welcome with open arms. Introduced in 1955 by the Smethport Specialty Company, Wooly Willy was a drawing of a red-nosed bald man who had apparently just gotten out of a radiation procedure. Using a special pen with a tiny magnet on its tip, we were to grab pieces of Willy's steel wool hair and dress up his head, facial features, and eyes (what face would be complete without a wooly eye patch?).
The virtual Wooly Willy, hosted on Million Minute, works the exact same way: Instead of the magnetic pen, use your mouse to drag scraps of Willy's steel-wool follicles to his face, slowly making a beard, mustache, etc. The absence of the magnetic pen is unfortunate, as one benefit of the original toy was that one could use it or other magnets to group together a ton of steel wool. This, in turn, allowed you to coat that grinning face with so much hair that people began to mistake him for Robin Williams's right arm.
Art by Mike Fenn for the Daily Dot