Every day, the Daily Dot finds something that people on Facebook are sharing and, in turn, shares it with you—with a little explanation. Here's today's share.
When Nickelback comes to town, there are many other ways to spend your hard-earned cash than on a ticket.
A snap of the Boise Weekly music section's preview of an upcoming Nickelback show is spreading faster than a new single on Facebook, as haters of the band share writer Josh Gross's alternative list of things to do than seeing the hirsute Canadians.
A ticket to see Nickelback at the Idaho Center next Wednesday will set you back at least $45. That cash, Gross argues, would be better served buying 45 hammers from the dollar store, to be strung from your ceiling at eye level so you can "spend an evening bashing the demons out of your dome."
He goes on to list a bunch of other ways to spend your dough, including seeing Men in Black III five times, which would be "as banal and meaningless as seeing Nickelback but that come without actually having to hear Nickelback."
Whether you're a fan of the band or think Nickelbacking is a nightmare scenario, it's an amusing piece of writing that's picked up 200 shares and 37 likes since it was posted on Facebook by Gustav Just Gustav on Thursday evening.
Gross has caused some consternation on Twitter though, with at least one person claiming, "[T]he biggest douche of the year has a new front runner."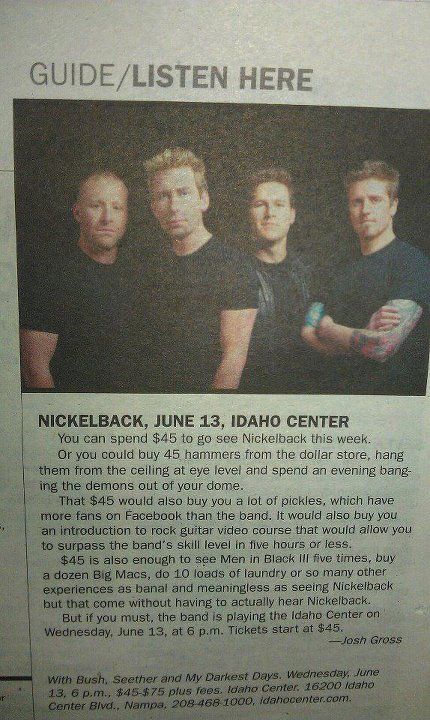 Photo via YouTube