There was once a hard-hitting journalism piece here about the mysterious chef-and-canine pair behind Cooking With Dog, the Japanese cooking show that's been going strong for seven years on YouTube.
But then we got distracted by these pancakes.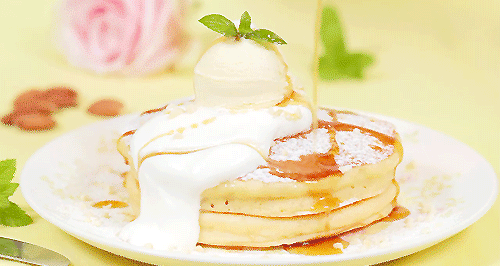 GIF via kisago
Seriously, we've never wanted to die and be reborn as a scrumptious drizzle of syrup more in our lives.
With a cult following, a weekly schedule of delicious recipes (Japanese and otherwise), and hundreds of videos to date, Cooking With Dog is deceptively simple. Its host, "Chef," is a pleasant woman who does her weekly shows with the aid of a poodle named "Francis." (Of course the dog's name is Francis.)
Featuring granular, easy-to-follow instructions, Cooking With Dog is a luxuriously simple smorgasbord of delicious food, beautiful preparation, and occasionally things like Chef making bunny ears out of an apple and turning a sausage link into a friendly little octopus.
The part of Francis is voiced by a Japanese man speaking in English doing a French accent.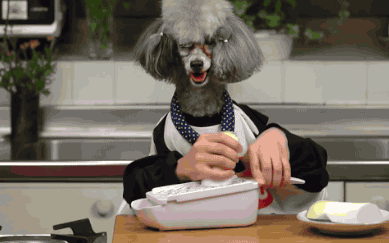 GIF via cecefredzilla
The part of Chef is played by Chef, who has managed to remain anonymous despite being a Japanese YouTube celebrity. (She and Francis were nominated for the Japanese YouTube Awards in 2011.)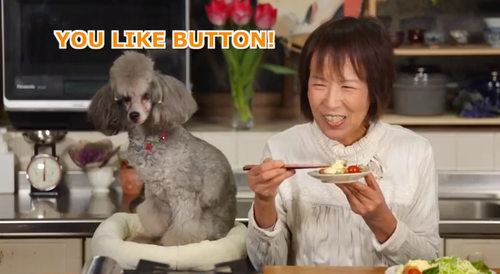 Screengrab via pizzatimesthree
YES WE LIKE BUTTON.
When she's not teaching us how to do things like slice veggies into quarter moons and gently warning us to be careful not to cut our fingers, Chef likes taking photos of food. Her Twitter feed? Food. Her Facebook feed? So much food.
Behold this picture of Chef and a cone of Squid-Ink Ice Cream: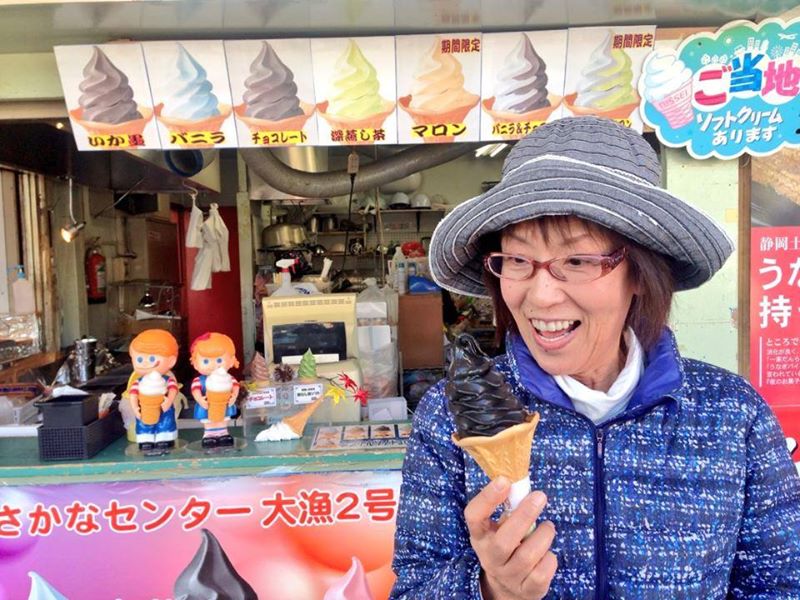 Photo via Facebook
Also, sometimes she changes co-hosts! Much tasty, very wow.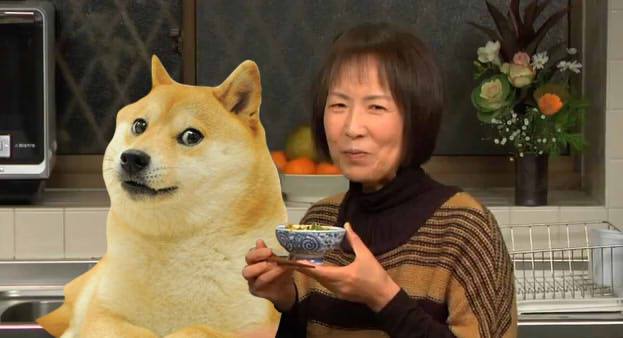 Photo via Facebook
After Chef was seriously injured in 2012, fans flocked to YouTube to wish her a speedy recovery. One of them made this song for her:
In case you haven't figured it out yet, Cooking With Dog is adorable, and it will make you want to cook all the things. It's not just that Francis and Chef painstakingly walk you through even the most minor tricks, such as the best way to successfully mince garlic. It's not even that countless fans credit the show with teaching them how to cook.
It's that when Francis tells you, in his calm, Nipponese-American-French voice, "Remove the ruffle of the bouillon cube," as Chef confidently shows you how, you believe you can fly.
Here are our favorite Cooking With Dog episodes.
1) How to Make Omurice. Favorite tip: Leave the root attached when slicing the onion!
2) How to Make Mochi Ice Cream. Favorite tip: "Walk very quickly to avoid melting!"
3) How to Make Japanese-Inspired Carbonara. Favorite tip: Cook the spaghetti for 30 seconds less cooking time than shown on the package.
4) How to Make Japanese-Style Pancakes. Favorite tip: "With a sizzling sound," slightly cool the pan on a damp kitchen towel to help brown the pancakes evenly.
5) How to Make Strawberry Christmas Cake, i.e. the video that convinced us Chef is also a wizard. Favorite tip: Cake-dropping!
Bonus: Outtakes!
Good luck in the kitchen!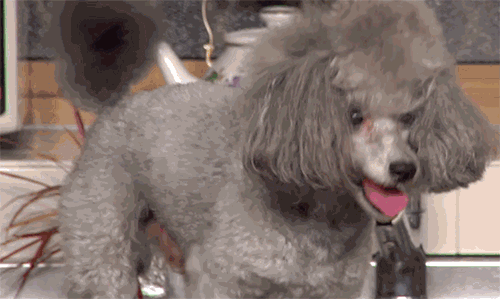 Screengrab via YouTube