Guns N' Roses frontman Axl Rose is currently experiencing some cold November rain: His ex-wife is auctioning off his breakup letters.
Erin Everly recently posted the collection of letters and notes to the Beverly Hills-based Julien's Auctions site, and they offer some insight into their tumultuous relationship, which began in 1986, around the time Guns N' Roses signed to Geffen. They were married in April 1990, but less than a month later, Rose filed for divorce. Then they reconciled, then broke up again.
The marriage was annulled in 1991, but these letters form part of their on-again/off-again narrative, when Rose was attempting to win Everly back.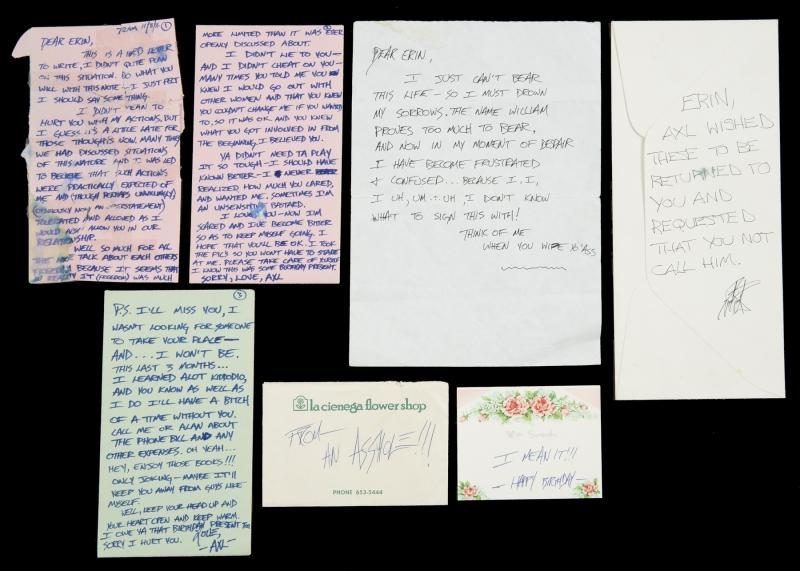 One note, written on a card from La Cienega Flower Shop, says, "FROM AN ASSHOLE!!!" A three-part letter from November 1986, the year they first started dating, points to their initial troubles. Rose shows his vulnerability, though, and some of his words almost come off like lyrics to a Guns N' Roses song:
"Ya didn't need ta play it so tough — I should have known better — I never realized how much you cared and wanted me. Sometimes I'm an insensitive bastard."
Another note is more pained, and reminiscent of the Romantic poets:
"I just can't bear this life — so I must drown my sorrows. The name William proves too much to bear, and now in my moment of despair, I have become frustrated + confused!"
Rose then signs it, "Think of me when you wipe yo' ass."
In addition to these very personal effects, Everly also auctioned off other spoils of war, including their wedding video and marriage certificate, a copy of a domestic abuse report from 1988, and a gifted copy of Richard Bach's The Bridge Across Forever. If you're a GNR completist, you are, oddly, in luck.
H/T James Cook | Photo via Ed Vill/Flickr