AwesomenessTV is betting a generation that devours short-form video content will also love a pop-up shopping experience helmed by their favorite digital celebrities.
Many YouTubers have online merchandise stores or brand tie-ins at major retailers now, but there's never been a YouTuber-only retail location like [email protected] The pop-up shop—located in Los Angeles on Fairfax Ave., near several small boutiques—opens its doors to fans on Saturday, but allowed friends of AwesomenessTV a sneak peek at the wares during an opening party on Thursday.
The shop features a DJ booth and small lounge area where the multichannel network says they'll host creator events and meet-and-greets throughout the season. Several different creators have sections throughout the store, each with flat screens showing YouTube videos. Jim Fielding, AwesomenessTV's global head of consumer products and retail, said the vision for the shop came to him after this summer's VidCon.
"When I went to VidCon and saw how incredible it was when the creators got to be with their fans, I was overwhelmed by that," Fielding explained. "It reminded me of my older days at Disney with Miley Cyrus and the Jonas Brothers. I thought with a couple more months we could get enough product done that we could create a space that has product, but also lets creators interact with their fans."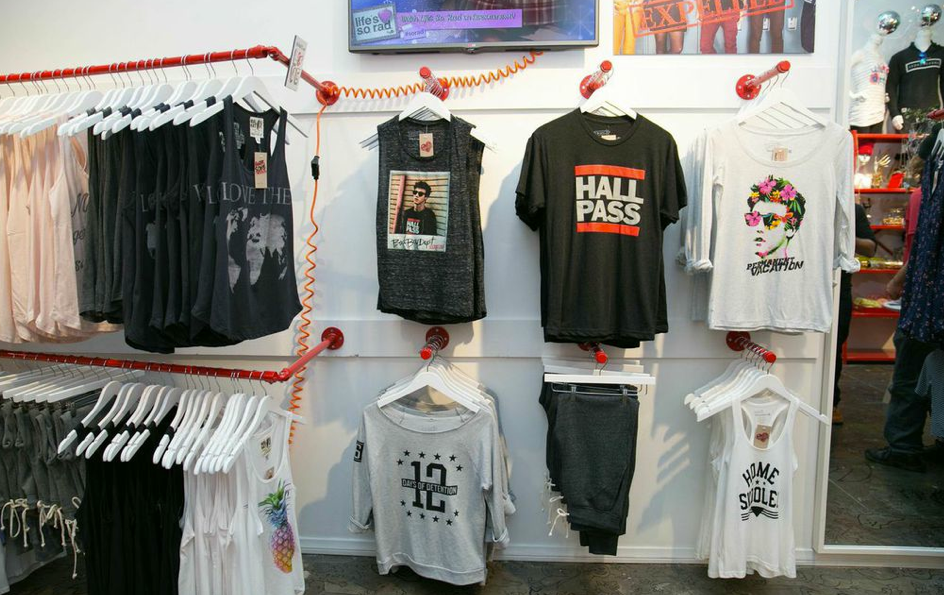 The majority of the YouTuber-created products in the store are shirts with designs or catchy phrases, which Fielding said was partially a consequence of how quickly they went from concept to physical store, but also, shirts are a great way for creators to express their brand. There's a diversity of ideas across the shirts, and each line reflects the individual creator's style. Fashion and lifestyle vlogger Teala Dunn's shirts are cheeky, while filmmaker Sawyer Hartman's line includes his own photography. Fielding says in the future there will be a broader line of products.
"We'd love to get more shoes done, a lot of the creators want to get shoes," he explained. "Sawyer wants to do hats. We're going to do home, bedding and wallpaper, and decor. We even want to do dolls!"
The YouTuber-created goods are supplemented by curated accessories and trinkets throughout the store, making it easy to leave with a completed look. Additional YouTubers will add their creations to the store after Saturday's launch, although the store will only remain open until Dec. 31. Fielding says AwesomenssTV is hopeful that they can expand the project after this inaugural experiment. Even before the launch, fans showed up to show their support and hopefully get a glimpse of their favorite stars.
"I love the energy of our creator community and I love the energy of our fans," Fielding said. "We have girls out there since 3 o'clock to meet Teala and Sawyer."
The Awesomeness gang not only snuck out to meet their fans, but sent them cookies and milk from the party. That's some above average customer service in the retail industry.
Photos courtesy of AwesomenessTV