If you've never heard of YouTube star Austin Mahone, then chances are that after Sunday night's Video Music Awards, you … probably still haven't heard of him, as other performances—namely, the reunion of N*SYNC and the disaster that was Miley Cyrus grind-twerking against a Beetlejuiced Robin Thicke—overshadowed the youngster's win for Artist to Watch.
But to millions of Mahone fans—known as "Mahomies"—the up-and-coming star is more than just, as the New York Times put it, "a ninth-generation Xerox of Justin Bieber." After all, his recent singles, which include a riff off the '80s classic "Just a Friend" and "What About Love," have gotten over 30 million YouTube views. Hey, that's approaching K-pop levels of celebrity.
The surprising thing about Mahone, who hails from San Antonio, is that even though he's being billed as a newcomer, he's been honing his craft for years online—often by any means necessary, including everything from UStream concerts to paid Skype calls with friends.
WE DID IT!!! I CAN'T BELIEVE THIS!! 😃😃😃😃😃😃😃😃😃😃😃 THANK YOU GUYS SO MUCH FOR VOTING I COULDN'T HAVE DONE IT WITHOUT YOU ❤ BEST. NIGHT. EVER.

— Austin Mahone (@AustinMahone) August 26, 2013
Here's the skinny on Austin Mahone, and his slow but steady, non-meteoric rise to fame.
1) He has an adorable puppy.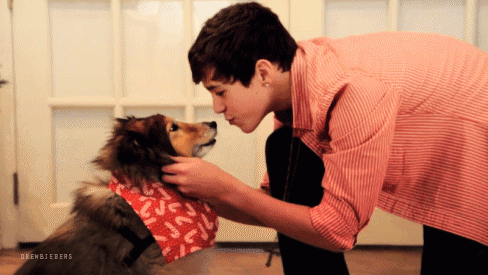 Photo via dudeitsmahone
Angel and Mahone do everything together—including rack up the YouTube hits.
2) One Direction's Harry Styles thinks Iggy Azalea should have won instead. 
@IGGYAZALEA should've won last night..

— Harry Styles (@Harry_Styles) August 26, 2013
Them's fighting words, Harry! Iggy Azalea is an Australian model-turned-vocalist, but she doesn't have the advantage of having had a devoted fanbase since she was 14. Mahone first started posting YouTube videos back in 2010; now the 17-year-old has more than 941,000 subscribers.
3) All kidding aside, he really is a Bieber clone.
Not in terms of music. We're talking style, dress sense, mannerisms … it's kind of eerie.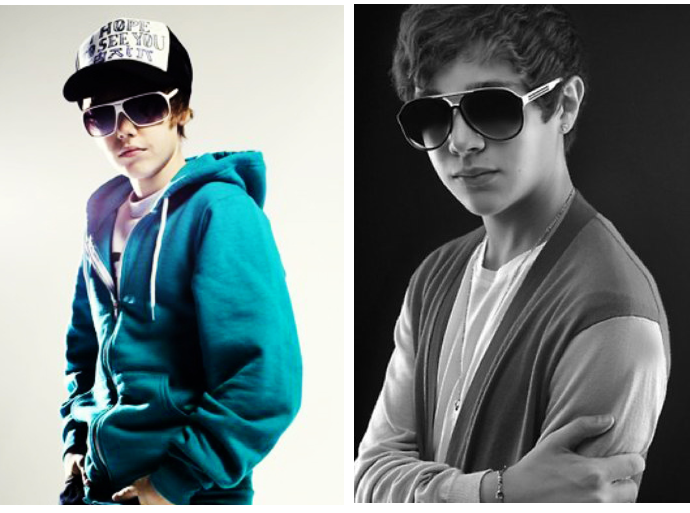 Mahone is a devout Belieber, and says that one of his biggest dreams is to go on tour with the Biebs—a goal that's looking more and more likely all the time. 
4) He used to charge $50 to do 10-minute Skype calls with his fans.
According to his mom, they had to raise the rate for his Skype calls because demand kept growing. But it wasn't a money-grab, according to Mahone, who originally wanted to hang with fans on their birthdays. "I just hang out with them and play songs and stuff," he told the Hollywood Reporter last year.
5) He rose to fame by making his videos very personal …
Take the cover he did of Bieber's "Mistletoe." While he was still an amateur, the video racked up millions of hits, in part thanks to winning moments like this one, and, "My mom shot the video (:"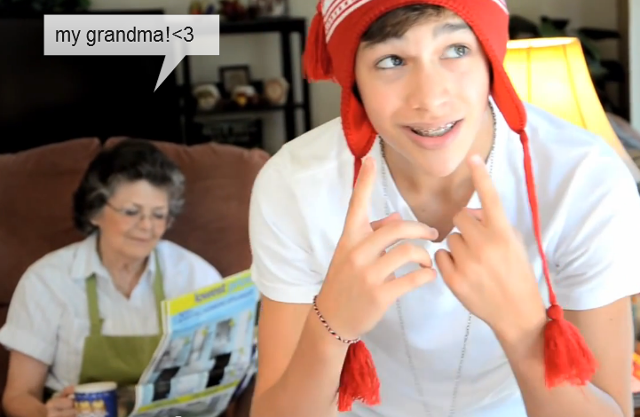 6) … And he did it all through social networking.
Mahone told the Houston Chronicle two years ago that he had pounded the virtual pavement to get the word out about his music, covering every platform from YouTube, LiveStream, and UStream to Twitter, Facebook, and Skype.
7) He was so good at it that he debuted on Billboard at No. 38 without ever having a record deal or a single.
Now that take more than social media savvy. That takes talent.
8) Mahone is a quadruple threat.
As his latest single shows, he can dance almost as well as he sings. Plus, he plays the guitar and the piano.
9) Oh, yeah, that's what his actual bedroom looks like.
The singer's bedroom is literally a shrine to himself, wallpapered with letters, cards, and artwork from fans. And we have to give him credit—he seems totally chill with his pink walls. Rock on, Austin.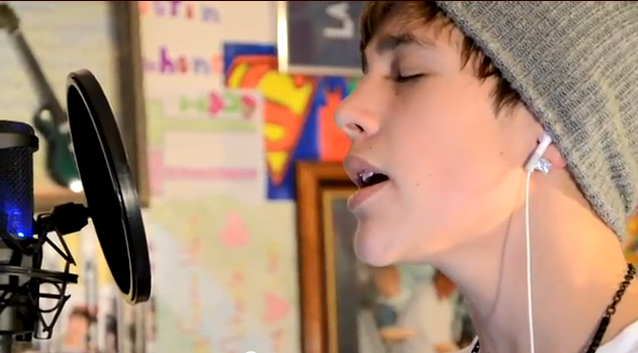 Photo via taylorluver1/deviantART
10) He says music got him through being bullied.
In an excerpt from a bedroom interview, Mahone says that he was "bullied" for going the old-school route of posting his videos on YouTube. But, he says, the music helped him cope.
So maybe he's not quite a Bieber clone after all. 
Photo via Instagram