Christmas has come early, and it's the "worst."
Aubrey Plaza has been tapped to star as Grumpy Cat in an upcoming holiday special from Lifetime, appropriately titled Grumpy Cat's Worst Christmas Ever. 
According to Hollywood Reporter, the role was originally going to be played by Glee star Jane Lynch, but this recasting seems to be a match made in sad-face heaven. After all, Plaza is best known as Parks and Recreation's April Ludgate, an apathetic college grad who has plenty of experience working with animals she can't stand as deputy director of animal control. What could be better?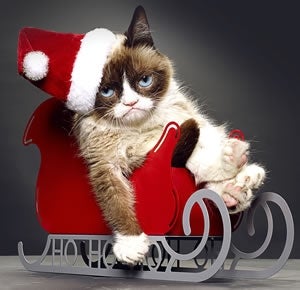 Photo via Lifetime
According to Lifetime, the TV movie stars Grumpy Cat as a mall pet store kitty who's always passed over by customers. That's until 12-year-old Chyrstal discovers she can communicate with Grumpy Cat and falls in love with the perpetually forlorn meower. And it wouldn't be a holiday special unless Grumpy Cat saved Christmas, although it's probably not by choice. 
"In the middle of the holiday rush, Grumpy reluctantly thwarts the kidnapping of an expensive exotic dog she can't stand, and rescues Chyrstal after the mall closes on Christmas Eve," Lifetime says on its website. "Will Grumpy Cat learn the true meaning of Christmas, or will it be in Grumpy's words, 'Worst. Christmas. Ever?'"
Grumpy Cat's Worst Christmas Ever has already started filming, and Grumpy Cat, who's real name is Tardar Sauce, looks positively elated about her major screen debut. The Lifetime TV movie airs Nov. 29. 
Photo by Gage Skidmore/Flickr (CC BY-SA 2.0)