Tech

Tech

The gadgets, platforms, and software that make your digital life possible. If it bleeps, clicks or blinks, you'll find it here.

Internet Culture

Internet Culture

There's a community for everyone online.

Streaming

Streaming

News, reviews, and guides for the world of online entertainment.
Worth 1,000 Words: Anthony Bourdain
Dinner for Twitter: How Anthony Bourdain satisfies online appetites
Chef Anthony Bourdain doesn't just cook in the kitchen. He tweets.
The lauded author and television personality has helped pioneer the live-tweeting of episodes with his new series No Reservations.
The live-tweeting experiment began last year with an episode featuring Sean Penn and shot in Haiti as the country attempted to recover from a devastating earthquake:
"I will hear no [ill] spoken of Sean Penn. Six months LIVING on site in a tent. Two weeks out of month since."
"Chef Jose Andres was camped out at the bar for much of the week, drinking rum sours."
"FYI – Sean makes an excellent rum punch."
Those sorts of candid insights into the episode proved an instant success with fans. Bourdain gained 760,000 Twitter followers, tweeting in the process everything from opinions on films and politicians to photos of himself with snakes.
The high-level engagement was surely helped by Travel Channel, which promoted Bourdain's live tweets through on-screen prompts (which helps the account gain around 3,000 new followers each episode). The show also offered fans the chance to view a deleted scene if they sent 10,000 tweets about a No Reservations episode during the time it aired last July. (Twitter crashed when the episode was aired on the East Coast, but the scene was made available anyway.)
Renowned for his willingness to try just about any type of exotic food, such as raw seal eyeball and a still-beating cobra heart, Bourdain—who rocketed to fame when his 2000 book, Kitchen Confidential: Adventures in the Culinary Underbelly, became a New York Times bestseller—also has a prominent presence elsewhere on the Web. He has 1.4 million Facebook fans, and is known on both YouTube (through Travel Channel's own channel) and Reddit, where he answered questions from redditors last year. He also often utilizes his blog to share longer form thoughts.
But Twitter is where Bourdain turns up the heat and gets personal. From time to time, he answers questions about his pop culture preferences. When asked his preference between singers Aretha Franklin and Etta James in October, he claimed "Aretha can sing the damn phone book."
The author hit the headlines earlier this year, when he criticized cook and television personality Paula Deen. She revealed in January she has Type 2 diabetes, and Bourdain took her to task for apparently endorsing fatty foods while knowing of her diagnosis.
"Thinking of getting into the leg-breaking business, so I can profitably sell crutches later," he tweeted.
In preparation for his South by Southwest panel and as part of the Daily Dot's weekly series, Worth 1,000 Words, we generated a custom word cloud based on his recent tweets.
You know what they say—if you can't stand the heat, stay out of Bourdain's kitchen, and off Twitter.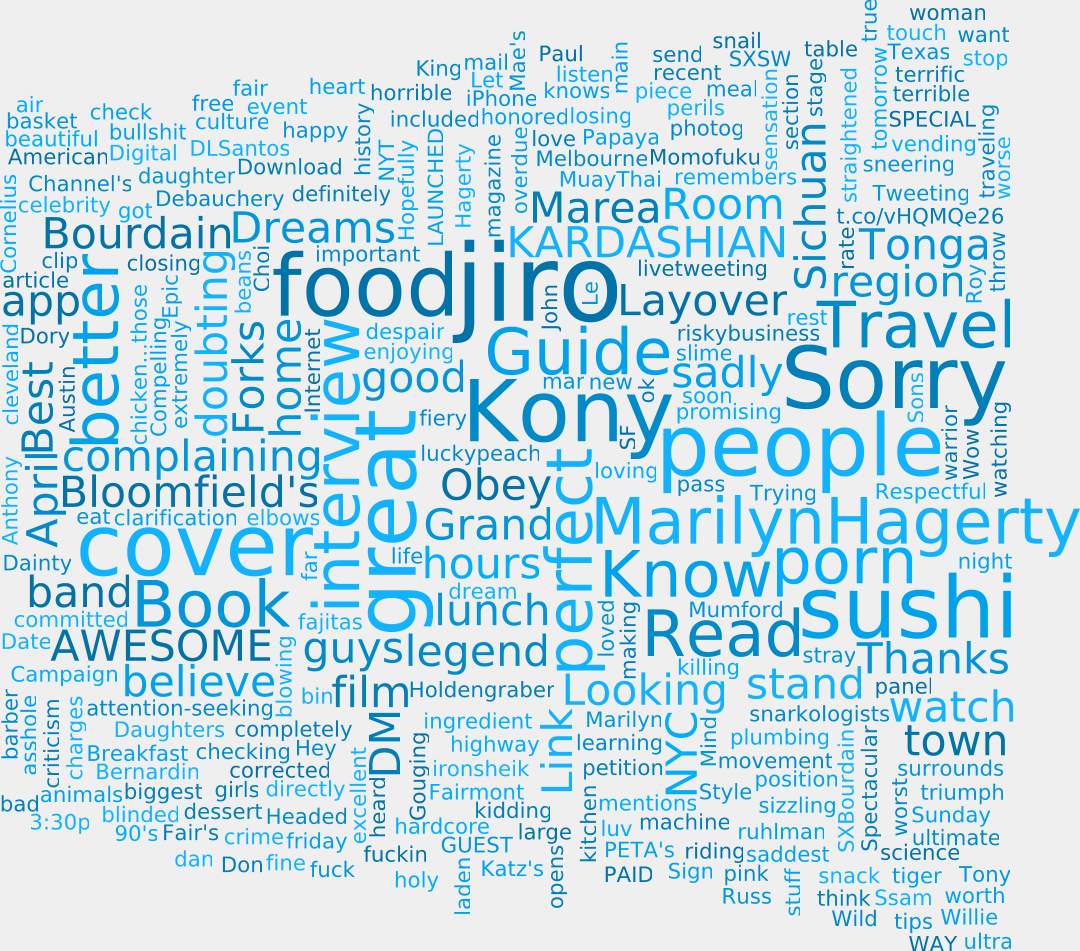 SXSW Panel: Digital Debauchery with Anthony Bourdain
Tuesday, March 13, 3:30 pm
Austin Convention Center, Ballroom D
Photo by srlasky
Based in Montreal, Kris Holt has been writing about technology and web culture since 2010. He writes for Engadget and Tech News World, and his byline has also appeared in Paste, Salon, International Business Times, Mashable, and elsewhere.
© The Daily Dot, all rights reserved.
Represented by Complex Media, Inc. for advertising sales.