Thank god Bravo's Watch What Happens Live had double the AC last night, with guest Anderson Cooper joining Andy Cohen, because things got hot and uncomfortable in the Web-only aftershow.
As part of the show's five year anniversary celebration, Cohen had Kelly Ripa guesting alongside the CNN silver fox, with fans voting in a live poll as to who they wanted to reveal a secret about the Bravo host in the aftershow.
With a landslide win, Anderson was appointed to share a secret about his friend. But Cooper didn't settle for a boring cop out. Rather, he busted out the heavy artilerity, professing that Cohen, unlike Drake, did not start from the bottom.
The whole thing transpires around the 3:15 mark, as Cohen encourages Anderson to go with his gut when it comes to spilling secrets. 
If you're too lazy to watch the video, here's the glorious moment in gay history in a single beautiful GIF.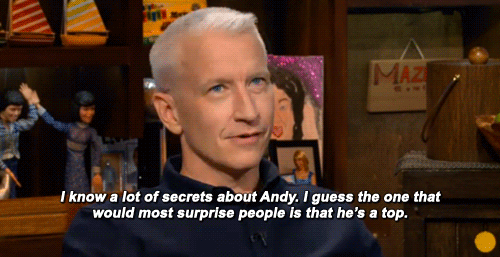 GIF via RealityTVGifs
 
Photo via digitas/Flickr (CC BY 2.0)