This Christmas, traditional cinematic fare like National Lampoon's Christmas Vacation and Miracle on 34th Street will have to take a backseat to a new holiday star: Grumpy Cat.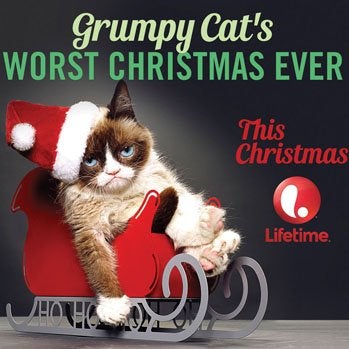 According to the Hollywood Reporter, the popular scowling feline is getting her very own Lifetime Christmas movie. Entitled Grumpy Cat's Worst Christmas Ever, the made-for-TV movie will follow a young girl who is able to communicate with the cat.
The movie is being described as "a little Home Alone, a little Die Hard" by Arturo Interian, the vice president of Lifetime original movies.
No cast has been named yet, but seeing that this is Lifetime, expect to see Rob Lowe and Meredith Baxter-Birney make appearances. Also appearing in the movie in cameo roles will be several other Internet celebrities. We can only hope that Ikea Monkey and Scumbag Steve are among them. Perhaps Psy will even enchant us with his rendition of "Jingle Bell Rock."
This isn't Grumpy Cat's first foray into movies. In May 2013, it was announced that the cat was in talks to appear in a major Hollywood motion picture. According to the Reporter, however, that deal was short-lived.
Image via Paul Anderson/Flickr