Sharks are made for motion; if they stop, they die. So are GIFs. If they stop, they might as well be lowly old BMPs. The two go together like blood in the water.
To celebrate Shark Week, which should be a national holiday, here are seven of the sharktastic-est GIFs in all the Internet. From science to science fiction, we've got it covered.
1) Hammerhead school
Sinuous and graceful, this GIF of a school of Hammerheads making their way leisurely from point A to point B conveys a sense of serenity rare in shark GIFs. It was posted to The TV Screen on Tumblr nearly a year ago, where it has landed 12,485 notes and been rebloggged without credit probably even more times.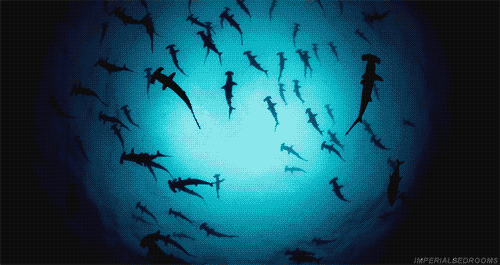 2) Goblin shark attack
At the opposite end of the mood spectrum, we have this GIF of a goblin shark attack. However terrifying most sharks may be, they don't generally unhinge their entire faces and eject a jaw full of barbed teeth straight into their targets. Goblin sharks, as you can see, are a little different. Their elongated snouts contain highly sensitive electromagnetic sensors, which help them find prey in the blackness of the deepest ocean bottoms, where they dwell.
This video of a goblin shark in the wild comes from the Japanese broadcast of NHK Tokushuu on Aug. 31, 2008. Uploaded to GIFBin, it's had 198 Facebook shares and over 14,000 stumbles, from which we can draw certain demographic conclusions about the kind of people on Facebook vs the kind on Stumbleupon.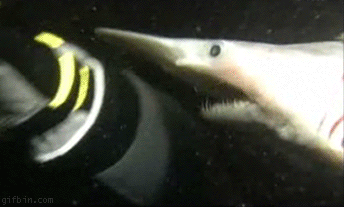 3) Frilled shark
The Frilled Shark, like the Goblin Shark, is an ancient, little-understood deep water species. It's also creepy as hell. This particular specimen was ill and surfaced near Awashima in Japan. Staff from Awashima Marine Park quickly captured it and hoped to study it, but the frilled shark is not adapted for the low pressure at sea level and died within a couple of hours. The video has had over three million views on YouTube, but this sad, eerie GIF of a dying prehistoric predator has garnered little attention, with only 88 views on GIFSoup.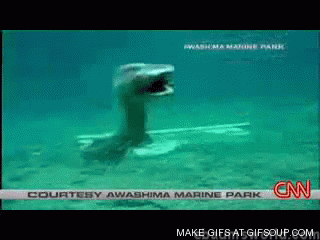 4) 3-D shark attack
Otherwise known as The Last Thing Captain Quint Sees. Tumblr is full of deep-throat shark shots this week, including an impressive spinning one (not actually a spinner shark), but this one is our favorite for its simple bloody-mindedness and horrifying, almost infinite depth. Posted in full Great White Oversize on the Floating In Space Tumblr on Aug.2, it's garnered 1172 notes so far, and it's sure to gobble up a few more this week.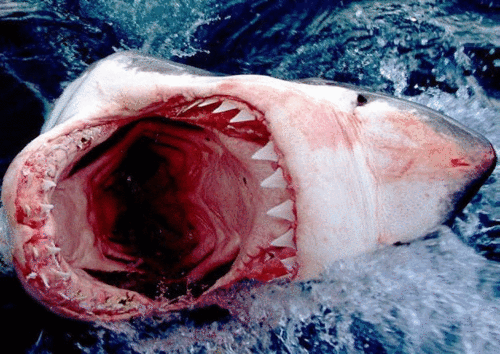 5) Schlock shark
Death by overacting! It's shark vs. shark of a different pinstripe in this snippet from cinematic classic Shark Attack 3: Megalodon. If you think contemporary, pint-sized sharks are cool, you need to educate yourself about Megalodon, the largest shark the world has ever seen. Although they are (allegedly) extinct, it's still enough to keep you on the beach when you realize their teeth averaged seven inches long (baby teeth included!). This particular shark launched itself out of the sea to take down a jet ski getaway, so don't think you're out of range up there. Fortunately, you should be safe as long as you stay out of cheesy B movies. This GIF has had 214 views at GIFSoup, about as many as the movie from which it's taken.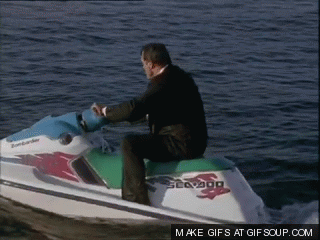 6) Heavy petting
A docile reef shark and a handsy diver make beautiful music together in this outtake from the BBC mockumentary Walk on the Wild Side. Do not try this at home (although if you have reef sharks hanging around your home chances are you're plenty tough). Uploaded to the The Ocean Is Wonderful Tumblr, it's netted 579 notes.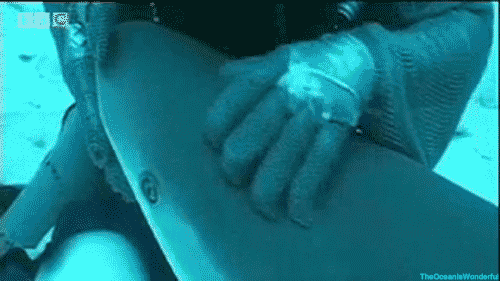 7) Great white shark barfing rainbows
What more do you need to know? This Is what "Awesome" looks like.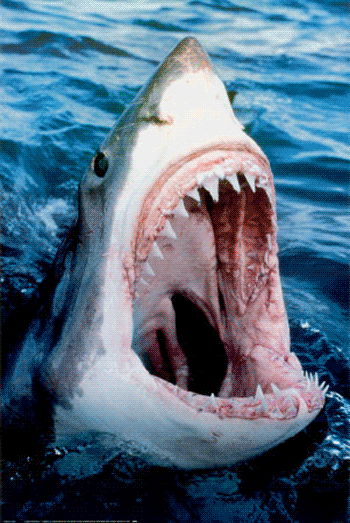 Dishonorable Mention: Fonzie jumps the shark
This is when television literally jumped the shark. Wearing his trademark leather jacket, a floatation belt, water skis and a near-invisible pair of swim trunks, Arthur Fonzarelli takes to the air in a death-defying leap to escape the carnivorous doom awaiting him below. It has 1740 views on GIFSoup, presumably one for every groan this scene provoked.