If nothing else, you can say this for the recently launched Video Podcast Network: They take the modern axiom "Go big or go home" very seriously.
The network—created and produced by Emmy-nominated producer Daniel Kellison—launched last week with live broadcasts of some of comedy podcasting's heaviest hitters, including The Adam Carolla Show, Call Chelsea Peretti, the Nerdist's You Made It Weird, and Earwolf's Comedy Bang Bang and Who Charted?, the latter four all recorded live in front of an audience at the Sundance Film Festival.
In the weeks to come, the Video Podcast Network will livestream "exclusive and fully produced" tapings of podcasts from Carolla, Earwolf, and The Big 3 three days a week from its YouTube channel, with episodes also available for later viewing. Of course, you'll be able to listen to the episodes as pure-audio podcasts, the way you always have.
It's a bit of an unexpected marriage between the very different sensibilities of Earwolf and Adam Carolla—and an auspicious stab at carving out a space in video for some of comedy's most popular podcasts.
I doubt very much that it's going to work in any major way—and moreover, I'm not convinced that it deserves to.
To evaluate the Video Podcast Network, I watched one show in its entirety—Friday night's Comedy Bang Bang, featuring host Scott Aukerman and guests Thomas Lennon, Riki Lindhome, and Mary Lynn Rajskub. And I popped into The Adam Carolla Show, Who Charted? and You Made It Weird for about half an hour each. And while what I witnessed was far from an interminable slog, it also left me with pretty serious doubts about whether video versions of these podcasts will hold much interest for anyone but the hardest of hardcore comedy podcast fans.
Since the Video Podcast Network is still in its first week, it probably goes without saying that there are small technical glitches—audio issues, difficulties with playback, problems with the availability of shows—that I have every reason to believe, given the level of talented involved, will be resolved in due time.
But some of the issues I observed are more structural. Here are five fundamental problems that serve as reasons to doubt the long-term appeal of the Video Podcast Network.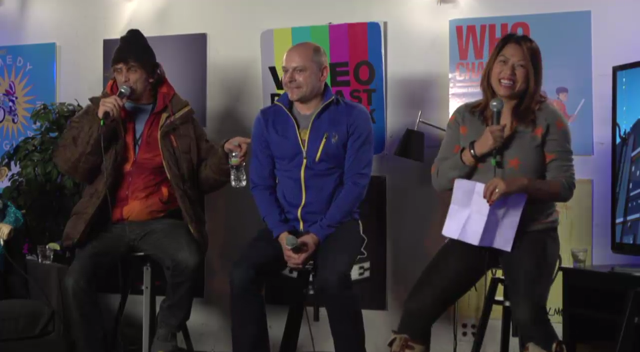 Hosts Howard Kremer and Kulap Vilaysack tape an episode of Who Charted? with guest Rob Corddry.
Photo via Video Podcast Network/Facebook
1) Serving two masters is awkward.
Since the shows on the Video Podcast Network will be available both as pure audio podcasts and visual feeds, they obviously have to function well in both formats. But that's a tall order; visual shows have entirely different—and in some cases contradictory—needs than audio shows. Simply film a show that's designed largely to be listened to, and you'll wind up with a video podcast that's visually drab and unattractive to watch. Load a show up with too many visual elements—props, graphics, sets, costumes—and it risks becoming confusing for the audience that's only listening. Reconciling those two mediums is challenging, and there's little evidence that the shows on the Video Podcast Network have figured it out.
The video version of The Adam Carolla Show, for instance, is essentially a camera trained on Carolla's studio—not exactly captivating viewing. It worked for Howard Stern on E!, but that was a trimmed-down, best-of version of Stern's radio program, and Stern could always fall back on a steady stream of strippers and porn stars to add some visual spice to his show. And the visual component actually undermines Comedy Bang Bang; seeing Thomas Lennon playing the character of cohost Little Gary is nowhere near as entertaining as the scene your brain would conjure up if left to its own devices. The show's impressions and characters are best suited to the imagination-stoking medium of audio podcasts; seeing how the sausage is made threatens to rob Comedy Bang Bang of a bit of its comic mystique.
To the extent that the Nerdist YouTube network works, this is a big part of the reason why: Chris Hardwick was smart enough to put together a roster of shows that are more than just visual feeds of his popular podcasts. Instead, the Nerdist's webseries play to the strengths of the visual format, while the podcasts are left, wisely, to do their own thing.
2) Portability is key to the appeal of podcasts.
"If you were to distill the appeal of podcasts down to a few key points, their portability would be chief among them. You can queue up a podcast for your morning commute, use it to soundtrack your workout at the gym, or throw it on while you clean the house. It's one of the medium's greatest strengths. Ater all, everybody's got some variety of regular menial task to perform, a task that could doubtless be enlivened by a witty episode of The Bugle or an intriguing installment of Radiolab.
A video podcast, however, is a more active commitment. Like a TV show, it demands that you sit down and actually watch, and while this may be an acceptable proposition for a podcast's most devoted fans, it's a harder sell for casual fans. Podcasts are second only to music as the quintessential take-it-with-you entertainment; requiring that you set aside time to enjoy them removes one of their principal strengths.
3) The podcasts aren't visually interesting.
To go by this weekend's shows, the Video Podcast Network's principal sponsors at the moment are Captain Morgan and Ciroc vodka, and that's no wonder—it would take a stiff drink or two to make these podcasts seem visually intriguing enough to watch.
It would be excessive to expect very high production values from any of these shows. But to be worth watching the Video Podcast Network's shows have to exhibit some visual flair, and that was largely lacking from last week's offerings. The Adam Carolla Show was a particular offender in this regard. With all due respect to Carolla, a not-unhandsome man, it's hard to justify watching his face for two straight hours.
4) Without a live audience, the shows lack energy.
Many of the concerns I have with video podcasts, of course, also apply to live podcasts—except that live podcast tapings are a proven phenomenon, done well by everybody from Doug Loves Movies to Never Not Funny to Girl On Guy to The Nerdist.
Part of the reason for that is the live audience. For both podcasters and listeners, a live audience adds energy to the room that enriches the experience. That kind of energy might make the podcasts more worthwhile as viewing—except that, presumably with some occasional exceptions, the Video Podcast Network's shows are slated to be taped in a studio. Taped in a studio is fine for most podcasts, but for video podcasts, the added charge of a live audience would be especially helpful.
5) Video podcasts are a massive time commitment.
Closely related to the Video Podcast Network's aforementioned lack of portability is the time commitment required to dive into its shows. A central appeal of podcasts is how well they lend themselves to multitasking; it's easy to find time to listen to Who Charted?, Comedy Bang Bang, and The Big 3 every week as long as you have some time to throw on some earbuds while you work, commute, or otherwise perform some sort of relatively passive activity. It becomes a lot harder to justify keeping up on a group of shows when you need to actually watch them; what's easy to squeeze in around your life instead becomes a three-hour stretch of time you need to block off. It's a lot to ask of listeners—and for relatively little reward.
None of this is meant to read like a blanket condemnation of the Video Podcast Network, mind you. After all, no one's forcing podcast fans to watch the network's video feeds, and the pure audio experience will remain an option for those that choose it. At the end of the day, the Video Podcast Network is simply another option, and no doubt some slice of the podcast-listening population will dig it.
But video podcasts have never penetrated the popular consciousness to the extent that standard podcasts have, and barring some changes, I see little reason why the Video Podcast Network and its shows will have much more luck.
Also this week in Podspotting:
For over two years Andrew Johnstone's been chronicling the ins and outs of the podcast world—through reviews, interviews and commentary—in his podcast about podcasts, appropriately known as Podcast Squared.
Despite my mediocre cellphone connection, this week I had the pleasure of guest-hosting an episode of the podcast, discussing everything from Jeff Garlin's new Earwolf podcast By the Way to the Video Podcast Network to my fondness for the Nerdist podcast The Mutant Season. Check it out here. 
Photo via Video Podcast Network