Since the death of rapper Tupac "2pac" Shakur in 1996, rumors have persisted that the California native was hiding in places like Cuba, New Orleans, and New Zealand.
Apparently one place these conspiracy theorists nuts didn't think to look was on stage at Coachella on Sunday where a eerily life-like hologram of a shirtless Shakur appeared on stage to rap "Hail Mary" and "2 of Amerikaz Most Wanted."
Thanks in part to YouTube's live-streaming of the annual music festival, the hologram took the Internet by storm, collecting more than 110,000 Twitter mentions, dozens of YouTube reaction videos, and even a Twitter parody account.
"I'm on everybody mind back from the dead," tweeted @tupac_hologram. "#westside."
The Coachella channel has already collected more than 6.3 million views, and most of the performances, from Radiohead and Swedish House Mafia to Bon Iver and Childish Gambino, remain available for free viewing.
But by far, the biggest show stopper was the hologram's performance with his former Death Row labelmate Snoop Dogg.
"They'd swapped hits to a crowd who grew up with them, and did so with 20 years of friendship and collaboration between them, so that when they traded lines it was like they were finishing each other's sentences," wrote the Los Angeles Time blog. "And, in a sense, they were."
To commemorate the occasion, Tumblr blog GIF Hound created the following animation of Shakur on stage.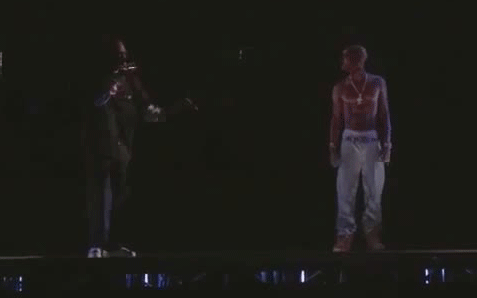 Photo via @tupac_hologram