It's the time of year when the stars are dusting off their finest gowns (or borrowing them from the swankiest designers in exchange for an on-air plug). 
Yep, awards season is upon us. Oscar hosts Seth MacFarlane and Emma Stone revealed the list of Oscar nominees Thursday morning. The leader of the pack is Lincoln, with 12 nominations in total. Close behind is Life of Pi, with 11.
While it's too early to say if the Feb. 24 ceremony will have as perfect a GIFable moment as Angelina Jolie's weird leg pose last year, we thought we'd take a look at the contenders in a few of the main categories through the magic of the Internet's favorite file format.
As Django might say, when pronouncing "GIF," the "G" is soft.
Best Picture
There are nine Best Picture nominees this year (the Academy brought in new voting rules two years ago, and now there can be between five and 10 contenders).
Hey, Ben Affleck directs movies now and he's pretty darned good at it. He missed out on his first Best Director nomination for Argo, however.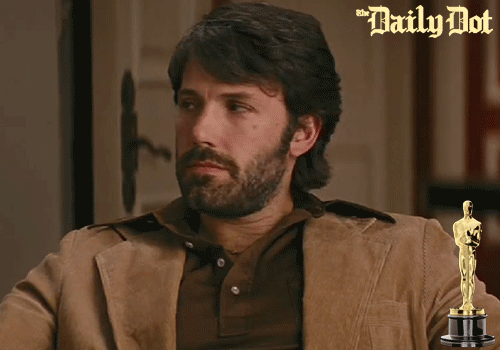 Steven Spielberg directs a movie. Lincoln is up for Best Picture. It's almost inevitable these days.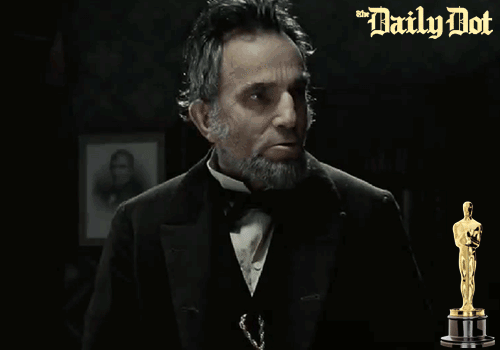 Protests about its depiction of torture didn't stop Zero Dark Thirty from cracking the top nine.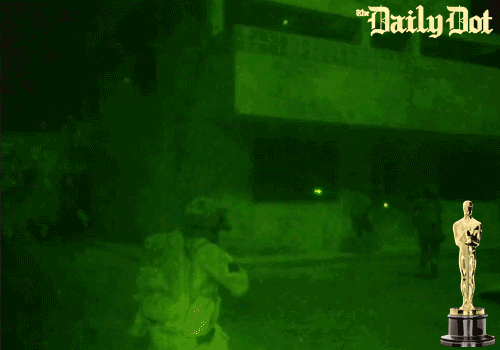 Life of Pi, a film about a boy and his boat, could be named Best Picture. Go figure. (I'm sure it's good!)
Silver Linings Playbook is the most Philly movie since Philadelphia. Probably.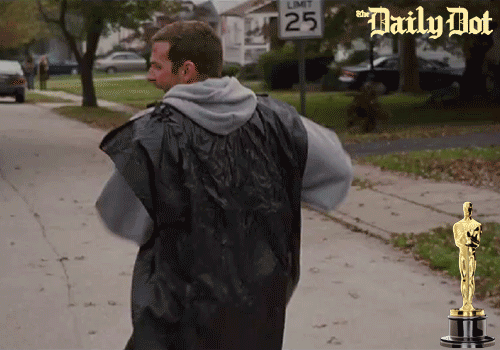 Quentin Tarantino scored big with Django Unchained, grabbing five nominations in all.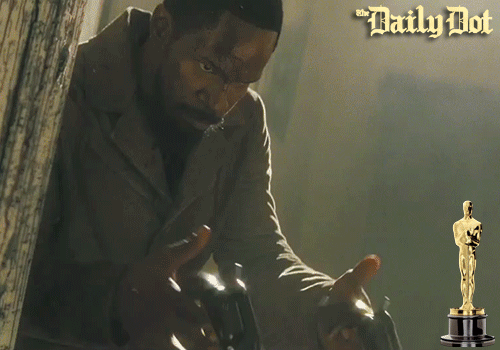 A French-language film is among the nominees this year: Michael Haneke's Amour made the cut.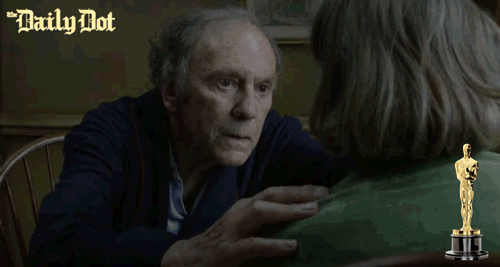 The eclectic mix of nominees also features a musical: Les Misérables.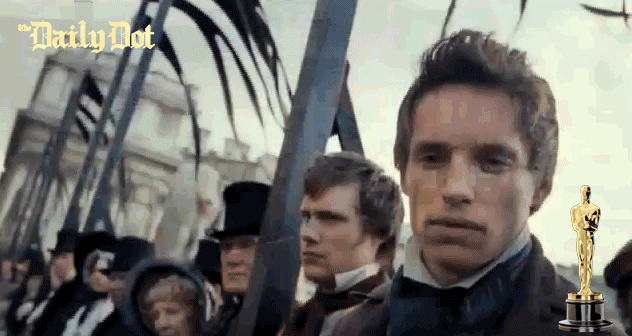 And low-budget drama Beasts of the Southern Wild took a coveted slot too.
Best Actor
Daniel Day-Lewis could be set to take home his third Oscar for his portrayal of Abraham Lincoln. The resemblance is uncanny and a little scary.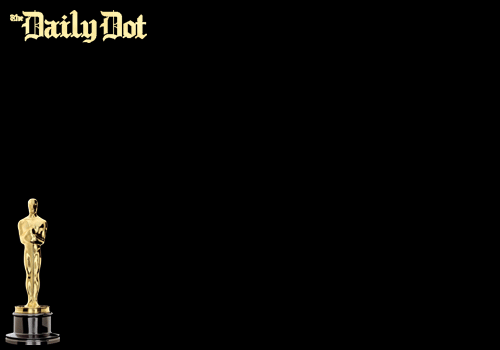 Hugh Jackman isn't only a regenerating mutant. He sure can belt out a showtune or two, as we learned in Les Misérables.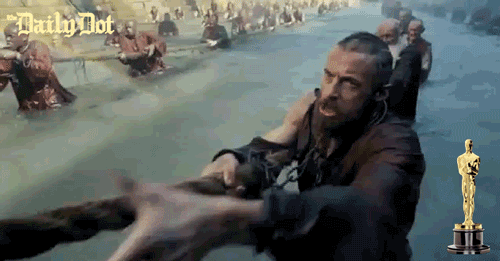 Bradley Cooper is the only guy from The Hangover with an Oscar nomination (for Silver Linings Playbook). Better luck next year, Señor Ben Chang.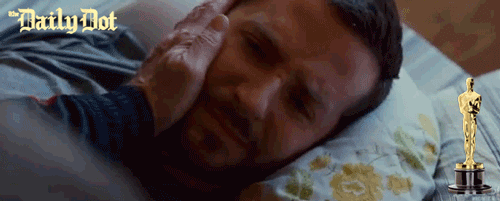 Denzel Washington took Flight and got yet another Best Actor nomination.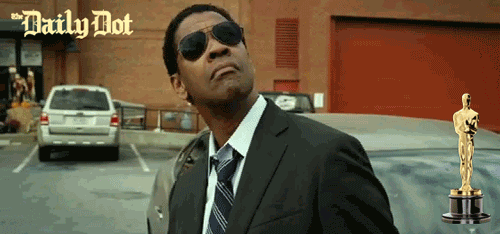 If Joaquin Phoenix's performance in The Master were a song, it might be LMFAO's "Party Rock Anthem." So much shuffling.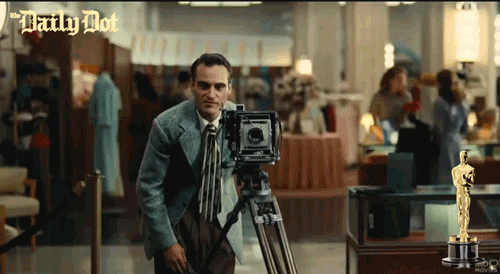 Best Actress
Jessica Chastain is the protagonist of Zero Dark Thirty, doing the gutsy-CIA-operative thing that is in no way similar to Carrie Mathison in Homeland.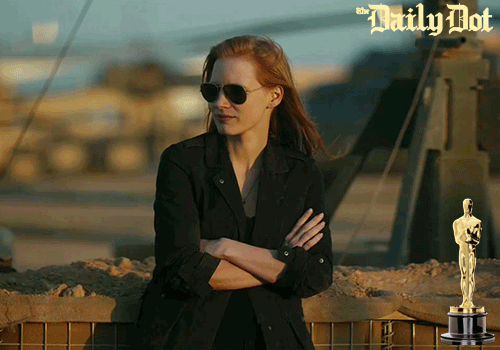 Jennifer Lawrence is kind of great in Silver Linings Playbook, and she has perhaps the best facial expressions of any young actor around.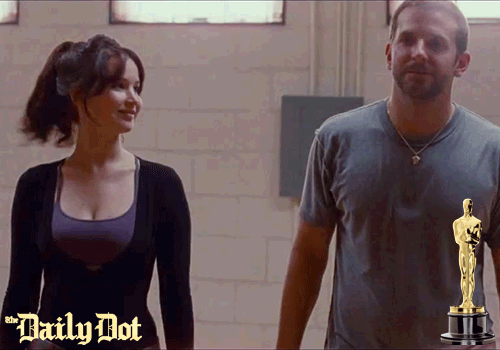 Quvenzhané Wallis, 9, is the youngest Best Actress nominee ever. She played Hushpuppy in Beasts of the Southern Wild.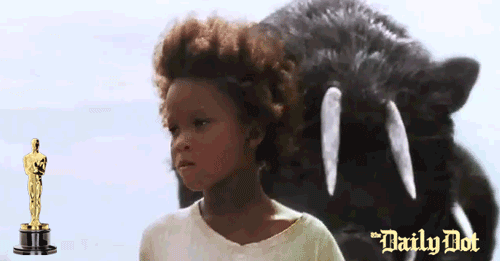 On the other end of the scale, Emmanuelle Riva, for her turn in Amour, is the oldest Best Actress nominee and the second-oldest-ever in any acting category.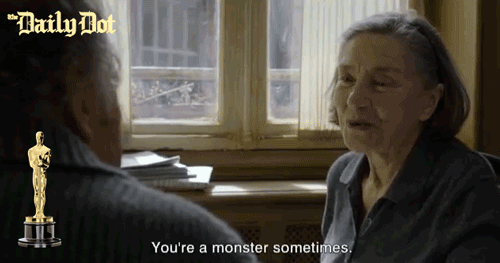 Naomi Watts received her second nomination for The Impossible, a film about a family's struggle to survive the tsunami that devastated parts of Thailand in 2004.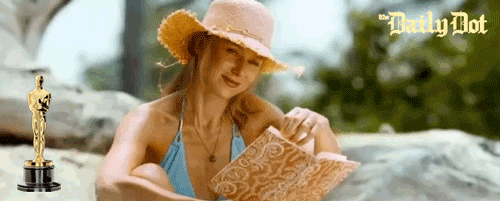 Here's hoping for many more GIF- and live-tweet-worthy moments when the Academy Awards ceremony takes place Feb. 24.
All GIFs by Jason Reed and Fernando Alfonso III; photo via Oscars