For Ruth Marie Clarke's spoiled pups, every day is like Christmas. Before she releases items in her Etsy store, she first tests her products on Lily, a Bichon, and Jasper, a Westie.
"It's like they live in Santa's workshop because I make toys all year long," Clarke told the Daily Dot in an email. "They keep me company, give me inspiration, keep me laughing and are my 'toy testers' for new new toys and models for my collars and bandannas."
This Christmas, Clarke wants every dog to be as spoiled as Lily and Jasper, whether they have homes or not. Even if that means giving much of her merchandise away for free.
"We will be donating all of our samples to the local animal shelter the week before Christmas," she said. "I plan to contact the animal society and offer a free personalized dog bone with every dog adoption."
Clarke runs two Etsy shops, Such a Stitch and Hot Dogs Couture, where she sells plush toys for dogs and children. Shaped like iPods, Christmas cookies, and dog bones, each toy can be customized for its lucky recipient. Most products range between $8 and $12.
"I am always thinking about the recipient and the gift giver and how special the item and the event will be for both of them," she said. "I like to imagine how they will react to their new personalized toy!"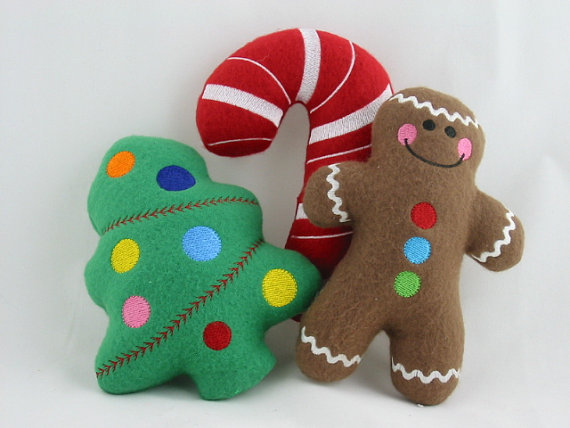 The Charleston dog owner began selling her sewn and monogrammed handiwork on Etsy this summer. Though Clarke had been selling dog toys for three years on her own website, she said Etsy gave her the exposure and support she needed to get off the ground. Now it's her primary source of income.
"I feel very strongly that the individuals who work for and also sell on Etsy are an extremely supportive and positive group of people. They offer many wonderful tools to help the shop owner be the best they can be," she said.
Even though Clarke has become more successful, and therefore, far more busy, than when she opened up shop, she still focuses on adding that extra bit of customization to each sale.
"I received a special request from a newly expecting mother to be for two of my Custom Embroidered Fleece Dog Bones. One was to read "Big Sis" and the other "Congrats Dad". Giving these to their dog and her husband, respectively, was the way she announced to them her news of the coming of the patter of little feet to their household," she said. "It was a wonderful experience for me to be a part of."