Some rumors are destined to go nuclear on Twitter. Outside the realm of politics, one of this week's greatest examples is a viral headline about Amazon's upcoming Lord of the Rings adaptation that suggested the show would include nudity and sex scenes.
Fans predictably freaked out at the idea of Lord of the Rings being given the Game of Thrones treatment, but was the rumor actually reliable? Let's take a look.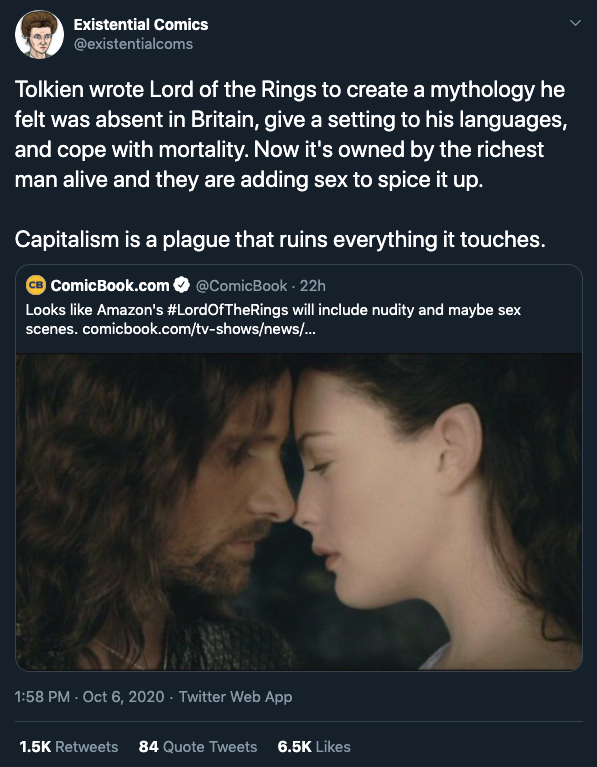 At the very least, the idea of a sex-filled Lord of the Rings show was filtered through several layers of rumor, clickbait, and fan reactions. The story went viral thanks to an eye-catching tweet from Comicbook.com, which is already a red flag. Comicbook.com posts a lot of fresh behind-the-scenes geek culture news, but that news is published alongside rumors, and the site isn't known for making major scoops. And so far, Amazon has been tight-lipped about Lord of the Rings. All we know for sure is the identity of the show's cast and crew, the fact that they started filming recently in New Zealand, and the general setting of the Second Age of Middle Earth, before the main Lord of the Rings narrative.
The Comicbook.com story originated from a post on the LOTR fansite The One Ring, which keeps a close eye on the show's production. The One Ring said that Amazon had hired a "well-known New Zealand intimacy coordinator," suggesting that the show would require someone to oversee sex scenes. (LOTR appears to be the only big Amazon series currently in production in New Zealand.) The One Ring also found an Auckland casting call for extras "comfortable with nudity." The project isn't named in the casting call, but applicants are told to use the production code "JAZZ," which The One Ring says was used for other casting calls that fit the bill for LOTR.
So, it's plausible that Amazon's LOTR will include some nude extras, overseen by an intimacy coordinator. This doesn't mean we'll see Galadriel boning down with Celeborn, or Gandalf flashing his wang, or whatever. The post on The One Ring actually emphasizes how little we know about the show's attitude toward sexuality. But the Comicbook.com tweet went viral for the same reason most things go viral on Twitter: It targeted a specific fear. Lord of the Rings fans are scared that Amazon will give Tolkien's work a sexy, edgy tone like Game of Thrones, and they're primed to get angry about it. This rumor played directly into those fears and expectations.
The show's creative team includes a Game of Thrones writer, and the two showrunners are notably unproven. The screenwriting duo has been attached to various projects including an early draft of Star Trek Beyond, but they don't have any serious IMDb credits before LOTR. This doesn't inspire confidence in diehard fans who want an authentic adaptation of Tolkien's world: a sweeping fantasy that prioritizes sentiment and worldbuilding over sex and violence.
However, Amazon's LOTR team will also be familiar with what Tolkien fans want. Peter Jackson already proved there's a huge audience for sincere, authentic Tolkien adaptations. And while Tolkien (a devout Catholic, born in 1892) wouldn't be in favor of including sex scenes, he probably wouldn't approve of Jackson's extensive battle sequences either.
It's entirely possible that Amazon's Lord of the Rings will achieve a happy medium between what Tolkien fans want and what they fear: an adaptation that stays true to the spirit of Middle Earth, while also providing updates like a racially diverse cast and, yes, some tasteful love scenes or nudity. Sex doesn't necessarily have to look the way it does in Game of Thrones.
---
More essential culture reads
---