Hoppip is the creator of the first My Little Pony sex toy, and if you don't like it, he knows exactly where you can stick it.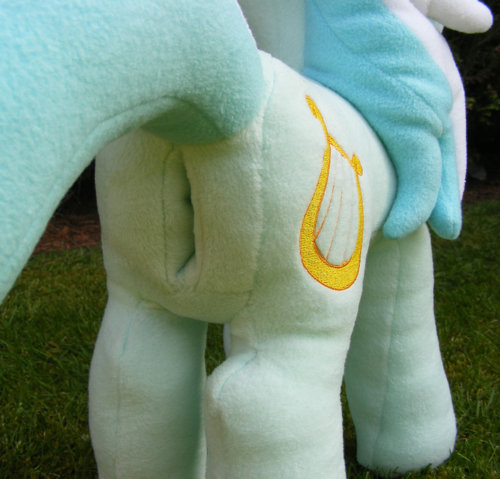 On May 27, the Surrey, U.K. artist and game designer posted the spacious plush toy on The Dealer's Den, a furry-targeted auction site. The plush is designed to look like Lyra Heartstrings, a minor background character on the TV show who has found a life of her own in fanfiction and fan art.
After covering the reaction inspired by his suspiciously hollow creation, the Daily Dot reached out to Hoppip via his DeviantArt contact. Turns out the 20-year-old Hoppip, who wished to remain anonymous, is just as blunt in email as on his straight-to-the-point auction page—and equally unapologetic. A creator of six other plush ponies in the past, he said he added the hole to Lyra at the last minute "as a way to make more money and rile up the fandom."
"I've noticed that [bronies have] gotten really horny lately, and since everyone knows how careless bronies are with their wallets, why not take advantage of that? I don't really care what people do with it in the end. Hell, I've even seen people say they want to buy it just so they can record themselves burning it. As long as I get the money I don't care!"
Don't get him wrong. Hoppip loves My Little Pony. An original fan from the fandom's 4chan days, he was one of the first artists to try his hand at a pony-inspired plush (albeit hole-free.) He said he remembers when the word "brony" was first coined.
"Way back when this fandom was just a series of threads on 4chan's /co/, brony was just a silly word used to describe ourselves ironically," he said. "We knew it sounded silly and was just poking fun at the whole bro-culture stuff of fraternities."
However, he told the Daily Dot, since then the fandom has lost its way.
"Now it's kinda gone to meaning someone who's a fan of the fandom [who] takes it way too seriously,"said Hoppip, citing the increasing number of conventions dedicated to the show and various efforts like "The Brony Thank You Project."
"Most of the fandom seems to be focused less on the show and more on the fandom itself. I've seen posts of people saying they don't even watch the show and are only a brony because it's what's popular."
For that, Hoppip said he doesn't care what sort of effect his toy has on the brony community's image, and doesn't mind the hate mail he's received. He said he's found people's dramatic reactions to the toy "funny."
Even as the fandom increases his bitterness, Hoppip continues to watch My Little Pony: Friendship is Magic. He enjoys the plot, music, animation, and especially the character Pinkie Pie.
"[I]t's just one of those things that you just can't stop smiling all the way through it," he said. "I dunno what it does or how it does it, but it's very good at just … making people happy, I guess."
When the auction ends on Sunday, perhaps Hoppip's toy will make another fan just as happy.