$1,000 is all it took for the greatest painting ever put on canvas to trade hands from the baseball icon Jose Canseco to two guys in Washington, D.C. who administer one genuinely enthusiastic fantasy baseball league.
The painting itself is an unofficial portrait of Major League Baseball commissioner Bud Selig. It comes by way of Canseco's fanatical mind and vision and first showed up on the Internet about a month ago in March.
It's beautiful, really. You should look at it closely.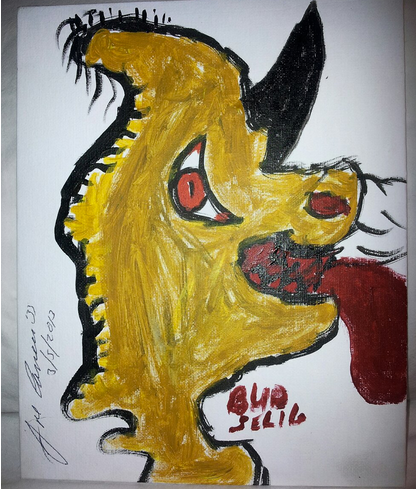 Canseco put a photo of the painting online and told his 500,000 Twitter fans to make him an offer.
A whole slew of price points came in, but two D.C. dwellers were able to get through.
Their names are Rob Lalka and Andrew Bender, and they made contact with the former Bash Brother because they found his cell phone number on a Deadspin article from May 2012.
"We took a shot in the dark and texted Canseco's number, telling him we're interested," the two wrote this afternoon in The Washington Post. "Two hours later, while sitting at a bar in Roanoke, our phones lit up with a text from Canseco—'1k takes the painting.'"
The portrait of Bud Selig showed up at their doorstep one hot minute later.
Lalka and Bender say the painting will serve as a trophy for their ten-team fantasy league. The Washington Post's sports blog has the story, right down to "Little Bud"'s appearance at the Washington Nationals' first game of the season.
"Our goal is to have this bad boy end up in Cooperstown one day," the two wrote, "once baseball decides to address the steroid issue in a more nuanced way and allow dissenting voices into the narrative."
Art by José Canseco/Twitter