We've seen a lot of bizarre rumors and hoaxes spread across Facebook, but this is surely one of the most embarrassing for all involved.  The administrators of a sleazy Facebook page are not stealing photos of your babies. They are not stealing your friends photos of their babies. The page in question is not even really a Facebook "page." There's no human involved.
Let's take a journey through Facebook mass hysteria.
Here's a copy of the message spreading around Facebook over the past couple of days, spotted by the folks at That's Nonsense:
Hi there is a page called babies that are "stealing" photos of anyone that has baby written on the wall/photo. Friends have noticed other friends babies on the wall. The thing is you have to "like" the page to see the info.
Admittedly, that sounds pretty horrifying. Facebook does have a sketchy track record when it comes to protecting children from sketchy and downright dangerous people–in one case earlier this year, the company refused to take down a page that targeted two children in Australia with sexual comments and innuendo. In March, it took Facebook eight hours to finally shut down a child porn video that had gone viral on the site.
But what's really going on here? Well, to begin with, no actual humans are running this page. It's an "about" page, which Facebook automatically generates around certain topics. Here's one for dogs, for instance, and one for cats. Both pages will show photos of your friends with their cats and dogs, just like how the babies page shows photos of your friends with babies.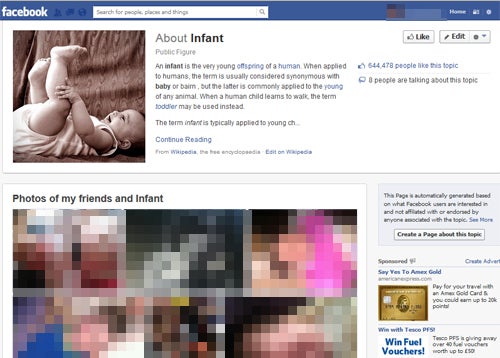 Screen grab of the deleted Facebook page via That's Nonsense
Everyone who visits will see a different page. Facebook scours your social circles to see what pull out photos they've shared that are relevant to this topic. So while my "cats" about page is loaded with pics of my aunt's gray cat "Dobby," he will not appear on your page. Same goes for the baby page (which it appears Facebook has actually taken down, perhaps as a response to all this panic).
H/T AllFacebook | Photo by Randy Deuro/Flickr