This year, Anonymous's calls to action have incuded #OpWBC, in which the group intimidated the Westboro Baptist Church into abandoning rumored plans to protest the funerals of Sandy Hook shooting victims; #OpAntiBully, which outed a group of teen boys threatening to gang-rape a 12-year-old; and #OpRIP, which took aim at the blackmailer and troll who drove Amanda Todd to suicide.
The new operation: Bringing home Aishah Sabra, a 5-year-old British girl of divorced parents. She is missing in Egypt, having apparently been kidnapped by her father for a second time. 
The first time she disappeared on a visit to her father, who lives in Egypt, she was held from May 2009 to January 2010 before being returned to her mother Leila (née Sheila). The pair were then prevented from leaving the country, even though Leila had full custody, because of a travel ban placed on Aishah. Leila has said she was unable to get a work permit, and thus was forced to rely on the charity of supporters back home.
In September 2011, the little girl was on a brief visit to her father; she has never returned. According to her mother, the father denies knowing the girl's whereabouts. Clearly, whether or not the child is with him, Egypt is not currently the safest place on the planet for a young girl forcibly separated from her legally custodial parent. 
In response to her mother's pleas, Anonymous set up OpFreeAishah over the winter of 2011–2012, and in concert with other pro-child initiatives, has been tweeting and Facebooking to spread awareness ever since. On the final Sunday of 2012, they took it to the next level.
Tweetstorm.
A Tweetstorm is a strategy to flood Twitter with information about a specific issue over a short period of time: sometimes an hour, sometimes a day, all using one hashtag. This particular #OpFreeAishah Tweetstorm is scheduled to last 24 hours, although it's clear the majority of energy came early, entirely dominating the streams of anyone who follows any significant number of Anonymous accounts. We'll see what happens as North America wakes up.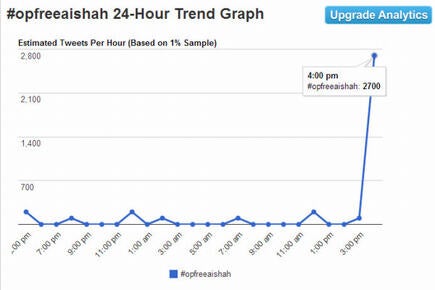 Graph via SeraphimWraith/Twitter
This graph shows the moment of Tweetstorm launch. 
So far, tweets have included two pastebins, one giving the main outline of the operation along with tips on how to maximize effectiveness while escaping Twitter Jail and suspension, increasingly a problem for Anons on Twitter; and one that translates "Please help save a child" into over 50 languages for easy tweeting.
They've linked to a Facebook event, Smarties for Aishah, which encourages people to eat a tube of Smarties, which are what the British and Canadians have instead of M&Ms, and then fill the tube with money for Aishah in time for her 6th birthday, on March 6, 2013. Tweets have encouraged people to sign the Change.org petition addressed to the U.K. Foreign Office to return Aishah not only to her mother, but to the land of her birth. Currently it has just over 2,600 signatures, and the goal is 10,000. Some have simply propagated the hashtag, piquing curiosity and perhaps investigation and engagement. Some celebrated the fact that the tag was briefly trending. 
And one special retweet came from film and television star Patricia Arquette, adding celebrity muscle to a homegrown movement.
And some tweets included this powerful YouTube video, where Leila's words were read by a supporter. It provides much more detail about the original kidnapping than most other information sources. "You broke my heart by bringing shame on my family [by initiating the divorce], so I will break your heart. I took Aishah because she is your heart," said her father, according to the video.
Leila also maintains two Tumblrs: Freedom for Kids explains the facts of Aishah's case and presents them for easy reblogging; the other, Aishah Sabrah, I Am Your Mother, consists of inspirational sayings and notes from Leila to her missing daughter, reminders that when she was returned from the first kidnapping, it took her some time to recognize her mother. 
Aishah has been illegally kept from her mother for more than half of her life.
CORRECTION: A previous version of this story described Aishah as Egyptian. She is actually a British citizen. The Daily Dot regrets the error.
Photo via Aishah Sabrah I Am Your Mother/Tumblr