Star Wars fans were excited and shocked to see another franchise reference hit the runway this week when Darth Vader appeared on outfits at designer fashion label Preen's London Fashion Week show. 
This is the second time Star Wars has been the inspiration for pieces in a Fall/Winter 2014 collection, with Rodarte being the first to excite fans with their original trilogy character prints during New York Fashion Week. According to Vogue, Star Wars was the first movie Preen founders Justin Thornton and Thea Bregazzi saw at the cinema and they worked with Disney to incorporate Darth Vader's mask in this collection.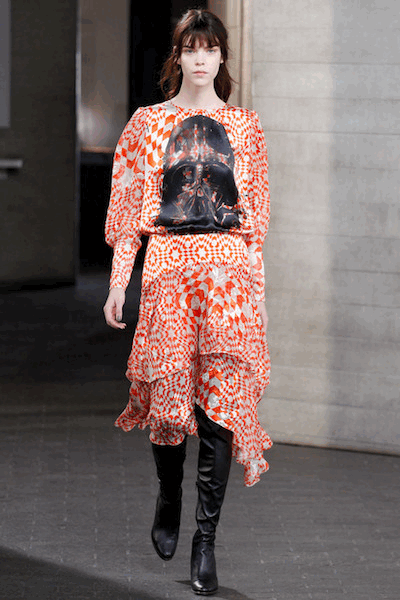 GIF via WhatDoIWear/Tumblr 
Preen took things a step further by having Stormtroopers backstage at the show. 
The lovelies Justin and Thea backstage at the @PreenbyTandB show yesterday, with their band of storm troopers! pic.twitter.com/rUd7DvrbFo

— Zoe Lower (@Zoe_Lower) February 17, 2014
The brand really let their geekiness shine, even including this motivational sign behind-the-scenes: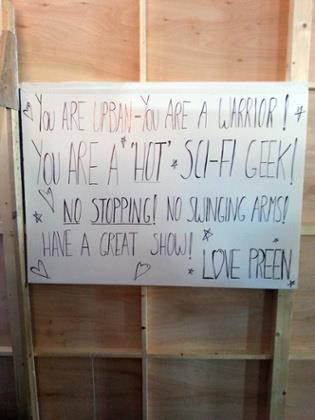 Photo via Preen by Thornton Bregazzi/Facebook
Fans on social media were once again thrilled by Star Wars being recognized by high fashion designers, though it opened by the floor to debate whether Rodarte or Preen did it better.
Star Wars is having a major high fashion moment! 1st Rodarte at #NYFW (pic.twitter.com/iMWtSmlCz0) and now Preen at #LFW! pic.twitter.com/LTiuyMIGaz

— Emily L. Foley (@EmilyLFoley) February 17, 2014
I just love the way #preen have used Star Wars within their theme for this years collection. #regram… https://t.co/8KVTfAelgo

— Prits Gosal (@PritsGosal) February 16, 2014
A surprising amount of Star Wars inspiration at fashion weeks this season. First Rodarte, now Preen? Looking at you, Milan and Paris. #LFW

— Chelsea Varley (@Chelsea_Omega) February 17, 2014
Rodarte vs. Preen – Star Wars Edition. Who did it better? pic.twitter.com/Lkgm6FAdrB

— Nico Bellay (@IAMFASHlON) February 16, 2014
Does this mean the geek chic Star Wars look will be the hot trend this year? We might have to wait and see if the franchise appears at the fashion industry's other top shows, but for now, we have a good feeling about this. 
H/T Nerdist | Photo via Alohamariacereza/Tumblr