Four months ago, Tumblr user brokeback-purgatory had a dream. It was a simple dream, a wish for one unfortunate Hollywood A-lister to have the one thing fame could never give him: revenge on the franchise that made him famous.
"I want Robert Pattinson to play a hunter on Supernatural who kills nothing except vampires," she wrote.
Now, with a boost from Tumblr and a succinct Change.org petition, the world might be a little bit closer to granting fans their wish for the ultimate RPatz vs. Twilight showdown.
If you're familiar at all with Robert Pattinson's storied past, you might know that he was once en route to a respectable career as an actor. He played the dreamy Cedric in the Harry Potter franchise, and even played Salvador Dalí in 2008's Little Ashes. But then came Twilight, and a half-decade of being known to the world as Edward Cullen, the sparkly vampire heartthrob at the center of Stephenie Meyer's bestselling cultural phenomenon. Pattinson's life quickly became defined by legions of fangirls—one peed on him once—and embarrassing interviews.
It's no secret that Robert Pattinson hates his life. And we love him for it—in fact, we think his longsuffering is one of the best things Twilight ever gave us. But surely, after all this hardship, Pattinson has paid his dues—or, at least, Tumblr thinks so. After brokeback-purgatory's post started making the rounds, another Tumblr user, camuizuuki, begged, "SOMEBODY MAKE A PETITION OUT OF THIS."  
Inevitably, someone did. A fan named Anastasia Orrison turned Tumblr's plea into a Change.org petition, which, after 3 months of steadily growing and wending its way through the Tumblrverse, is finally just a hundred votes shy of its 25,000 signature goal.
The petition, entitled, "Robert Pattinson: Play a Vampire Hunter in Supernatural," has but a single sentence appeal to signatories:
It would be awesome.
It also jubilantly informs its signatories, "together we're making change happen."
Why Supernatural, though?  For starters, there's the show's large and rabid fanbase, which has pushed the show to nine seasons with no end in sight, causing many critics to sit up and take notice. (Rolling Stone named it one of the 50 reasons to watch TV in 2009, which probably tells you all you need to know about TV in 2009.) Then there's the ease with which Supernatural fandom seems to incorporate the show's elements into other stories with massive fandoms, from the Avengers to Hannibal. One of the quirkiest recurring Tumblr memes is the Superwholock fandom, a conglomerate of three major fandoms at once, with SPN at the center.
But mostly, there's the subject matter. While both Supernatural and Twilight deal with the paranormal, that's pretty much where the similarities end. Twilight has more in common with a Tupperware party than with the testosterone-pumping, gritty adventures of the Winchester brothers, who roadtrip across America in a magically indestructible muscle car, hunting spooky creatures and dealing with their emotions in ways that are very, very manly, and not at all homoerotic. 
Throwing Pattinson into the show's mix would be the exact opposite of typecasting him—although, alas, it would probably only increase his legions of fangirls. 
It wouldn't be the first time Pattinson—or his character, at least—faced off against a vampire hunter from a WB television show.  In 2009, the fanvid Buffy Vs. Edward went viral and garnered acclaim from across the web for its savvy portrayal of the many creepy elements of Twilight's depiction of romance. In the mashup, Buffy grows increasingly frustrated with Edward's pushiness and stakes him. It's clear, based on the many interviews in which he talks about his own character with a mixture of bafflement and disgust, that RPatz would be too happy to do the same to Edward, or to an emo, self-absorbed vampire like Edward, if he got the chance.
And with the petition currently only 109 votes away from its needed 25,000, perhaps the fans might give Pattinson the dream he never knew he had: the dream of pumping a shotgun barrel full of rock salt into the face of some unwitting demon as he looms over it, shirtless and sweaty. Oh, wait, that's fanfic. Have I mentioned that Twilight/Supernatural crossovers already abound?
Oh, and fanart—most of it from the perspective of loyal SPN fans touting the show's superiority over the Twilight franchise.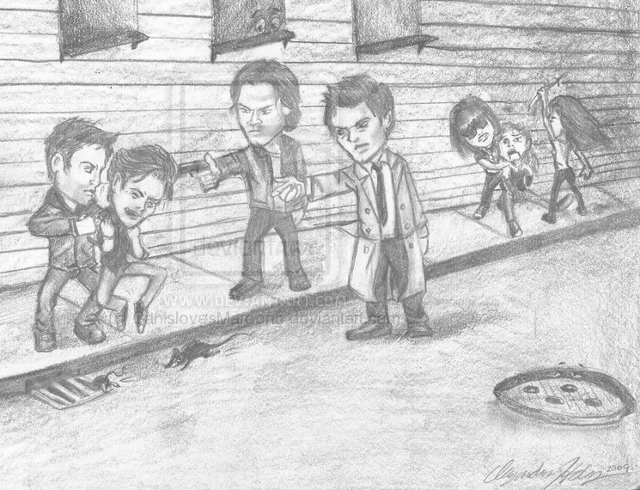 Illustration by canislovesmaroon5/deviantART
Most—but not all.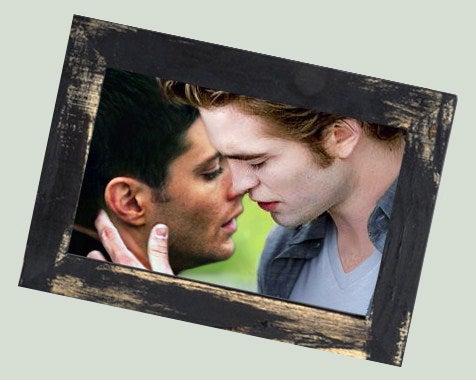 Illustration by lorazoronicktrance/deviantART
While Pattinson might not exactly be grateful for the step down from Hollywood A-lister to "cult TV actor," the leap isn't as far down as one might think: currently, Pattinson is only 50 places ahead of SPN star Jensen Ackles on IMDB's "Star Meter." 
So do it, RPatz. Do it for your career. Do it for the fans. 
But most of all, do it for revenge
Illustration by oxydgenesis/deviantART