One of the main unspoken rules in fandom is don't break the fourth wall. Don't mail your sexually explicit Harry Potter fan art to the actors. Don't try to engage Joss Whedon in a conversation about Buffy fanfic. Break this rule, and you're immediately exposing yourself to the risk of a catastrophic fandom flamewar.
But if someone on the other side of the fourth wall asks for it? Then all bets are off. Kind of like when this weekend, Sleepy Hollow star Orlando Jones asked fans to tweet him links to fanfic.
Orlando Jones may be a 45-year-old dude, but he's already shaping up to be one of the most fandom-savvy actors on Twitter. When someone asked him about his views on mpreg (male pregnancy) fanfic, he even replied with a Reddit-downvote reaction GIF… of himself.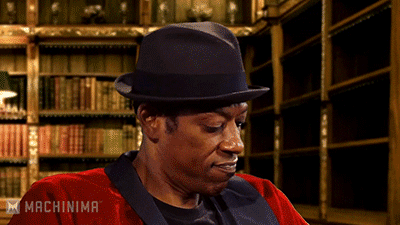 GIF via Imgur
Oh yeah, and he's even heard of Rule 34, the semi-joking 4chan-spawned Internet rule stating that if you can imagine it, there's already porn about it somewhere online.
These days, it's not unusual for actors from fandom-popular shows to engage with people on Twitter, but usually there's some kind of slightly awkward learning curve beforehand. Orlando Jones, however, seems to have done his homework already. Of course, this may be because he's already had some experience with weird Internet reactions. Earlier this year he created and starred in a YouTube series called Tainted Love, and ended up making several videos where he just read viewers' comments out loud while sitting in an armchair and smoking a pipe. Some Sleepy Hollow fans are already hoping that he's going to do something similar with fanfic. 
In case you have any further doubts about Orlando Jones's fandom cred, here are some of the other things we learned from his Twitter feed this weekend:
He's visited 4chan.
He ships Ichabod and his wife, Katrina…
He just set up a Tumblr, where he's already reblogging fan commentary, plus references to the "Make John Green find the thing" meme. 
And he wants IchKatrina and IchAbbie fans to stop arguing, and start writing Ichabod/Irving fanfic instead. As in, slash fanfic about his own character. He even has a couple of ship name suggestions: Ichaving and Irvabod.
Basically, not only did Sleepy Hollow get off to a running start with regards to fan involvement, but there's already no fourth wall between the audience and the show itself. None whatsoever. Which means that if Sleepy Hollow fandom wants to talk about anything without one of its leading actors immediately finding out, then they're going to have to think up some secret coded Tumblr tags. Fast. 
Photo via myescape/Tumblr