Tumblr is getting a history lesson thanks to a sexy romp through time with two world rulers who were inordinately fond of one another.
"if u ever get disheartened just remember people in the 19th Century were painting hot Napoleon/Tsar Alexander boyfriend yowz before our great-grandparents were even conceived," wrote Tumblr user scroogerello Wednesday.
You don't say?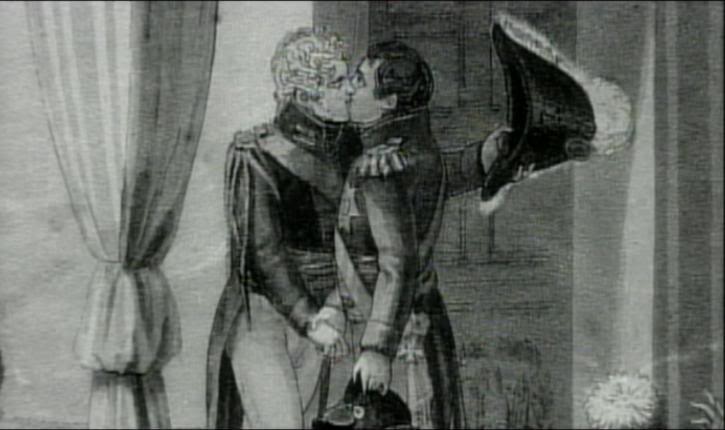 Yep. That happened. No wonder the post immediately ballooned into 30,000 notes and reblogs.
The picture above is a sketch of unknown origins, completed at some point after Napoleon and Tsar Alexander I got together to sign the historic Treaty of Tilsit, which united Europe after the first Napoleonic invasions (albeit temporarily). While the artist's meaning isn't clear, it's probably propaganda meant to popularize the idea of the treaty among Russians. 
The picture's re-circulation into the public eye might be due to Stanley Kubrick's massively researched but never filmed biopic of Napoleon, which now exists in a super-rare, 10-volume edition that typically sells for around $1,000—if you can find it. It also shows up in the PBS Empires series, where a documentary on Napoleon notes that the would-be world ruler found Alexander "handsome," and wrote to his wife in 1807 that "If Alexander were a woman, I would make him my mistress." Steamy! No wonder their love produced a flurry of bromantic art: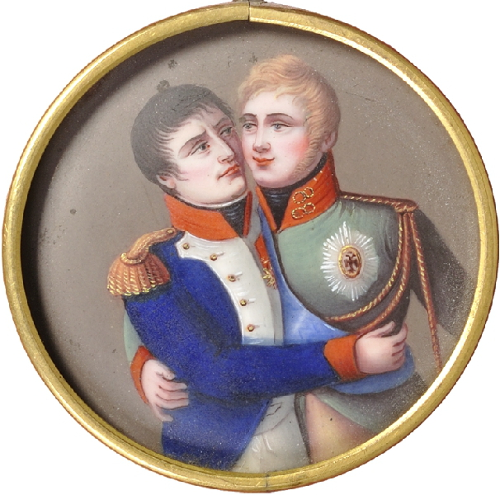 Illustration via Wikimedia Commons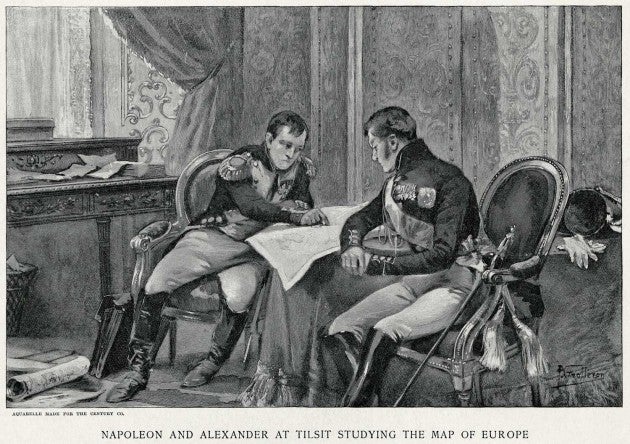 Illustration via piit.delfi.ee
"I mean just look at those assholes and tell me that no one had ever any reason to think there was something slightly off about them," wrote katbelleinthedark in June of this year. Along with two of her friends (one is duchessofwellington), katbelleinthedark was among the first Tumblr users to popularize the idea of Napoleon/Alexander slashfic.
They had discovered the Romantic pop culture equivalent of political RPF.  RPF, or Real Person Fiction, is a form of fanfiction that often gets written off as sleazy or shocking because many people consider it intrusive of the lives of real public figures.  But speculating about the lives of celebrities, artists, and political figures is actually a long and glorious historical tradition. Among the Napoleon/Alexander admirers was Tolstoy, whose War and Peace spent considerable time fictionalizing the two men and their complicated friendship:
Napoleon said something to Alexander, and both Emperors dismounted and took each other's hands. Napoleon's face wore an unpleasant and artificial smile. Alexander was saying something affable to him… 

In spite of the trampling of the French gendarmes' horses, which were pushing back the crowd, Rostov kept his eyes on every movement of Alexander and Bonaparte. It struck him as a surprise that Alexander treated Bonaparte as an equal and that the latter was quite at ease with the Tsar, as if such relations with an Emperor were an everyday matter to him.
— War and Peace, Book Five, Chapter XXII
While historians generally denote this mutual esteem as one-upmanship and hero worship on Alexander's part, slash fans have run straight to the sexy subtext. In the two days since scroogerello's post spread across Tumblr, posts made by people digging into the history of Napoleon/Alexander have proliferated. They're not alone; one general wrote an inquiry into Napoleon's possible bisexuality.  
And deviantART has its share of shippers, too: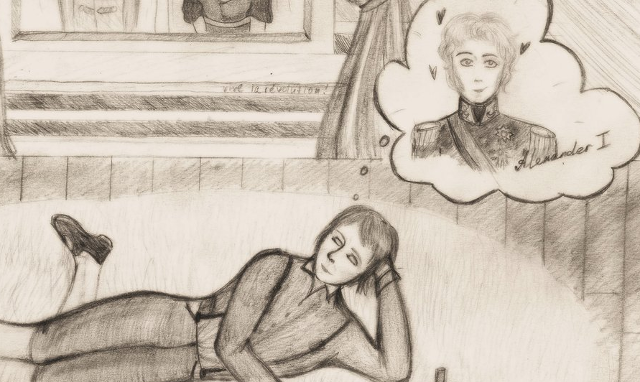 Illustration by wonderfuldeer/deviantART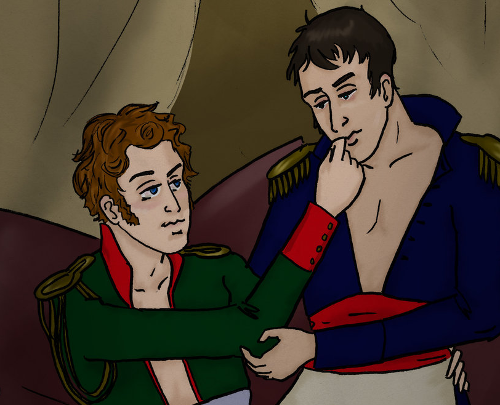 Illustration by georgshadow/deviantART
DeviantArtist Georgshadow lacked faith, however. "I mean it's cute but Alex and Napoleon were just not meant for each other," they wrote about the illustration above. "You just can't be passionate when you've got those pesky Austrians to worry about."
Perhaps posterity will be much kinder to their love.
Photo via scroogerello/Tumblr