Comic conventions are supposed to be fun, inviting places where diverse groups of people can gather together to enjoy their shared geeky passions. Unfortunately, con attendees, especially women, all too often have their weekends spoiled by harrassment and sexist behavior. 
This was the case again this weekend at New York Comic Con. On Sunday, word spread through New York City's Jacob Javits Center that cosplayers should be on the lookout for a "creepy" film crew harassing women. 
The warning came from Diana M. Pho, a blogger and steampunk enthusiast who writes for Tor.com as Ay-leen the Peacemaker. She posted on her Tumblr Sunday that convention attendees should be wary of an all-male TV crew that approached her late Saturday for an interview.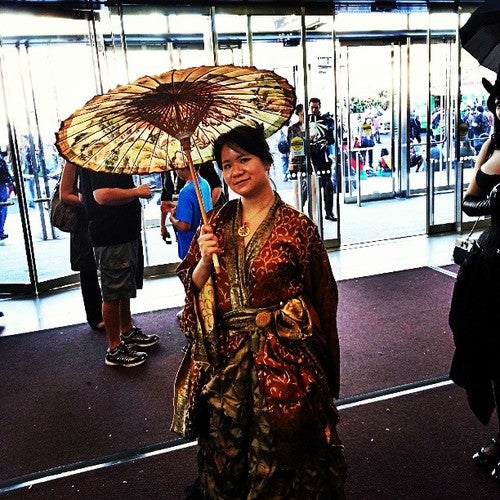 Photo via WriterSyndrome/Tumblr
According to Pho's Tumblr, the encounter went like this:
"The creeper interviewer (which will now be known at TCI) was about 5' 2" – 5'4" tall (we were eye-level with each other), slightly stocky athletic built, short crew cut dark hair, brown eyes and tanned complexion. He had at least three others with him, dressed all in black. One of them carried a full camera with built in sound boom, and one other had a clip board and looked like a production assistant. There was some sort of logo on the cameraman and on the interviewer's mic (probably some generic "The_____ show" but I couldn't see clearly).

The following the conversation we had:

TCI: (hurriedly) Would you like to be interviewed for a show?

Me: For what show?

TCI: A TV show.

Me: What TV show?

TCI: A TV show

Me: Ok…

(Note: That should have been the first warning, but I was on my guard)

TCI: So, if I were walking in the rain, could I pay you to walk next to me with your umbrella?

Me: Pay me?

TCI: If I paid you?

Me: Then, buy your own umbrella.

TCI: No, I want to buy an umbrella with an Asian girl.

(Warning bell one)

Me: Then no.

TCI: Are you a geisha?

Me: No.

TCI: Can I be a geisha?

(Warning bell two)

Me. No, you can't.

TCI: Why not?

Me: Because you lack certain things, like style, tact, grace—

TCI: Ah, but do I smell?

Me: Well, I dunno, I've only stood next to you for about 20 seconds, so I can't tell if you do or not. But however—

TCI: Well in my experience, girls who stand next to me longer than 20 seconds get a cream pie.

(silence)

Me: I would give you a slap in the face.

TCI: (back away) Really? Would you?

(silence)

(I snap my parasol shut)

TCI: Thanks so much for the interview, bye! (leaves)

The rest of his pathetic crew, hurrying off: (muttering in appeasing tones): Thank you, thank you, thank you very much."
Pho, who was dressed in an Asian steampunk outfit, noticed the crew still around the con later that day. She decided to share her story online and warn fellow cosplayers. The response to her Tumblr post was overwhelming. It has been reblogged more 1,500 times and with the help of friends and fellow harassed cosplayers, who took photos of the crew and received a business card from one of the men, Pho was able to identify her harassers.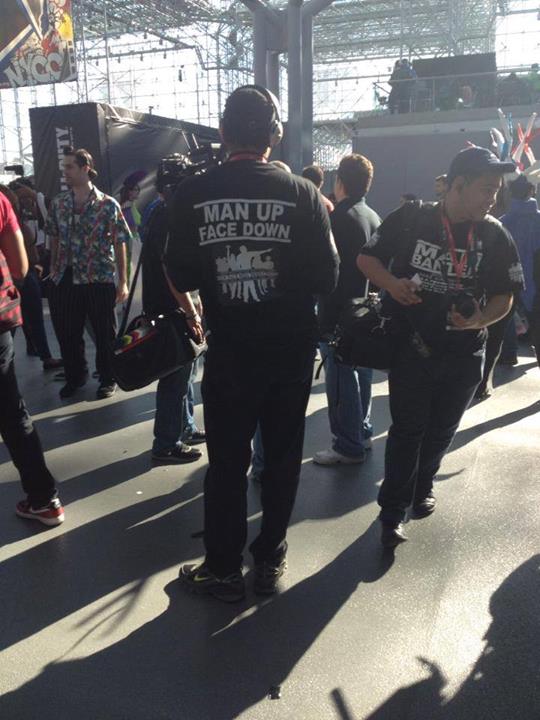 Photo via Bethany Maddock/Facebook
The interviewer was from the show Man Banter, which claims on YouTube to be "The Most Unapologetic Man Show in the history of Public Access TV!" It airs on select channels in New York City, and this apparently wasn't the show's first year at New York Comic Con. Its YouTube channel has a whole playlist dedicated to the convention, and watching their video from last year makes it clear they've harassed cosplayers before: 
[email protected] @Babchik at @NY_Comic_Con in *2010* creeping on a Chun-Li cosplayer https://t.co/kzKpra9kxu Doing this shit at least 4 YEARS

— Leathal Hurhurnandez (@theDivaLea) October 13, 2013
Cosplayers and supporters let the show know yesterday via social media that they did not approve of their behavior.  Since this morning, the show's previous convention videos have been made private on YouTube. Man Banter spent Sunday night trying to respond to tweets accusing them of harassment, responding to many with an apology and ultimately saying they would not return to the convention next year. 
Screengrab via Favstar/ManBanterSucks
The account has since disappeared from Twitter, though their tweets can be found cached on various sites. The show's host and potentially the interviewer Pho described, Mike Babchik, also appears to be trying to distance himself from the incident. As late as last night, his profile mentioned his job at Man Banter: "On-Air bad guy for Evan & Phillips on Mad Dog Radio Sirius XM 86 and host of Man Banter on Bronx Net & MNN. Living proof that anyone can reproduce." 
Now it simply reads, "Living proof that anyone can reproduce." He has not tweeted since yesterday, where he briefly mentioned the con, despite tweets calling him out.
@Babchik Does your wife know you spent the weekend harrassing and fetishizing teenage girls https://t.co/NXaDw79yy2

— Scott Foss (@Buildabearatron) October 13, 2013
@ManBanterSucks @Babchik "If anyone was offended" is such a cowardly fake apology. Man up and start treating women with respect.

— Jayson Elliot (@JaysonElliot) October 14, 2013
The business card Pho's friend received confirms Babchik's association with Sirius Radio, which he had mentioned in his Twitter profile before deleting it. The card says he is an associate producer with Sirius NFL radio, prompting many to tweet at the station about the convention harassment. As of Monday morning, Sirius has not responded to the accusations on Twitter.
But Pho did receive a fairly quick response from Lance Fensterman, global vice president of ReedPOP, the company that produces New York Comic Con. He appears to be following up on the incident.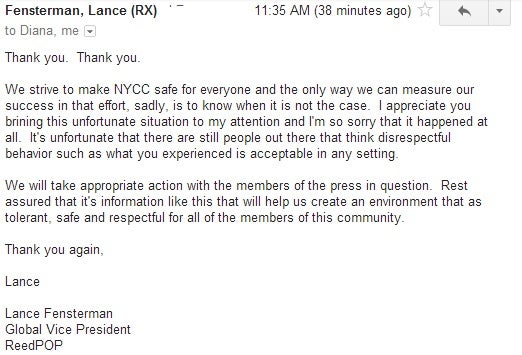 Screengrab via WriterSyndrome/Tumblr
@writersyndrome @stefizdat got more pieces to this puzzle. Maybe we can talk tomorrow and I'll fill you in?

— lfensterman (@lfensterman) October 14, 2013
Pho also received messages from Man Banter via Tumblr and email: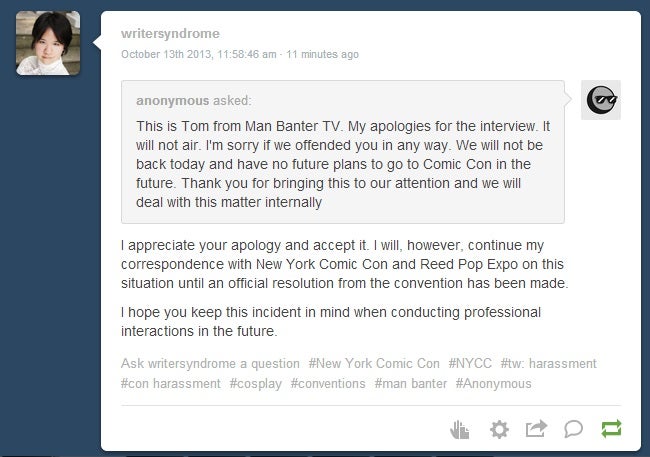 Screengrab via WriterSyndrome/Tumblr

Screengrab via WriterSyndrome/Tumblr
"I want to thank the many, many people who have signal-boosted the incident on Facebook, Tumblr, and Twitter, and those who have personally contacted New York Comic Con with their concerns," Pho wrote on Tumblr. "I want to thank Lance publicly for his respectful, serious, and prompt reply, and hope this will result in further action from NYCC regarding their Press background checks in the future."
Over the past 24 hours, she's spent a good deal of time responding to submitted Tumblr and supportive tweets thanking her for speaking out about the incident. 
"…you should not be afraid to speak up against harassment at convention spaces," she wrote. 
"People are listening." 
Unfortunately, this is not the first time female cosplayers at New York Comic Con have been harassed. Last year, a cosplayer shared a similar experience on Tumblr and also received an overwhelming response from supporters online.
 Photo via Bethany Maddock/Facebook