Last year, famed YouTuber and Vlogbrother Hank Green co-wrote a viral hit called Tumblr: the Musical. In it, he tried to sum up Tumblr culture by including a list of the things that made it great: cats, GIFs, Benedict Cumberbatch, and more.
If he were to write an updated version today, he'd almost certainly have to add his own brother to the mix. John Green, the critically acclaimed, bestselling Young Adult author of The Fault in Our Stars and Looking for Alaska is not only a YouTube phenomenon, but a formidable presence on Tumblr—so much so that he's become a meme.
In honor of the recent birth of Green's daughter, today on "How Do You Tumblr?" we're going to tell you how to play the John Green game—informally known as, "Is That John Green?"
1)  Make a John Green-related joke or comment on Tumblr.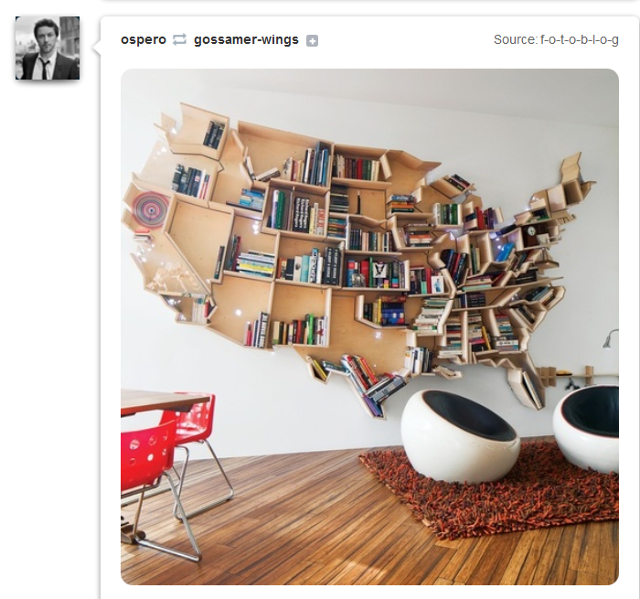 2) Wait for other people to show up and make it even funnier.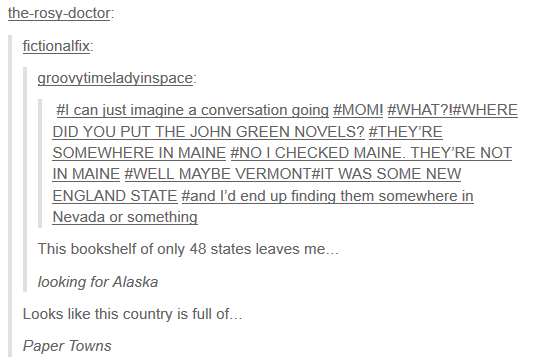 3) Wait for John Green to find the (John Green-related) thing.
Screengrabs via ospero/Tumblr
This usually involves reblogging it to boost the number of posts, thereby increasing the likelihood of Green seeing the post and responding…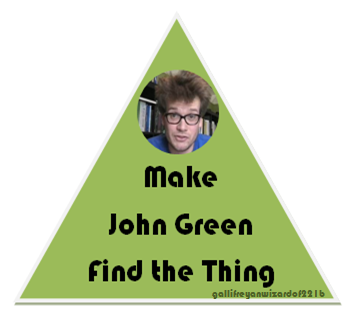 Photo via youandiwillwerealike/Tumblr
…because he often does.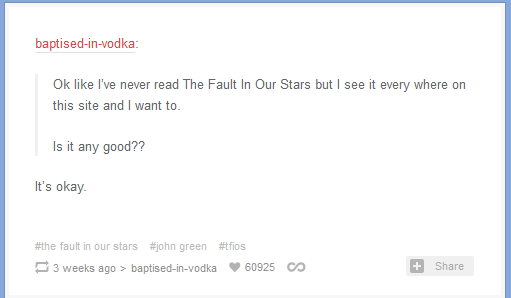 Screengrab via fishingboatproceeds/Tumblr
4) "is that john green"
John Green doesn't always find, or choose to reblog, all the John Green jokes that are a constant presence on Tumblr.  But when he does, inevitably, this happens:

Because John Green's Tumblr name is so innocuous, many people don't realize at first that they're interacting with the creator himself. "Is that John Green" (which is properly never capitalized or punctuated) originated after several widespread reblogs of Tumblr users reblogging or commenting on posts or interactions with Green, then doing double-takes as they realized with whom they were speaking. The 'is that john green' meme quickly became one of Tumblr's favorite "games to play." Of course there's a Tumblr for it, and it has its own tag.
"I consider myself an active member of the 'wait, is that john green?' fandom," wrote shes-armed–hes-dangerous on Tumblr.
The meme recently had an emotional real-world payoff. Last week Tumblr user landlocked-lighthouse and her family lost most of their belongings when a violent tornado struck their Oklahoma home.
My parents only had a few minutes to go inside and grab the essentials. … Hours later, when I was able to reunite with my parents and little sister, my mom told me, "I grabbed The Fault in Our Stars. I don't know why. I just did." I broke down in tears. Just a week before, I had yelled at my sister because her dog had gotten a hold of it. Now, it's wet and wrinkled and filthy, but it's still one of my most prized possessions. I hardly have anything else right now, but I can be happy knowing I have this book.

If you guys can get a girl a fluffy chicken, I know you can make John Green find the thing. I just want him to know that nothing could ever bring me more comfort now than his book. I just want to say thank you to him for helping me through this.
Of course Tumblr helped, and of course John Green found the thing.
And, inevitably, he reminded us why we're all so eager to interact with him to begin with.
Photo by Jill English/deviantART