Have you ever wanted something so much you'd enlist the help of half a million people to make the wish come true? For Tumblr user thatsmoderatelyraven, a.k.a. Peyton, that desire came in the form of a cute, fluffy chicken.
On Jan. 26, Peyton posted the screenshot below to Tumblr—a simple plea that proved quite effective. It immediately went viral and, after nearly three weeks, has garnered the requested 500,000 notes—Tumblr's equivalent of a Facebook Like—leading some users to proclaim Feb. 17 as Fluffy Chicken Day.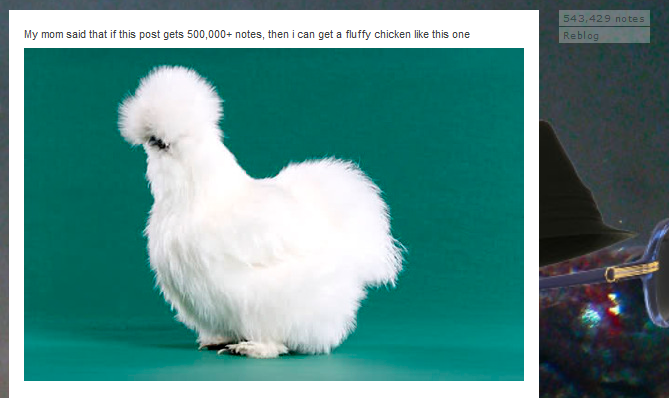 Along the way, the campaign inspired a Know Your Meme entry and a countdown site for people to check how close Peyton was to her goal. Followers contributed fanart and an inevitable Comic Sans Powerpoint meme. Peyton gained over 40,000 new followers in a week, all of whom are eagerly awaiting the first photos of the chicken. Some are even trying to get the bird on The Ellen DeGeneres Show.
In case you're curious about the fluffy chicken Peyton posted about, it's a Silkie. If you scroll down to the Popular Culture section of its Wikipedia page you'll notice that a reference to Peyton's post has already been included.
Photo by fantasticallyclever